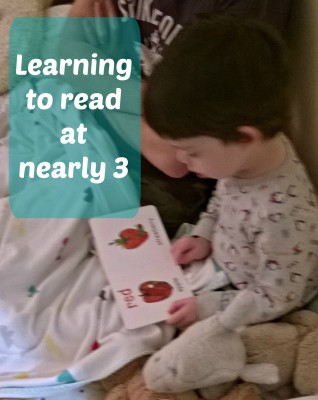 Monkey loves books, he has done for a long time. We read multiple times a day and he has so many books he adores. He knows all of his letters now, and can recognise them all. He sings the alphabet song almost constantly and we have been trying to help him understand the phonetics and sounds of letters too as I know he will need those at school and to help him with learning to read. He regularly spells out writing on things and so wants to read himself, and actually I think we are starting to head down the path of learning to read.
I am pretty impressed with this at his age I have to admit and as ever I am not saying "oh my son is amazing" or by any means taking credit for it. All kids learn at their own pace and he may be earlier with some things and later with other things. For example he is not ready for potty training yet but he does seem to want to learn to read.
He regularly points at words and wants to know what it says. When we say it, we try and spell it out and he will often repeat it. He now loves shouting Netflix whenever the big writing comes on the TV! One of his favourite books at the moment is a colours book from the hungry caterpillar collection, where he likes to spell out each word and read it. He is doing this with Daddy and how much of this is just memory I am not sure but it will hopefully help him learn that this is how you read.
Daddy is great at helping him with this and is explaining some of the more complex sounds like o o makes oo etc. I never know how far to go with it as he seems so little to me but at the same time he is so desperate to do it and to learn. He found a bottle of infacol the other day and traced the letters on the bottle and said "LM's medicine" lol bless him!
He is so proud of himself when he tries which is just lovely and so I certainly don't want to discourage him from it.
Were any of your kids early readers? I have no idea what is usual for this age and what isn't!