Yup we have been doing more Christmas Toddler Crafts! This time involving pinecones and a load of glitter! Monkey loves a good nature walk, collecting all the bits and bobs and bringing them home ( I am regularly having to clear out a load of leaves and twigs from the conservatory!).
A while ago we collected some lovely pinecones with the idea of doing something fun with them around Christmas. Another lovely simple toddler craft… but with the potential of getting a little messy!
You have to bake pinecones first apparently to get rid of any creatures and germs lurking within, and as these have been sat in the garage for a few months I thought I would comply with this rule, so in the preheated oven they popped for 30 mins at 150.º
Sparkly Pinecones
What you will need:
Pinecones
PVA glue
Glitter
Ribbon or wool for hanging them on the tree
I've never actually dared to craft with Monkey and glitter before now, as the mess terrified me ever so slightly, but he is so much more careful and precise now that I decided to brave it. I set us up on a tray and made a little container for the glitter out of a small cardboard box – taping all the cracks up to avoid any glitter leakage.
Monkey and I then set about painting some PVA glue onto our pinecones. I quite like it around the tips of the scales ( I had to google what they were called but apparently they are scales!) whereas Monkey went for a less precise smothering :).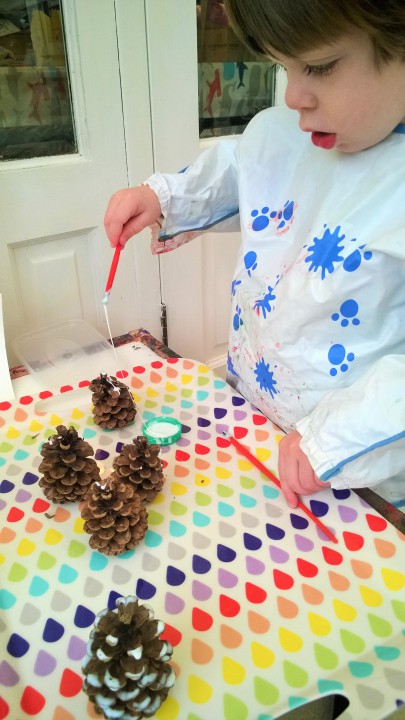 We then rolled the pinecones in the little glitter tray to cover them in sparkle!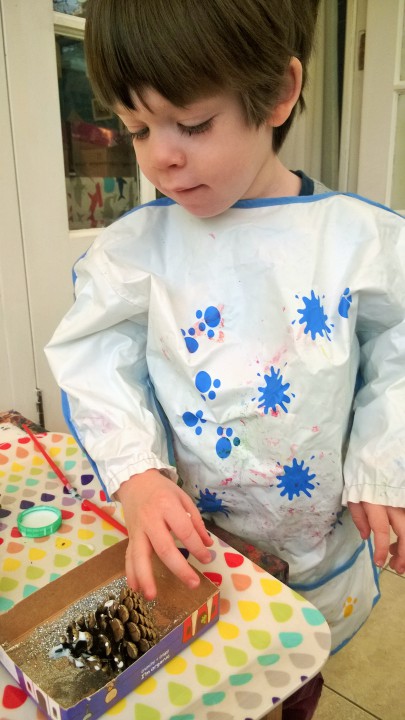 Monkey absolutely loved the glitter, having never played with it before and enjoyed sprinkling glitter on the pinecones, and, well, everything! (Unfortunately at this point LM woke up having done a mega poo – not good timing!)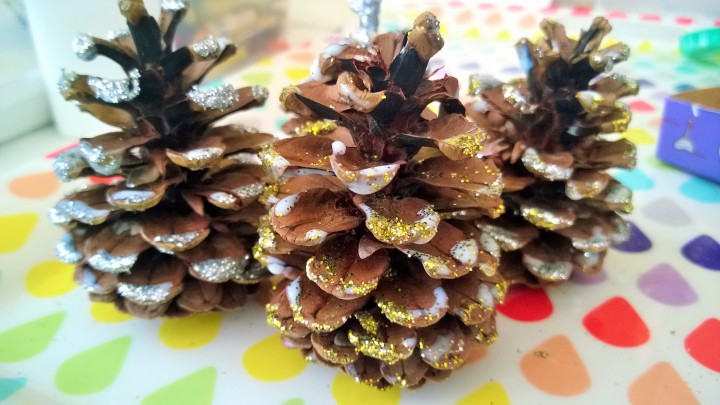 Once the glue had dried I wrapped some wool around them to hang them on the tree. I'll be honest I'm not sure this is the best way to hang them… or what the best way would be but it kind of does the job (though one of them did immediately fall off the tree lol!).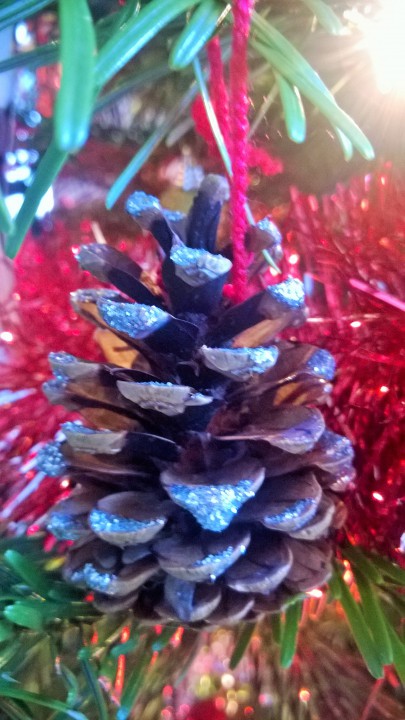 Anyway they look quite cute and sparkly and they were fun to make. As I feared though there is glitter all over the house… and all over us, it gets everywhere!!