One of Monkey's favourite things at the moment is playing hide and seek. He wants to do it all the time, every day, multiple times! there have been times I thought he was saying "Hi Mummy" but what he was actually doing was instructing me to "Hi" (hide) lol. If I tell him I am leaving the room for a minute I usually hear "hi" on my way out and see him scamper off somewhere to hide. Then when I come back in a little head pops up and shouts boo!
Random times thoughout the day I will hear "hi" and see him disappear behind the curtain. Of course my role in this scenario is to pretend I have no idea where he is. "Where's Monkey? I can't find him anywhere, Monkey, Monkey, where are you? Is he under there… etc, etc" all the while he is watching me and giggling away to himself.
Sometimes this goes on for a long time and I have to actually find him, other times he leaps out at me and I am met with this gorgeous face.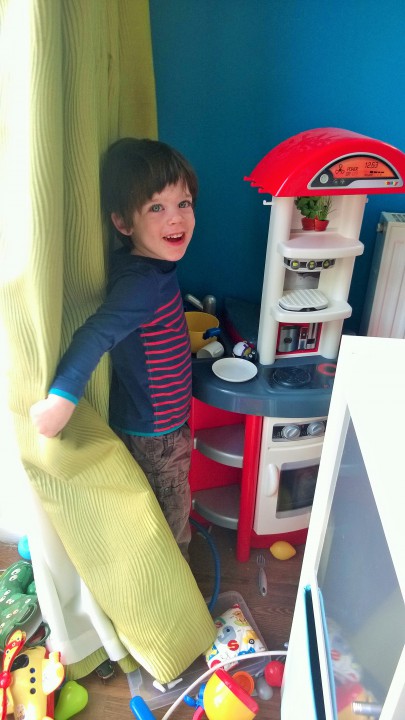 Either way I am met with a loud squeal and some gorgeous giggles.
He loves Mummy and Daddy hiding too, but it has to be under blankets. If I hide round a corner I get told to hide again under a blanket, he will then pull it off and squeal like he had no idea I was there haha. He also likes hiding under a blanket with Mummy or Daddy, or sometimes both of us… though I'm not sure who is supposed to find us in those situations!!
So much fun and a bit of light relief and a very ordinary but magic moment :).