Our little Monkey is growing up and now has a lot more imaginative play, and a lot more independant play. This leads to him having a lot fun with mummy largely acting as a bystander.
Some of the things he chooses to play with are particularly amusing. I've blogged before about how random household objects can be fascinating for babies/toddlers but I am going to show you two recent play times which demonstrate this perfectly!
Gym Ball
Because of my SPD we have my gym ball down in the lounge a lot of the time at the moment, because it is good to sit on and do pelvic tilts etc. It is also a LOT of fun for Monkey to play on, and hilarious for me to watch.
He can't get on it himself but he loves carrying it around the room (though it is about as big as he is)..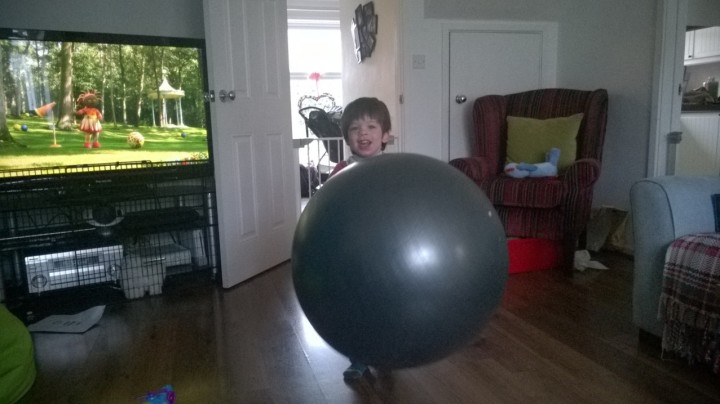 And then launching himself onto the ball
and laughing his head off when he then flies off it again!
Very funny afternoon spent watching that!
Playing with my scarf
I got a lovely new scarf for my birthday and I had been a naughty mummy and left it in the lounge after I had taken it off. Therefore it was obviously fair game at play time. Monkey loves playing with blankets and hiding under them so it wasn't a huge surprise when he decided to have a play with the scarf, but it was pretty funny!
He very much enjoyed hiding underneath it..
And then there was lots of giggles looking at himself in my phone while he wrapped it around his head.
He did look very pretty in it bless him!
You've gotta love the random things that amuse toddlers and the simple fun they can have with very little in the way of toys or parental involvement!
Do your kids ever turn random objects into fun playthings?