Right, I have been meaning to write a post about this for aaaages! Bringing up kids costs a lot of money and there are so many toys out there in addition to the things you actually need. But I have found that as he has got older Monkey has basically been interested in anything and everything. He doesn't differentiate between toys and other objects, everything for him is a toy and another opportunity to learn.
So I thought I would share some of the things that Monkey plays with from around the house, making for cheap alternatives to toys. I would obviously like to note here that any containers etc. have been washed out and he is supervised at all times with these toys to prevent (as much as humanly possible) any random injuries! Also, he has never come to harm with any of the following. He does however trip over his feet a lot (3 times in the last 2 days, quite a collection of bumps and bruises!).
Sorry for digressing, I've mentioned a couple of things in other posts, such as using a cardboard tube to roll balls through, and making homemade musical shakers but here are some bits and bobs that require little to no effort 🙂 I've put the age of 6 months plus, but each thing varies a bit agewise so it is a bit vague this one!
Measuring spoons
Basically a cheap musical toy as monkey likes the way that they jingle around. Keys work in the same way although I know keys can link to worries over cleanliness and sharp pointiness whereas our measuring spoons are nice and clean and rounded. He also likes Granny's measuring cups, more for banging and stacking though.
Empty water bottles
For some reason monkey loves empty plastic bottles. He likes squeezing them to hear the funny noise they make, he likes waving them around and he likes banging them on the ground. Honestly, endless fun with just a simple empty plastic bottle!
Empty toiletry bottles
His favourites include old empty roll on deodorants (sanex ones and he has not once tried or figured out how to take the lid off or anything), and an empty baby bath wash bottle. Basically the same as empty plastic bottles, they are good for waving around and banging!
Old remote controls
Monkey loves to push buttons, so old games console remotes and old tv/dvd remotes are a fave. So much so we have to hide the ones in use in a high place so that he can't get at them and do funny things with the tv etc.! If you have old ones at hand (with batteries removed of course) they can be a great distraction! (Yes he is sitting in a canvas box in the first pic :))
Empty Purse/handbag
Not sure what it is says about him but monkey loves playing with one of my old purses and one of my clutch bags. The clutch bag he can waggle around and it is pretty sparkly and seems to entertain him and the purse is  a three fold wallet so he likes opening and closing and generally just fiddling about with it.
A pack of cards
I was given a present of a pack of cards titled '50 things to do with your baby' and I got a few good ideas from them, but they have been particularly useful lately as he loves holding them in his hands, trying to put them back in the box, folding them in half, trying to clap them together… honestly a million different ways. I am sure a normal pack of cards would work just as well, though I guess it would have to be one you didn't mind getting a bit destroyed!
Cardboard boxes
Of all shapes and sizes. He likes banging on an empty cereal box like a drum. He likes sitting in and being pulled around in a bigger, stronger cardboard box. We have cut up a box holding baby wipes, and put doors in it for him to put things in and take things out. I know this one won't be news to anyone but cardboard boxes are great! Although when he was in full on teething he did manage to gnaw a big chunk of cardboard off the side of one he was sitting in!
Brown paper wrapping/padding stuff
Not sure what to call it, but as you can see in the picture it was a length of brown papery card that was used as padding from someone like amazon or something. Monkey was entertained for ages, waving it around, like the noise and just experimenting with pulling it in various directions. Was really funny to watch.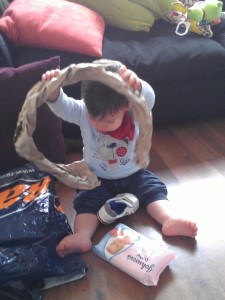 Tupperware
Monkey loves Tupperware. He likes trying to put the lids on and take them off. He likes putting things in and taking them out again (particularly his food at meal times, in between bites). One of the weaning pots we have has a lid which is joined on one side, so he has great fun waving it around so the lid flaps about. Tupperware also bangs very nicely 🙂
A shoebox or similar
One of my friends gave us some baby presents in a gorgeous storage box type thing and at the moment we are using it for playtime as a what's in the box type of thing, which is great fun and we vary what is in there. Many of the above items go in there and sometimes things he hasn't played with before like ribbons or dried pasta etc. Just for some fun exploring. A shoebox with a lid would work just as well!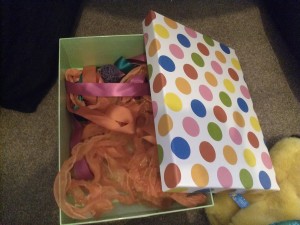 There are many many more things that monkey picks up around the house as he is busy learning about the world and everything in it! he was busily engrossed in one of my emery boards the other day, and earlier he pulled a dirty sock out of his laundry basket and was waving it around! He loves to play with the stones on our gravel driveway and to pick daisies in the garden (I have to make sure he doesn't eat either!) . So I guess my point is that in addition to all the toys that he has, he learns a lot just from general bits and bobs too. 🙂