With the combination of sunnier weather, and my new pelvis support, Monkey and I have been out and about loads over the last week.
We've played in the sand in our neighbour's garden…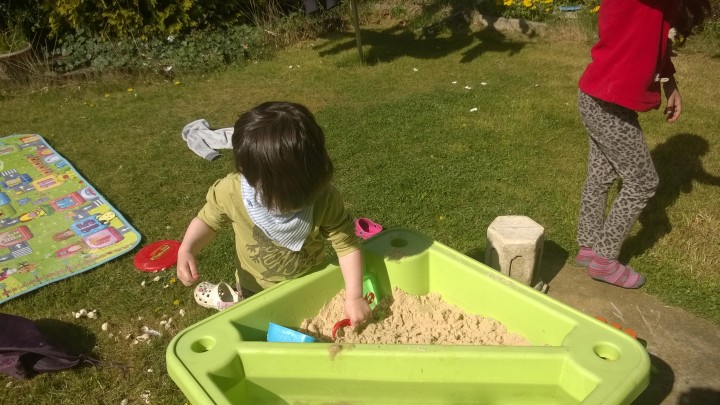 and popped to the park near our friend's house.
Monkey and my friend's little girl always play really nicely together, even though she's just over a year older. Although this week she got cross with him trying to play with her favourite train, then he got a bit nervous of her! Bless 'em! Sure it'll be fine again next time!
Then Thursday our plans with friends were cancelled last minute due to poorliness 🙁 so we popped to a local country park, which I knew had built a new play area that opened for the easter holidays. What I didn't realise was that the whole play area was basically a big sand pit!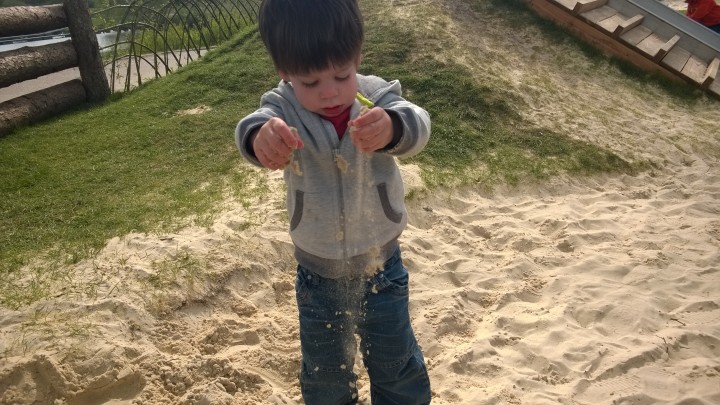 Monkey had fun, then fell on his knees in a big water play are (thankfully we had spare trousers in the bag!).
The only problem was that with it being the Easter Holidays it was pretty chaotic in there! We were playing on the slide and there were some bigger kids fooling around on there too which made me a little wary. It was quite a wide slide and they were going down in groups and sideways and tumbling all over the place irrelevant of the tiny tots also wanting to go on the slide. I was keeping a close eye as Monkey desperately wanted to go down the slide. He went down a couple of times then got bashed from behind before he had a chance to get off the bottom of the slide (Monkey was fine). I had a calm word with the boy (who I guess was around 7 or 8?) to just be a bit careful around the little one and then less than 30s later the same boy completely knocked monkey over, face first onto the wooden steps.
Cue lots of bawling from Monkey and I have to admit I got a bit cross with the boy in question. I know he didn't mean it but it seemed so careless. There were cries of "It was so and so's fault" and I think I said something like "I don't care whose fault it was, you all need to be less selfish and more careful around the little ones." He ran off to his grandparents but with Monkey screaming his head off I don't think they objected to my calm telling off! Hate having to do it but couldn't pretend it was ok, the play area was for all ages and they just need to be at least aware of what they are doing around little ones and considerate to others. Maybe I expect too much of them?
Anyway after that Monkey was a bit more wary of the play area so we went for a run around with his ball! He is great at kicking it now and is a good dribbler (in more ways than one as he still needs dribble bibs, eye roll!) .
Then we played peepo around some trees.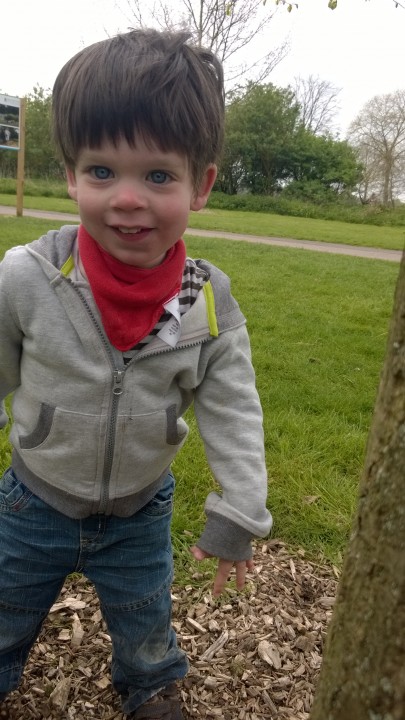 Before going to watch some kites flying, which he found fascinating, and see the little miniature railway.
Then it was time to go home!
It's been lovely getting out and about a bit more! What have you been up to with your little ones outdoors lately?