Monkey is not quite 2 1/2 yet, but at over 3ft he is seriously tall for his age and his current car seat has been feeling really small for him. Trying to look for the best car seat for your child can be so difficult as they all vary and are based on age and weight. Please note this post contains some amazon affiliate links, for further information please click here.
Car Seat groups:
| Group | Child's weight | approx. age of child |
| --- | --- | --- |
| 0 | birth up to 10kg/22lb | birth up to 6-9 months |
| 0+ | birth up to 13kg/29lb | birth up to 12-15 months |
| 0+ & 1 | birth up to 18kg/40lb | birth to up to about 4 years |
| 1 | 9-18kg/20-40lb | about 9 months to 4 years |
| 1 & 2 | 9-25kg/20-55lb | about 9 months to 6 years |
| 2 | 15-25kg/33-55lb | about 4 to 6 years |
| 1, 2, 3 | 9-36kg/20-79lb | about 9 months to 12 years |
| 2 & 3 | 15-36kg/33-79lb | about 4-12 years |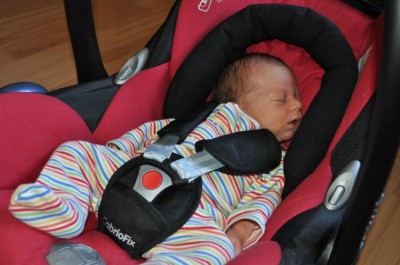 Looks confusing doesn't it? When Monkey was a newborn we started off with a Maxi Cosi Cabriofix car seat (Group 0+), with Easyfix base, for ease of getting it in and out of the car mainly. We loved it, it was such a handy car seat and we hoped it would last quite a while Unfortunately though because Monkey was on the 98th percentile of the growth chart he outgrew this seat pretty early. To move onto the next group of car seat they need to be around 9kg, which is estimated at being at about 9 months of age. Our tall baby was already 9 1/2 kg by 5 1/2 months and just far too long to be comfortable in this seat much longer.
Because of his size, as soon as he was able to sit by himself (around 5 1/2 – 6 mths) we moved on to a group 1 car seat. We chose the Maxi Cosi Axiss because we liked the handy swivel of the seat. My car (an 08 Honda Civic) has really wide back doors, which means that in tight parking spaces it is impossible to open them very far. Having a seat the swivelled when you put the little one in made life so much easier for us. We have loved this seat and it has grown really well with Monkey… until now. (In the below pictures he is in the Axiss at 8mths old and 21 mths old )
For a group 2 seat, they usually say the child should be around age 4, or over 15kg. A group 2 seat is also what is known as a booster seat. With a group 2 seat there is no harness and instead the child is strapped in with the car's 3 point seatbelt, whilst sat on a seat. They vary in terms of support but it can vary from a very simple, basic little booster seat (the kind I remember sitting on as a kid) to something more resembling a car seat.
As I said at the beginning of the post, Monkey is not quite 2 1/2, but he is just growing too big for his group 1 seat. The highest level for the straps is actually below his shoulders, which means they come up and over his shoulders before going down over his chest and he just wasn't comfortable in it any more. Plus his head was higher than the headrest, making it ever so slightly pointless. He has also just reached the 15kg mark.
But a group 2 seat, with just a normal seatbelt? Felt a bit scary to me. My friend has just moved her 3 1/2 year old onto a car seat with the normal 3 point seat belt and has mentioned how she can now pull the seat belt and wriggle around more. At a year younger than her I didn't feel Monkey was ready for this at all. He certainly isn't ready to just sit on a booster seat as I think he would slide off it!
I didn't know what to do, but luckily there are seats which bridge the different groups. We popped to our local Kiddicare on Saturday morning and the young lad we spoke to there was just so so helpful. We talked about the different options and the fact that although 2 1/2 feels far too young to be in a bigger seat, that it really is weight, and in our case height, that is the most important thing for meeting the safety requirements.
We tried out one of the Kiddicare Opus SP Group 1/2/3 car seats which definitely bridge the gap from a group 1 to a group 2 seat. It can be used as a group 2 car seat, using the cars 3 point seat belt restraint, but it also has a 3 point harness which you can remove as the child grows. The key factor for us was that this harness has more height levels, at and it's highest level it is comfortably above Monkey's shoulders, which is where it should be rather than part way down his back! It was also incredibly good value and a lot less than we had thought we would probably spend on a car seat, at just £39.99. There aren't many seats on the market (that I have found anyway) that bridge the different group boundaries and the sales assistant showed us one other more expensive brand, though we couldn't see anything about it that made it seem worth the extra money. There didn't seem to be any extra padding or safety features etc.
We were really happy with this and about ready to buy when the sales assistant recommended we have a demonstration in the car. We weren't fussed but said yes and thank goodness we did as sadly the seat didn't fit in my car! The angle just wasn't right and there was a big gap between the back of the seat and the car. Thankfully they had the same design seat with a few variations for just £10 more. The Kiddicare I seat  (sadly I can't find this available on their website but it was in stock in the Peterborough store). It has moveable arm-rests (not a big selling point) but also wedges on the bottom of the seat which you can lift to change the angle of the seat. With these lifted the seat fit perfectly into my car, phew!
Monkey loves his new big boy car seat and we are relieved to know he is safe and comfortable in a bigger seat. Do you have tall children? How did you get on choosing car seats? Did they fit into the 'average' age bracket?