Before Monkey was born, whenever any friends were having troubles getting their little ones to sleep and they mentioned leaving them to cry themselves to sleep, I thought it seemed like a pretty sensible idea. Then when Monkey was born, I realised it wasn't that simple, and the thought of doing it felt really really cruel. With him spending hours each day screaming in pain with his colic, neither hubs or I could bear the thought of leaving him to cry himself to sleep.
So we did what many parents do and helped him to sleep. We rocked and shushed and patted, drove him round in the car, took him out in the buggy and let him suck our fingers. We tried to use a dummy though could never get him to take one! We did anything that worked and our lives and sleep revolved around getting him to sleep and keeping him that way. Honestly? It was exhausting, and miserable. I spent a lot of time crying and feared for my mental health. So after a few months of this we started looking for other ways. We tried "The Baby Whisperer" but didn't manage with her techniques at all. If anything her pick up/put down technique just seemed to mean that Monkey screamed louder and for longer. Every child is different but at the time we blamed ourselves.
I remember people saying to me "maybe he just isn't tired" or "maybe he doesn't need the sleep" if I complained I couldn't get him to sleep. But to me the answer to that was then why is he miserable? He was clearly tired. I had no problem with a child who was awake and happy to be, my frustration came from comforting a child who was miserable and clearly tired, but who refused to stay asleep!
Although we had initially discounted the possibility of "cry it out" techniques, we eventually got desperate and came across Dr Ferber's progressive wait method. It seemed a little kinder than what I had thought of as "cry it out"so we decided to look into it more. I wanted to make sure we did it properly, if we were going to do it at all, so I bought his book "Solve your Child's Sleep Problems"* from amazon and had a read. This book covers children of all ages with problems sleeping, with advice on anything from night terrors to sleep walking. The section we were interested in though is about younger children and helping them sleep better without being rocked, etc. There is far more information than I could hope to convey so if you are having problems, I strongly recommend that you have a read.

We were immediately comforted by the tone of the book. Unlike some other parenting help books we found it wasn't judgemental and didn't blame parents for their child's sleep habits. "Sleep problems are rarely the result of poor parenting." (p5) In fact he says that there is nothing wrong with rocking your child to sleep, or using any other technique, as long as you are happy to do so. It is only when it is becoming a problem for you or your child (not sleeping well, being over tired etc.) and you are unhappy doing it, that you might consider changing it. "If you always rock your child to sleep at night, say, but he sleeps through the night… then there is no problem and you certainly shouldn't feel compelled to stop rocking him at bedtime… But if his bedtimes and night time wakings are longer and more troublesome… you should make changes." (p62)
When I originally thought about a "cry it out" method I assumed it meant leaving them to cry for as long as it took and that was it, and it felt cruel. The idea with the progressive wait is that you are letting them cry while they learn to fall asleep on their own, and that you go and see them at increasing intervals to reassure and comfort them. As Dr Ferber says, it is not about crying for the sake of crying, but actually about making them cry as little as possible while they learn the skill of falling asleep. "Crying does not help children develop appropriate sleep associations; for that reason, as well as out of compassion, we should try to keep crying to a minimum." (p82)
Before I go on to explain a bit about how it works, and how it worked for us, I want to say that I am not writing this because I think it is the right option for every parent, or every child. I'm not judging how anyone parents or how you get your child to sleep. Hubs and I are a bit geeky, we are control freaks and problem solvers. We both have a really low tolerance for crying and when we think there is a problem, we want to find a way to try and solve it (often to our detriment and we can drive ourselves mad as not everything in the world can be solved!). It is just who we are. We were not coping in the situation we were in, and were desperate for something that worked. So I am writing this in case someone else is in the same situation, in case we can help some other desperate parents find a way that works for them.
The Pillow Analogy
Dr Ferber uses a great analogy for why babies and children have trouble staying to sleep once their parents have rocked them to sleep and then laid them down in their beds. It is long so I will use quotes and paraphrase it, but it starts on p65 of the book.
Imagine you woke in the night to find that someone had taken your pillow. You would probably look around for it and if you couldn't find it, get out and look for it. "You might get angry and perhaps curse – showing the same kind of frustration that a child shows by crying. Suppose you discover that someone has been sneaking into your room each night and stealing your pillow. Once you know that, you might have trouble falling asleep at bedtime for fear that the pillow will be taken away as soon as you're asleep. Whenever you catch yourself starting to drop off to sleep you might wake yourself up again to make sure the pillow is still there." If this is sounding daft to you, imagine that when you are rocking your child to sleep, that you are their pillow, and it is you that is being taken away from them while they are asleep.
"Now imagine that this person, instead of just taking your pillow, actually moves you from your bed to another room, without waking you. Every night you go to sleep in your bed with everything just as you like it, only to wake… say on the floor of the living room." Imagine this happening every time you fell back to sleep, no matter how many times you got up and went back to your bed. Imagine then that the door to the living room is locked and you can't get back to your bed without yelling for someone else to come and let you out.
This describes what happens to many babies and children at night "They fall asleep in one place, maybe being held and rocked… But whenever they wake up they find themselves in a different place under different conditions, perhaps alone in their cot in a dark, quiet room, not being held and not being rocked. Someone has stealthily moved them. They cannot-re-establish the conditions that were present when they fell asleep, so they must cry and yell until someone comes in and does it for them." Reading this and thinking how we would feel in Monkey's situation was a bit of an eye opener for us.
Sleep cycles
There is also a huge section in the book about natural sleep cycles and body rhythms which I am not going to try and explain here but it is interesting and really helped us understand why Monkey was waking up in the night. He talks about how we all have natural sleep cycles (parts of the night where we dream, etc) and that waking in the night is a natural part of our sleep cycle, but for the most part we are unaware of these wakings as we fall back to sleep almost instantaneously. Babies and children have shorter sleep cycles than adults, lasting around 40-45 minutes, which explained why Monkey would wake up after about 40 mins of sleep and not be able to get back to sleep again. His waking was a natural part of his sleep cycle but he didn't know how to get back to sleep, because we had moved him and were no longer rocking him.
Progressive Wait
So how do you solve this? Well this is the part that I guess many parents don't like the idea of, and nor did we initially but now we really are converts. It is not particularly easy and although it is definitely not enjoyable at first, we found it to be well and truly worth it in the long run.
The goal is for your child to learn how to fall asleep in different conditions. Alone in their bed, rather than being rocked, shushed, etc. If you think again about the pillow analogy, if you had to learn to sleep without your pillow for medical reasons, how would you feel? It may take some time at first. "You would be uncomfortable at bedtime; you'd thrash around, searching for a satisfactory position. You might be angry… even if you understood why it was important to make the change…The only way you could learn to fall asleep easily without your pillow would be by actually doing it – over and over." This is how a child can learn to fall asleep without any associations (rocking, sucking, shushing etc.), by doing it. They may not be happy about it and will cry and maybe get angry but the point is that they can and will learn, pretty quickly, how to do it. 

The problem is that because they will be unhappy or angry, they will cry and I swear baby crying is designed to make us parents feel awful and on the edge as we instinctively want to soothe our child and stop them crying. That is why anything that involves letting your child cry can feel so cruel. That is also why it is easy for "cry it out" techniques not to work as it is so hard to leave your child crying that after a while you go back in and resort to your normal method (rocking, shushing etc.) to soothe your child and help them sleep. "In effect, then, all that crying was for nothing; the child only learned that he must cry longer to get what he wants. It is not practice in crying but practice in falling asleep under new conditions that a child needs to learn. If you are going to rock your baby to sleep in the end, you would do better to rock him at once and skip the crying altogether."
The Method
So how is progressive wait different? Well because instead of just leaving your baby to cry for as long as it takes for them to fall asleep (or for as long as you can tolerate listening to the screaming – yikes) the idea behind progressive wait is that you go back in to comfort your child at regularly increasing intervals. To let them know you are there. To let them know they are safe and you are still taking care of them. "He may be angry that you are not rocking him, but since you keep returning, he will not be frightened by your apparent disappearance…Eventually he will simply find it preferable to go back to sleep than to cry… knowing he won't be rewarded with rocking, holding or feeding. At the same time he is learning to fall asleep, and feel comfortable, alone in the cot."
So on the first night, if they cry, you wait for 3 minutes of crying before going back in to soothe, comfort, replace lost blankets etc, without picking them up or using any method other than talking, and you should stay for no more than 2 minutes. If they are still crying you go back in after 5 minutes and do the same. Then if they are still crying the wait increases to 10 minutes, for any subsequent visits.
The second night, the first wait is 5 minutes, the second wait is 10 minutes and any subsequent wait is 12 minutes.
The third night, the first wait is 10 minutes, the second wait is 12 minutes and any subsequent wait is 15 minutes.
The wait times gradually increase by the day, though for most children, the first couple of days are rough and then each day thereafter should gradually improve and you than need to return to soothe them less and less, if at all.
I haven't included any more of the times because I really really recommend that if you think about trying this method, that you buy the book. There is so much more nuance and detail that I couldn't possibly include in a single blog post, and we have consulted the book and the steps over and over again each time. There is also a fantastic chart which I have scanned and reprinted for us to use (that I don't think I should include because of copyright etc.) which is amazing for keeping track of patterns and helping to form a routine. Honestly it is really handy and we have it stuck on our fridge!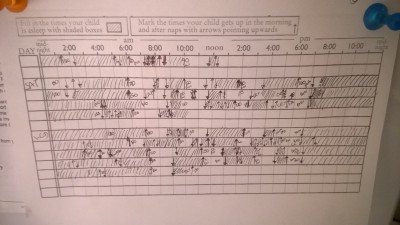 One important point to note is that if you do decide to do this you have to make sure your baby is tired – sounds daft but if they aren't tired they won't be ble to fall asleep, therefore it will prolong the agony. Dr Ferber recommends that on the first night you put them down later than they would normally fall asleep. Not later than their bedtime, but later than the time they will actually fall asleep normally. He then gives advice on moving bedtimes forward if you need to.
Our experience
Monkey
This is obviously a couple of years ago so my memories of the details are a bit vague! The first night with Monkey wasn't pleasant, listening to your child scream is not nice in any way although we consoled ourselves that bedtimes often involved hours of screaming, even with us holding him. So we clung to that, drank a glass of wine and we got through it.We were initially concerned as his screaming didn't seem to abate when we went in to see him, but we stuck to it.
On the first night, he fell asleep after about 40 minutes, much faster and more soundly than we had previously managed with any of our other methods. He was also so so much happier in the morning, which was a huge comfort. Anything that made him happier surely was a good thing? Every day the amount of time crying reduced and after 3 days there was no more than the tiniest whimper before he fell asleep.
Our lives were transformed. Hubs and I were able to eat a meal at the same time. We had our evenings back to watch a film or have a conversation. Monkey's daytime routine took a bit of time but gradually it slotted into place and we just a much happier household all round. Occasionally he would cry before he went to sleep but most of the time he just went out like a light with no complaint. To this day he is an amazing sleeper and he loved his cot and now loves his bed.
Little Miss
Because it worked so well with Monkey we had it in our minds for Little Miss. Dr Ferber recommends not starting until they are a few months old, as they are often not ready developmentally for it to work until then. LM started off as a great sleeper but then the colic and reflux have made night-times incredibly difficult. Both of these seemed to be under control with a combination of infant Gaviscon and a lactose free formula, but night-times, and getting her to sleep in general could be very hard. There was a lot of rocking, bouncing and finger sucking. White noise had become the soundtrack to our lives. The biggest problem we had is actually that we got her to sleep, but then she would wake up within half an hour and we have to start all over again. Meaning for hours in the night we would get no more than odd snippets of sleep. It made sense if you think back to the pillow analogy! So we knew we would be using the progressive wait approach when she was ready for it.
Things came to a head recently, when hubs and I had been taking it in turns to get her to sleep since 1.30am, with neither of us managing to get her to stay asleep without one of us holding her. We were exhausted and so was she, she looked so tired! By 6am I broke down. This wasn't a one-off but an almost daily occurrence and the sleep deprivation really got to me. Frustrated and angry I gave LM to hubs and went and sat and sobbed. Then got in the shower and cried, got out and cried some more. You get the idea. This was boxing day morning. Something had to give.
The next night hubs took charge so I could catch up on a bit of sleep, which helped, but then he was exhausted too. We talked about it and though she is a little younger than the book recommends, we actually felt she was ready for us to try. We were definitely ready to try so we got the book out again and followed the steps.
I have to be honest I think I had blocked out how hard it is to hear your baby cry and not hold them and try and soothe them. Listening to the crying is just emotionally draining and there was definitely some comfort eating that first night. But you know what, she fell asleep after 40 mins, like Monkey did. Unlike her brother she responded rally well to our attempts at soothing her and often calmed when we went to see her in her room.
The next night she fell asleep after 10 mins, the day after it took 3 minutes and the next even less. It worked and once again our life has been transformed. We are getting more sleep and have more energy during the day. We also have more time during the day too as we are not spending so much time rocking her to sleep, walking around the house not actually able to complete any of the jobs around the house that have been piling up.
We have found daytime naps the hardest as we are having to re-learn her cues (whereas before we would pop her in the carrier and would easily see if she was tired enough to sleep!) but we are getting there and gradually finding a routine that works for her and for us. It still varies occasionally but she currently goes to bed at around 7pm, wakes for a feed at 2-3am, then again at 6-7am for the morning ( you can see from her chart above). She has 3 naps during the day or varying lengths and we are having a lot more happy awake time, which really is just wonderful. We are getting a lot more smiles now too, so hooray! 🙂 the best thing about it is that no matter what kind of a day we have had she always goes to sleep well at night and that is a huge step forward.
I think the best thing about this technique is that it means I can enjoy being a Mummy. I am not sure what it says about me but I struggle to cope on the lack of sleep and the constant crying, waking up and just general lack of routine. I get really frustrated and angry and don't enjoy it at all. It makes hubs and I snippy with each other and trying to have a rational conversation can be really hard. Once the babies are in a bit of a routine it makes life that much easier and happier. We are all more rested and can enjoy our time together. It is of course different for all babies and it doesn't really matter how you get to that point, you have to find a way that works for you.
This isn't a miracle solution. It is hard and takes perseverance. There have been times when she is screaming and we have been questioning ourselves and each other, not trusting our judgement. But it is improving day by day and for us, this works. If you have ruled it out because you don't like the idea of cry it out, but are desperate for something, I would say look again as it wasn't as bad as we thought it would be. It is hard, but life was hard before we started and the end result is so worth the difficult days this technique involves. Seeing Monkey and what a great sleeper he is and how much he loves his bed has been a great motivator for getting us through it this time round!
Here is a link to the book, which again I really do recommend that you buy if you are considering this technique, or if your child has any sleep difficulties as it really is helpful at many different ages. It is an affiliate link* however I am only promoting this book because it genuinely helped us.
*If you should choose to purchase an item by clicking on an affiliate link, I would receive a small commission which contributes to the upkeep of this blog. There is absolutly no obligation to do so but it costs you no extra.