We have been having a bit of an interesting time with our Little Miss of late. In many ways she has settled down, her teething and reflux aren't bothering her quite so much and on the whole she is a very happy, sunny, smily baby and she can be a joy to be around. But she has reached a point where she very much wants to be on the move and that is making things interesting.
For quite a while now she has been really content to sit and play with toys. Honestly it has been amazing as Monkey never really did this. She focuses so intently on toys and can sit for ages and entertain herself while I play or craft something with Monkey or potter about with some jobs.
Now though, she so wants to explore wider surroundings. She is desperate to crawl and making slow progress towards being able to, with lots of rolling onto her tummy and pushing up. She also has quite an amazing skill, the stealth shuffle.
I mentioned a while ago that she liked to bum shuffle in the bath and she now does that in front of her eyes. But the interesting thing is that it is very difficult to detect her movement. She leans forward and sits back up and twists and turns around but seems to be in the same spot… but then all of a sudden she is on the over side of the room and we weren't really aware of the move happening!
Nanny & Pops looked after her today and even they remarked on it. Our little stealth shuffler!
It won't be long until she crawls either so we need to be even more vigilant about what is on the floor or within reach of little arms. A whole new world 🙂
She is also moving around in bed a lot too and as a result we are struggling a little at nap times and bedtime which, to be honest, is driving us potty. We sleep trained quite young and she has been a fantastic sleeper, as long as she is tired and nothing else is bothering her. But lately even when she is tired and we can find nothing else to be the matter she is miserable about going to sleep and gets very very unhappy.
She also moves herself all over the cot and we come to check on her and find her rolled over, turned sideways, back to front, legs stuck through bars and all over the place. I won't go into details but it has been stressful and there has been lots of rocking to sleep at a loss of what else to do sometimes.
I've read that 8 month sleep regression is common, though again it wasn't something we experienced with Monkey,and are hoping it is just a phase! Anyone else been through this?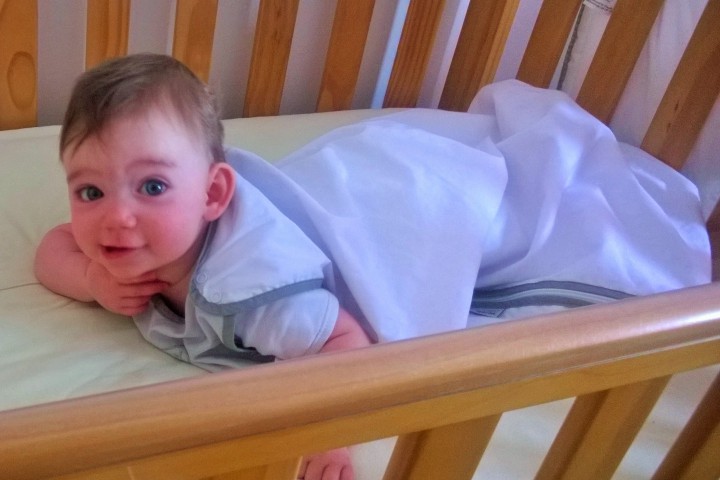 Once she is asleep she still sleeps well and wakes up very happy… we are just at a bit of a loss as to how we can help her remember how to fall asleep in her bed again!