My word of the week this week is excitement, as it has been a bit of an exciting week, in more ways than one.
If you follow me on facebook or instagram you may have seen that I had a day off from being Mummy this week, which was very exciting for me indeed. I will go into more detail in another post but it was AMAZING to have a day off from being Mummy. Hubs and I got a bit of time together and then I got to relax with a friend over a glass of wine on the Harvery Nichols roof terrace. Just lovely! I also got to see the Kensington Roof Gardens, which I have always been intrigued by, so that was quite exciting too!

In other exciting news, we are making some plans at the moment for a conversion/extension. We currently have a garage and car port, and the plan is to turn the car port into a garage and the garage into an office/playroom/toy storage room and we will gain a utility room too.
We have been talking about it a lot this year and it has been a slow process getting the drawings done and quotes, seeing how we can afford it etc. etc…. But it finally seems to be coming together now. Eek! So last weekend was spent clearing out the garage (a heck of a job believe me!) ripping down shelves and breaking up old furniture, sweeping away hideous cobwebs and horribleness. After 2 days of hard graft and 3 trips to the tip the garage looked like this. So weird to think of this being an actual room one day soon!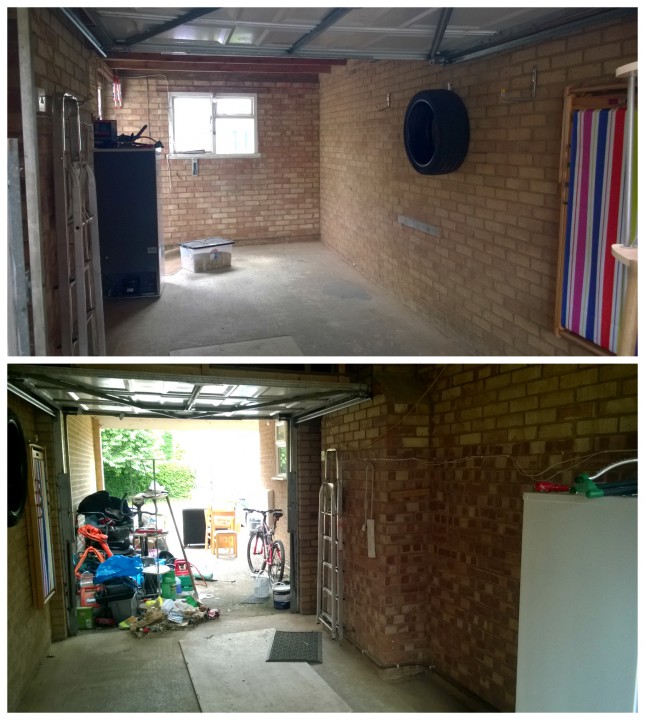 We have also been talking a lot about layout, colours, styles and all fun parts of interior designing which I love and is very exciting. We keep changing our mind at the moment though over what we want so thankfully we have a bit of time before any building work starts to decide. We are still waiting for the building regs at the moment though thankfully don't need planning permission. So, well, watch this space as I am sure there will be more updates to come over the next few months!
Another bit of exciting news is that we may have stumbled upon a solution to LM's sleep regression, or rather my lovely Mum has! I only blogged about it this week but it has been troubling us for some time. When my parents babysat for our day in London Mum mentioned she had got LM to sleep with no fuss at all, because she rubbed her tummy for a few minutes to get her to sleep.
I couldn't believe my ears! After weeks of fussing a bit of tummy rubbing soothed her to sleep? Apparently my Mum did it with us as babies so it was just a natural instinct for her to rub her tummy. That night I rubbed her tummy but she didn't seem to want to sleep so I left her to it… and she did then fall asleep by herself, with no tears. No tears! For the first time in weeks!
The next day at naptimes she wanted to sleep on her tummy so I rubbed her back and each time she feel asleep in minutes and slept really well, despite having a cold. I couldn't believe it!
So far so good but I am excited to think we will have less stressful naptimes and bedtimes… fingers crossed anyway!!
The final bit of excitement, yes there's more, is getting ready for holidays in a couple of weeks. We are housesitting for a friend in Dorset so yay, free holiday on the south coast! Amazing!! It has come round really quickly all of a sudden so I am excitedly planning where we are going to stop on the way there and what we are going to do while we are down there!
So yes, lots of excitement at the moment, which is really lovely 🙂 How has your week been?