My work of the week this week is "progress" as we are making some great progress, on a number of fronts.
I wrote last week that we are starting our new big project, and honestly the builders have worked so hard and only 1 week later, the progress is incredible! They've obviously got a way to go yet but the work is well underway!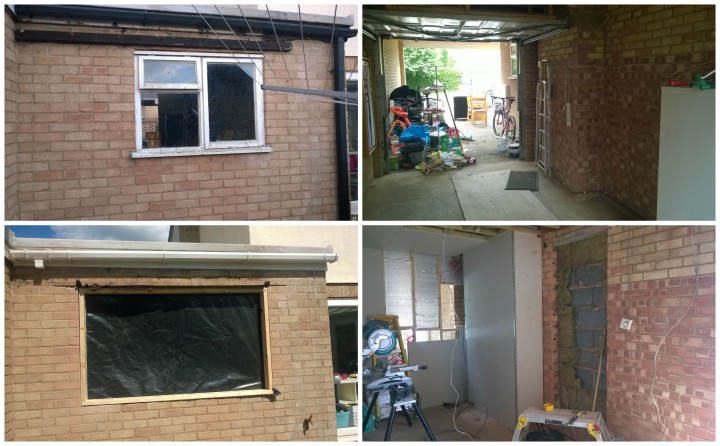 The old garage is feeling much more like a room, now the stud work is up, it is insulated and has the plasterboard up. The new, larger window has been created and the old garage doors (front and back) are well and truly gone. The foundations have been dug for the new wall on the garage and what will be our utility room, and today these were filled with concrete.
It's very exciting though my word could also have been chaos as of course it has been noisy and hectic and a bit chaotic having the builders in – and they will be around for a while yet!
We've also made some progress getting rid of some of the old stuff from the garage and have sold a few things on ebay, which is brilliant. No point stuff we don't use going back into the new garage! We've given away lots of baby clothes and other bits including a moses basket and nursing chair to friends. We know we aren't having any more babies but it is lovely to see our bits go to a good home,
We are also making progress in a totally different area, potty training Monkey! I haven't mentioned it but we also started potty training last week and Monkey has been doing amazingly. We've had less than 10 accidents all week and he is getting better and better at telling me he needs to do a wee (rather than just going when I take him). He goes a couple of hours between wees and has even had a few dry nights which we are hugely impressed with! I will write more about how it's gone in a later post but I am so glad we waited until he was ready.
We tried earlier this year and he wasn't ready, but now he is and he has just got it straight away. I know we all feel the pressure to do it early and having a 3 year old in nappies certainly what I thought would happen but waiting until he was really ready and following his lead has been absolutely the right thing for us. It has actually been really easy, which is a huge relief, and it is lovely seeing him in pants rather than nappies!! 🙂
In many ways it has been a tough, and certainly busy, week with the builders, LM and I have a cold and Monkey is a bit ratty and not 100% either. But it is good to feel like we have made some great progress and are really getting somewhere!
How has your week been?