On our recent holiday to Dorset one of the absolute highlights had to be the gorgeous day we spent visiting Durdle Door, a stunning rock formation on the Jurassic Coast…. but the day wasn't without it's challenges! I really didn't do much research into before we went, and didn't really take in what I did read, so I will be honest, I was completely unprepared for how tricky it was to get there.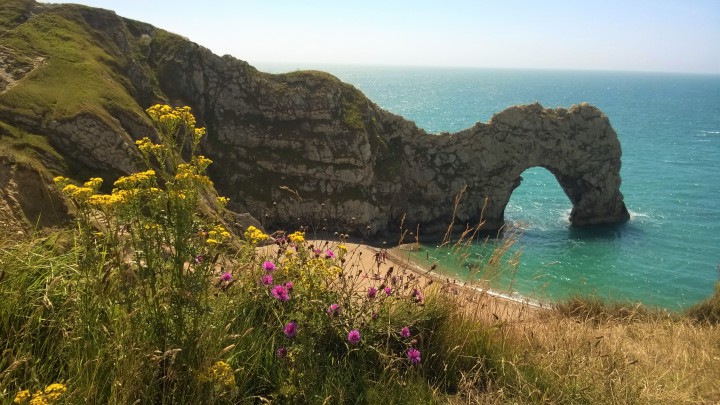 The car journey was fine and uneventful. Access is via the Durdle Door holiday park, where there is a pay and display car park. Some people were parking on the road outside the holiday park but it is worth paying for the car park. It is not too expensive really and it is hard enough getting to the beach and Durdle door itself from the car park let alone adding on another huge journey up/down a hill!
Why so hard? Well, access is only via a very long, very steep, sandy/stony/dusty (so slippy) path down the cliff-side. This gets you to an amazing viewing point. Then there are around 150 steps down to the actual stony beach. Don't let this put you off as it is stunningly beautiful and well worth going, but please learn from my mistakes and be prepared!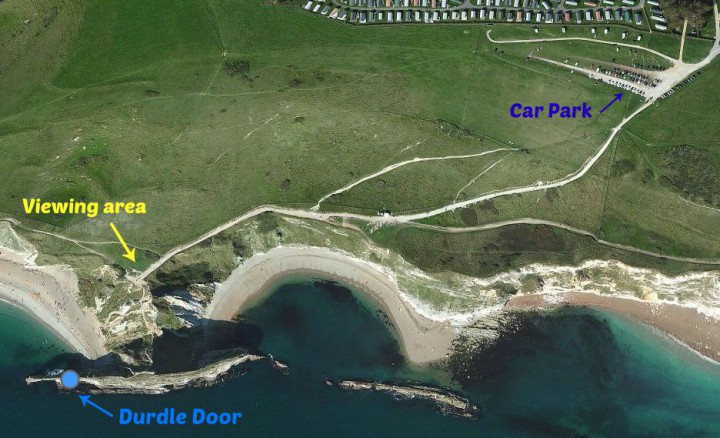 First of all, we took way too much stuff. I had no idea what the route down involved and hadn't really thought about the fact that the beach was stony. So we went down, very heavily laden with all manner of beach toys which we did not remotely need or use.
Our second mistake was taking the buggy – I had no idea there were so many steps at the end of the journey, it was hard enough getting the buggy up and down the slope and there is NO way you would want to carry a buggy down the steps, as it is very busy and there are no safety rails whatsoever.
So, anyway, we struggled our way down the very steep dusty slope with the buggy and all our bags clutching on tightly to Monkey and keeping him well clear of the edge, wondering how far away we were going to have to go. Then we got to the viewing level, and like I say, stunning… then we saw all the steps and wondered what to do next…. We decided to have our picnic there while we pondered what to do.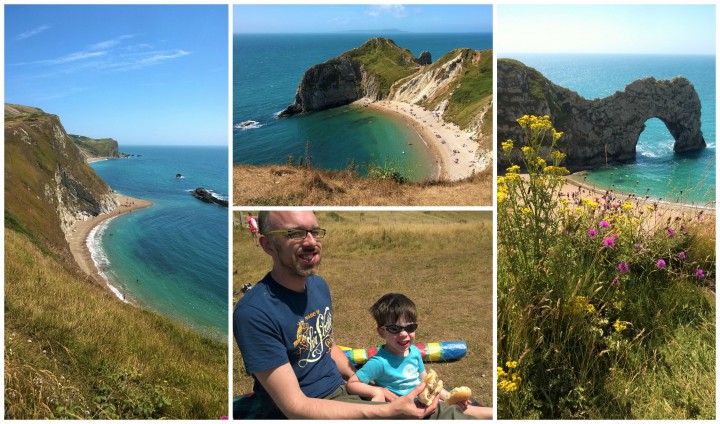 Eventually we decided we did want to go down the steps, having come all of that way. The buggy we had with us is a very cheap one we bought a couple of years ago to take abroad, thinking it may not last that holiday. It has still been going strong but we have had good use out of it so we decided to leave it at the top. We tucked it under a trailer being used as a bin and while we hoped it would still be there on our return, we accepted the risk that it may not be. (Thankfully it was there though, hooray!)
The steps were steep and there are no handrails but Monkey did so well and we managed down the steps with all our bits and bobs. We made a bit of a game counting the way with Monkey as he does so love to count! The Durdle door itself was very impressive but it was a very steep slope to the the sea and difficult to get to on the stones. Was nice to have a paddle, although neither Monkey or LM were impressed with the noise of the crashing surf.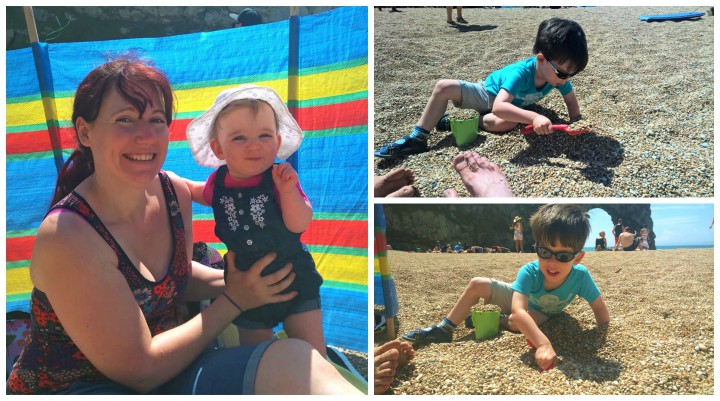 We had a lovely time enjoying the sun before it was time to start the difficult journey back up hill. Let's just say it was definitely a slog! We stopped halfway up for some ice cream as it was so hot, but it really was incredibly hard work. It was well worth a visit, though we were exhausted by the end of it and I wish I had done some research before we went, so here is my advice if you are planning a visit.
Be prepared for a long walk and wear good shoes – my flip flops weren't the best choice of footwear for the journey!
Don't take everything but the kitchen sink – there isn't sand, there won't be sandcastles.
Go without a buggy if you can, there are stairs at the bottom that you won't want to carry a buggy down… it's not much fun pushing the buggy back up the hill either!
Be prepared to carry a little one if their little legs can't manage it (see why you shouldn't take too much down with you!)
Take plenty of drink, and food.
Go to the toilet before you head down – unless you fancy a wee in the sea, as there no facilities down there.
Pay for the parking, it is a long enough walk anyway let alone walking even further to avoid paying.
Use reins or keep a hand free for your kiddies – there are no safety rails whatsoever!
Enjoy the view as it is stunning!