We have been sent a lovely book to review by Harper Collins. It's the 10th Anniversary of 'How to Catch a Star' so we received the book in  a lovely presentation box and it came with some lovely extras. The book itself (and a spare copy to giveaway, see below!), a poster, some lovely activity sheets, some glow in the dark stars and a very lovely star shaped USB stick, which has the activity sheets on it.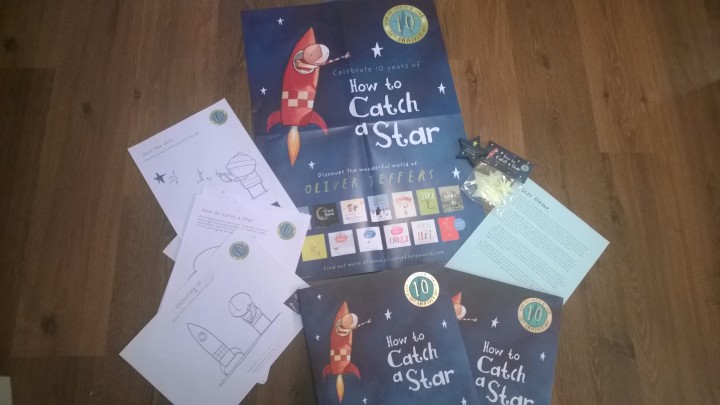 The book itself tells an enchanting story of a young boy who loves stars so much that he wants to catch one and have lots of adventures with it. Monkey loves stars too so it went down very well in our house.
Our favourite quote from the story is
"He thought he could fly up in his spaceship and just grab the star.
But his spaceship had run out of petrol last Tuesday when he flew to the moon"
Monkey very much enjoyed reading the book and looking at the pictures with his daddy!
And he loved the glow in the dark stars and the star shaped USB stick.
We also had great fun with the activity sheets, though some of them were a little advanced for Monkey he loved colouring all of them in 🙂
We then did a little star themed painting with a star cutter and a sponge cut in the shape of a star (well, I tried to cut it in the shape of a star! hehe It went a bit wonky! hehe
To my surprise Monkey did manage to stamp a few stars with the sponges, but then smeared them all over with his fingers hehe. Ah well, at least he had fun!
Overall it is a lovely lovely story that I am sure will be a family favourite for many years.
Out on the 27 March, the 10th Anniversary edition of How to Catch a Star is  now available from Amazon for £12.99. (At the time of writing it actually looks as though the price is currently reduced to £9.09!)
Alternatively you can win a copy of this lovely book by entering the below competition!
I was sent the book for the purposes of this review but all views and opinions are my own. Winners will be contacted within 48 hours of the end of the competition. Competition is open to UK residents only and the book will be posted  within a week from the end of the competition. I accept no liability for items lost in the post.