In a few weeks' time we are off to a lovely summer wedding! I love a good wedding and so always look forward to them. My biggest worry though, was with being about 7 months pregnant at the time, what on earth should I wear?? We went to a few weddings when I was pregnant with Monkey, and I had a fairly cheap Maxi dress, which at the time I thought I looked ok in. In hindsight, I just looked massive, and basically felt like a huge column of wide! I'm not great in maxi dresses normally, I think other ladies look lovely in them but I have never found one that suits my shape. Being pear shaped I have also felt they make me look wider than I actually am.
So what shape to go for instead? I decided short rather than long would help but it can be hard enough choosing a dress to wear when you are not pregnant, so when your body is growing and changing constantly it is even harder. I really did not know what style or shape or size would work best, and unfortunately there are hardly any shops stocking maternity wear in our area, and the ones that do certainly don't stock occasion wear! So I took to the internet.
Of course, the problem with internet shopping is that websites only ever show stick thin models, and maternity models are no different. In many cases the models aren't even pregnant and just have fake bumps attached to their frames. I can understand why they do this, but it doesn't make it easy to see what clothes will look like on an actual pregnant person!
So I decided to order the dresses I liked the most, in a couple of different sizes, and then return the ones that didn't fit or look right (thank goodness for Credit Cards and the ability to do this). I haven't found anything I liked at lower prices and decided that I would really like to feel good about myself and not cringe every time I see photos of our friends' wedding, so decided to push the boat out and spend around £100 on a dress (then I will probably sell it on ebay afterwards I think!)
I was disappointed that some places don't offer free returns. I think when you are looking to spend £100 on a dress and there is no other way for you to try the dress on and see if it fits, offering free returns is so important! Otherwise it just adds up to make the dress even more expensive. So many places do it now, and often for not very expensive items, so for dress shops not to offer it on expensive dresses feels a bit cheap to me.
Anyway, I saw lots of lovely dresses online but my favourites to try were from Seraphine and Tiffany Rose.
Seraphine have a lovely range of dresses but the one I liked the most was the Cherry Blossom Silk Chiffon Dress. I wasn't sure what size to order but thankfully they offer a free returns service, which meant I could order both sizes and return the one that didn't fit, or both if the style didn't suit. On the model it looked like a lovely floaty summery dress. Buying dresses pre-pregnancy was always a bit of a gamble size wise as I was a 10-12 top and 12-14 bottom. While some size 12 styles would fit, other styles needed to be in a 14 to fit comfortably. they say in general to order your pre-pregnancy sizes, so although I am a 12-14 top now and 14-16 bottom, I ordered a size 12 and a size 14 in this dress.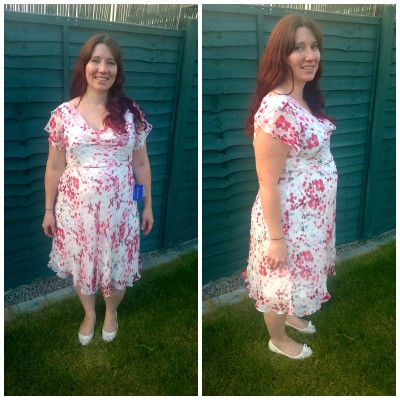 It is a lovely dress in a lovely floaty fabric. The size 14 was far too big for me, and while the 12 was a better fit, I am sorry to say that the style didn't suit me at all. I personally felt that it made me look a lot bigger all over and made me feel like I looked rather plump, instead of pregnant. I'm all for embracing the curves you get when you are pregnant, but no-one wants to look bigger than they are and unfortunately this was how I felt in this dress. Gorgeous dress, just not right for my shape sadly.
Tiffany Rose have an amazing collection of beautiful Maternity dresses to choose from. Unfortunately they don;t offer free returns and I do think this is a shame, for all of the reasons mentioned above! There were two dresses I was particularly drawn to on their website, but being completely different styles and material I really wasn't what sizes to try. To be honest the lack of free returns nearly led to me not trying any dresses at all as I knew I would have to pay for returns if I ordered more than one size, and I was looking elsewhere.
After a brief conversation on Twitter I then had an email conversation with the sales team at Tiffany Rose who were extremely helpful. When I explained my predicament regarding sizing they very kindly offered to arrange a one-off collection so that I could try both dresses, in different sizes. They were also very helpful when talking about sizing of the particular dresses and recommended which sizes I try, depending on each dress.
The first Tiffany Rose dress I liked was the Alessandra Poppy Dress. I thought the colours would be perfect and thought being quite floaty that it may be nice and summery for the wedding. They recommended I try size 2 – which is 10-12, which I would never have chosen myself as I am bigger than a 10-12 now, so I also ordered size 3 –  which is 12-14.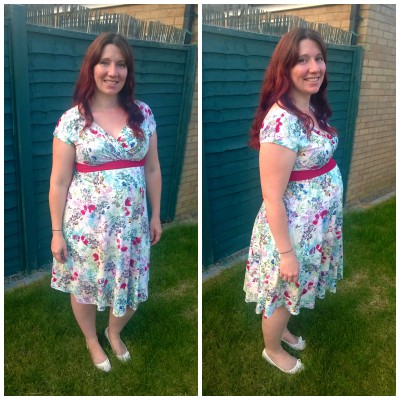 They were spot on with the sizes however and the 10-12 was a perfect fit. Unfortunately though the fabric of this dress was surprisingly heavy for a summery dress and this counted against it a little bit. That wouldn't have been enough to stop me if I loved it but it definitely counted against it a little. It was a lovely dress, but again I just didn't feel like myself in it. It felt more flattering for my shape than the previous dress but I still felt that it wasn't quite right for me.
The second Tiffany Rose dress I liked was the Riviera Dress. A totally different style to the previous two and I loved the way it looked on the model but I really wasn't sure how it would look on me – as I am no model! Being a firmer fabric I was particularly unsure of the size to try. The sales team at Tiffany Rose suggested I order the 10-12 and 12-14 but I was very sceptical of how these would fit. Looking at the shape of the dress, and the size of my bum I was very unsure so I ordered the 14-16 as well.
I couldn't even get the 10-12 on (eep) and the 12-14 fit, though was quite tight. It was quite tight around my boobs and wouldn't give much growing room for the bump. With  a month to go before the big day I have a feeling I may be a bit bigger by then, so the 14-16 it was!
I love this dress. I do. It's not a perfect fit, in fact it gapes a little at the top so I need to pin the straps slightly, but it has room for the bump to grow and I feel like myself in it. I feel pregnant still but a pregnant me, rather than a pregnant plump woman.
So Yay I found a dress!! Woohoo 🙂
Now I just need to work out what to do with my hair,(I am not the girliest girl and never know what to do with my hair!!) and what shoes to wear as I cannot manage heels at the mo!