Some really good friends of ours live in Newcastle, which is around a 4 hour journey from where we live. In order to see each other a bit more often we are trying to meet in the middle a bit more – making day trips with small children much more manageable. For our first such meet up, my friend suggested the National Railway Museum in York.
We considered going on the train but it was going to be about £100 without a seat for Monkey, plus the added stress of where to put LM and her buggy, so we wimped and out and went in the car. The train would have taken a little over an hour whereas it was nearer 2 hours in the car, but we were comfortable and LM slept both there and back which was brilliant!
The National Railway Museum
The National Railway Museum is the largest railway museum in the UK and home to over a million artefacts showing the history of railway. It is free to enter, though you can make a donation ot purchase a guide book if you wish. A must for any train lover and what little boy doesn't like trains?
Well, ours, apparently! He had been really excited about going, then as soon as we arrived and walked into the museum.
"I don't like trains" "I don't like trains" repeated on loop at least 50 times on the way to the cafe where we headed to feed LM and meet our friends. Ever the contrary toddler eh?
In truth though I can understand why. The building itself is vast, and absolutely filled with trains, including the biggest trains I have ever seen! Hubs is 6'2″ and one of the first trains you can see when you arrive is a Chinese train where the wheels are as tall as hubs… and the whole thing about 3 times his height. Understandably daunting to a 2 year old I think bless him! So in saying "I don't like trains" I think what he was actually saying was "Hey Mummy I am not sure about this, they are a bit scary! I thought trains were smaller than this!"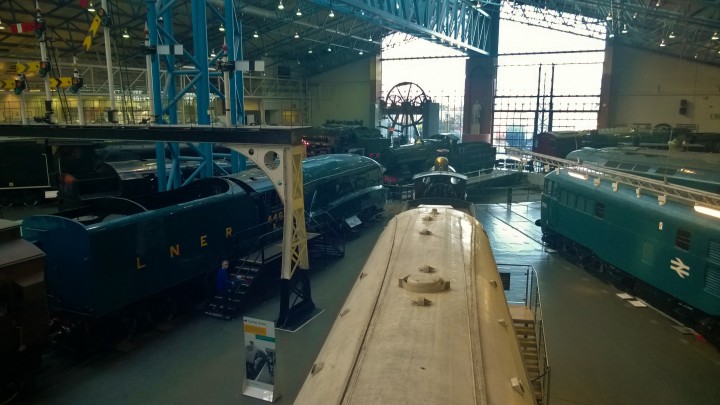 After having a snack and meeting our friends we hoped Monkey would feel more enthusastic about the trains and took him to have a look inside them. But no, he was  having none if it, typical! This was just him you understand, my friend's little boy was loving looking at all of the trains and there was lots of other children there enjoying themselves,  There was however a model railway which he adored and didn't want to leave!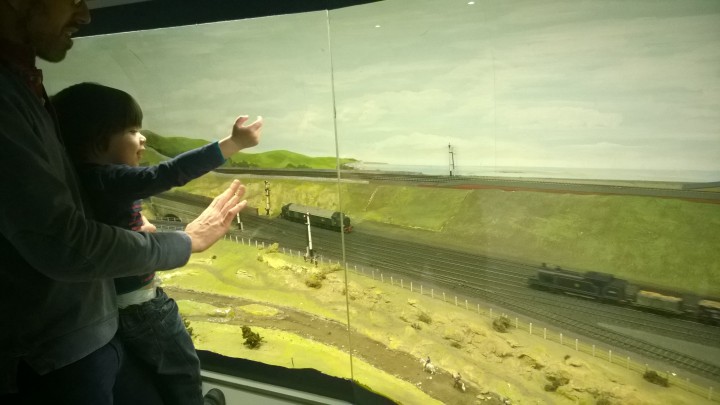 One train we did get him interested in was, unsurprisingly, the post train! He seriously loves anything "post" related. We did also manage to persuade him that some of the big trains he saw were like "The Greendale Rocket" form Postman Pat so he did enjoy those a little more.
Both boys thoroughly enjoyed the great little outdoor playarea, even though it was bitterly cold and so windy that day!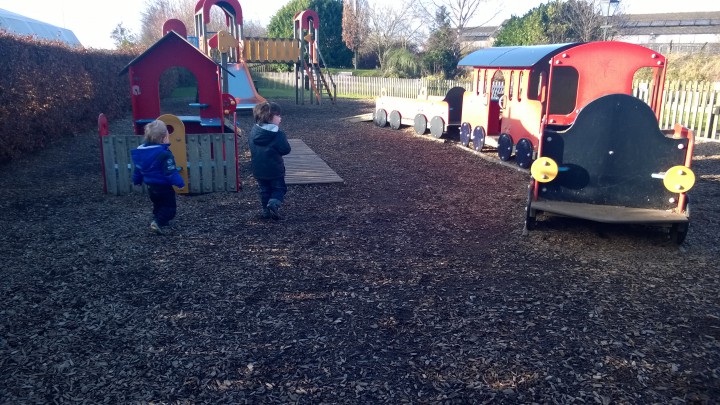 Dining wise, there is a couple of cafes and restaurants to choose from and there is also a lot of benches and picnic tables available to use, both indoors and outdoors. We had a a morning cuppa, and an afternoon break at the cafes but took our own picnic for lunch and there was lots of families who had done the same. It is always nice that there is seating areas provided for this, and that we didn't have to sit out in the cold to enjoy our picnic.
The museum has great access for pushchairs and wheelchairs and our boys adored running up and down the ramps – it really is the simple things that entertain children isn't it? The museum is divided across the road and there is a concourse that runs underneath, with lifts at each end.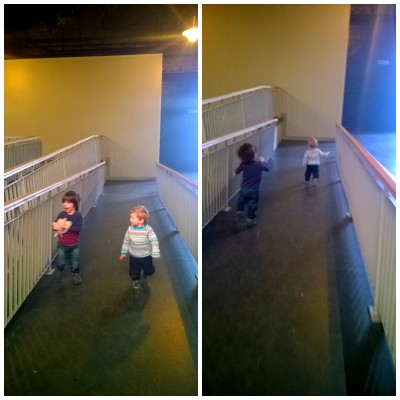 Our boys loved the sweet playarea, which of course, had lots of trains to play with and even Chuggington dressing up clothes! Though I believe they are renovating it soon which I am sure will only improve it.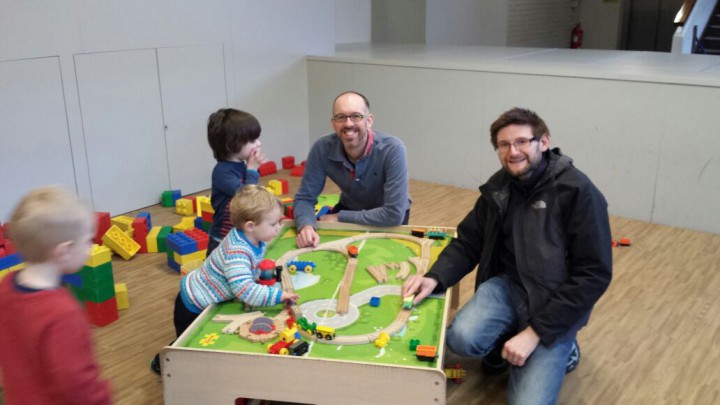 There is a variety of exhibitions and so much to see and honestly we barely touched the surface and weren't really able to take much of it in with small children to entertain. They do demonstrations of trains turning on turntables and we did go to see a show, which sounded great and very entertaining, although we realised it was little above our boys' level when they started discussing Newton's laws of motion! I am sure older children would have loved it though.
I think the highlight for our little Monkeys was standing out on the viewing platform watching the trains go in and out of York station. They loved waving at them all as they went by and the train drivers were great, waving back and tooting at them – they must see kids there so much but for them to respond to it is very kind and made their day!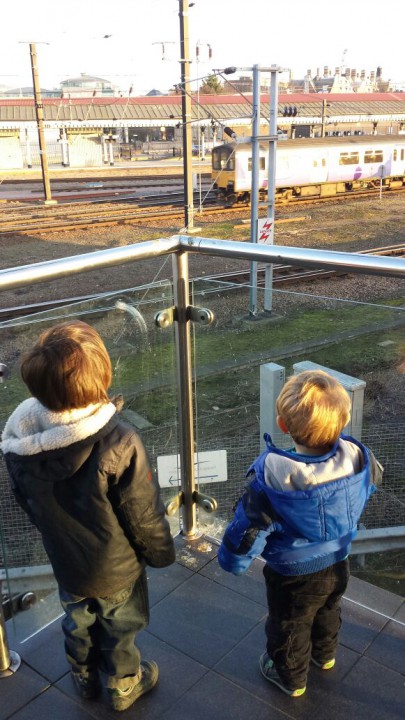 We had a really lovely day out at the National Railway Museum and will defiitely go again when the kids are a little older too and can appreciate it a little more!