Last week I was contacted about a fantastic new product, the OmniO Rider. A lightweight stroller which can be folded up and worn as a backpack. Straight away it sounded like a great idea to me for any parent with a toddler who wants to walk, but then gets tired out for the journey home.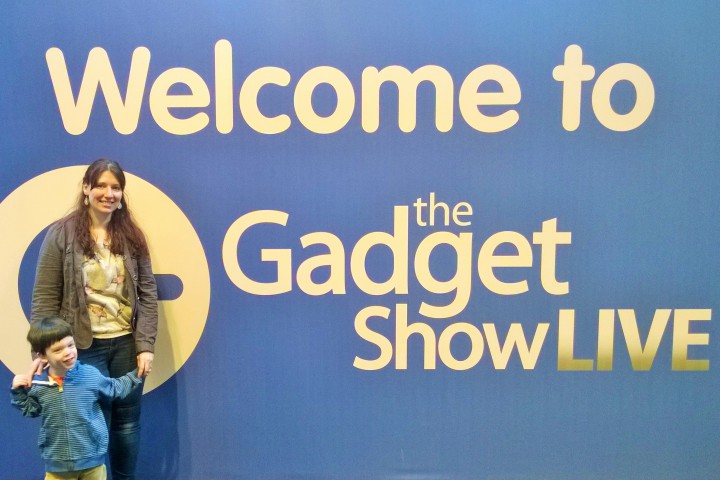 I am not the only person to think  it is a fantastic idea and the OmniO Rider has just won the Gadget Show Live's "British Invention of the Year Award!"  The OmniO team invited us to go along to The Gadget Show Live and take a look for ourselves.
We love to go out and about as a family but have been a bit nervous of days out far afield since Little Miss was born due to her lack of routine. However we decided this was too good an opportunity to miss so we went for it. Thankfully the NEC in Birmingham is only about an hour and a half away from us, so it is easily do-able in a day. I'm so glad we went as it was a really wonderful day and we all thoroughly enjoyed ourselves.
The OmniO Rider
A bit more about the OmniO Rider. Weighing under 6kg it is the first-ever stroller which can be carried like a backpack.  Hubs and I both had a try and it is really not that heavy to wear. It's such a great idea as I am sure we have all faced the dilemma of whether to take the bulky buggy, which may come back unused, or end up carrying a tired toddler home which is exhausting after a few minutes!
The OmniO Rider is small enough to fit inside cabin baggage compartments on planes, and has some incredibly innovative wheels for precision steering and control. Seriously, these wheels are amazing.
I have a real problem with the wheels on our buggy and our stroller. Our buggy is a three wheeler and even getting it out of the house is a pain as the wheel spins sideways so when you put it down you can't move properly, and it can just be so unwieldy. Our stroller is just a cheapy but trying to move around is a nightmare of having to lift it and adjust it if you want to go anywhere but forwards in a straight line!
The OmniO Rider's wheels are made with a series of rollers (you can see these in the picture above), which enables them to roll sideways smoothly and easily, as well as rolling forward. When I gave it a push I automatically went to lift the wheels to turn it (as I would with any other stroller) then realised I didn't have to as it moves so brilliantly. Honestly we were dead impressed.
If you want to know more about the OmniO Rider, have a look at their website or their Indiegogo crowdfunding page. It is due for release later in the year but you can get in early on Indiegogo and get a discount on the retail price.
It was great to see the OmniO Rider up close and chat with the team. It was also great fun (though very nerve racking) to answer a few questions on camera and explain why I like the stroller so much for their promotional purposes. I am definitely not very comfortable in front of the camera (hence no vlogs on my blog) but it was a good bit of fun.
The Gadget Show Live
The rest of The Gadget Show was brilliant too. There was so much there and a lot more of it was family oriented than we had expected it to be. There were some fab kids trails and areas where kids could get involved with making their own gadgets. I saw some young boys with goggles on doing some soldering which was just so cool.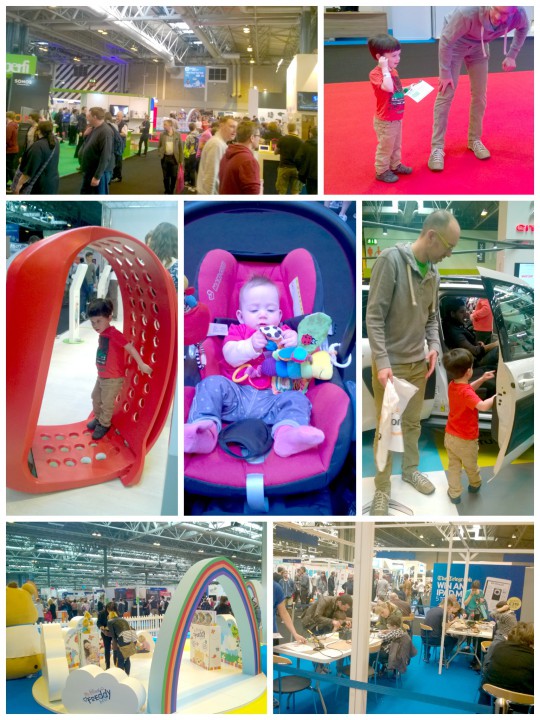 Monkey was a bit young for that but honestly he was just loving running about everywhere weaving in and out of all the people while we followed closely after! I got a bit of a treat as I got my hair done and bought a fab new hair curler (for my birthday in a couple of weeks) so stay tuned to hear if I manage as well with it myself. There was so many products from the latest electric cars, to little gadgets to help pick up crumbs from carpets, and hubs favourite is a drone – for about £4000! Needless to say we did not buy one of those!
LM did really well too. She charmed just about everyone she met and was a really good girl on the whole, which was a huge relief for us! We were just so pleased that the day went so well, and was really proud of us for grabbing the opportunity and going to the show. It's all too easy sometimes just to stay home where things will be easier but it did us the world of good to get out for the day and do something entirely different!
We received tickets to The Gadget Show Live free of charge however we were under no obligation to write this post in return. All thoughts, opinions and images are my own.