I made this for the first time last week and was amazed how well it turned out – I have never made soup before so if I can do it anyone can! Monkey has been a fussy eater for months now but after a few tries he loves soup! Wahoo! So I need to learn to make some, great way of getting some more veg into him!
Hubby is 1/4 Malaysian (I know, he doesn't look it) so we like quite a lot of spice in our house. I added a bit more spice than was in the original recipe I found and Hubby, Monkey and I all love it, which is great.
If you are unsure about how spicy you would like it, I recommend adding half the spices mentioned below, then have a quick taste after it's blended and add the remaining if you feel you need to. It's easier to add the spice than take it away!
I found it took about 40 -45 minutes including prep time.
The ingredients below is enough to make about 6 servings, though it is worth mentioning that I was making a double batch when I was taking the photos so they are to give you an idea but there is a lot more of everything than you will need to make the amount described!
Ingredients

25g Butter
1 Onion – Finely chopped
1 clove of Garlic, crushed
1 Butternut Squash, cubed to 2-3cm
1 Sweet Potato, cubed 2-3cm
1 tsp Paprika
2 tsp Mild Chilli Powder
2 tsp Ground Coriander
2 tsp Ground Cumin
Salt & Pepper
100ml Double Cream (I used Elmlea Double Light)
1 Litre Vegetable stock. (The first time I did it I used a couple of knorr stock pots and it tasted amazing, but I forgot to buy them the second time and only had a low salt vegetable stock – it tasted ok but nowhere near as much flavour being low salt.)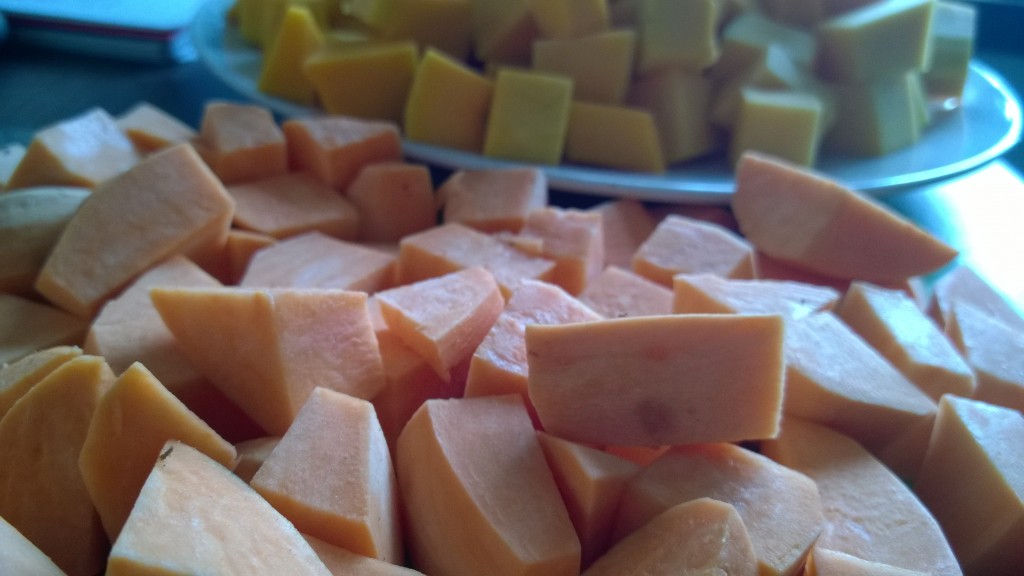 Method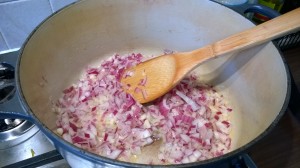 In a large saucepan melt the butter on a low heat
Add the onion and cook, stirring occasionally. Add the crushed garlic to the pan.
Once the onion is soft, add all of the spices and a shake of salt and pepper and fry for a few minutes.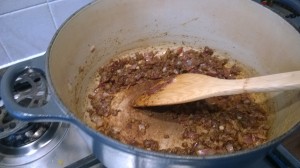 Add the Butternut Squash and Sweet Potato and stir to coat in the spice mix.
Pour in the stock and make sure everything is covered. Give it a good stir, making sure you get to the bottom of the pan.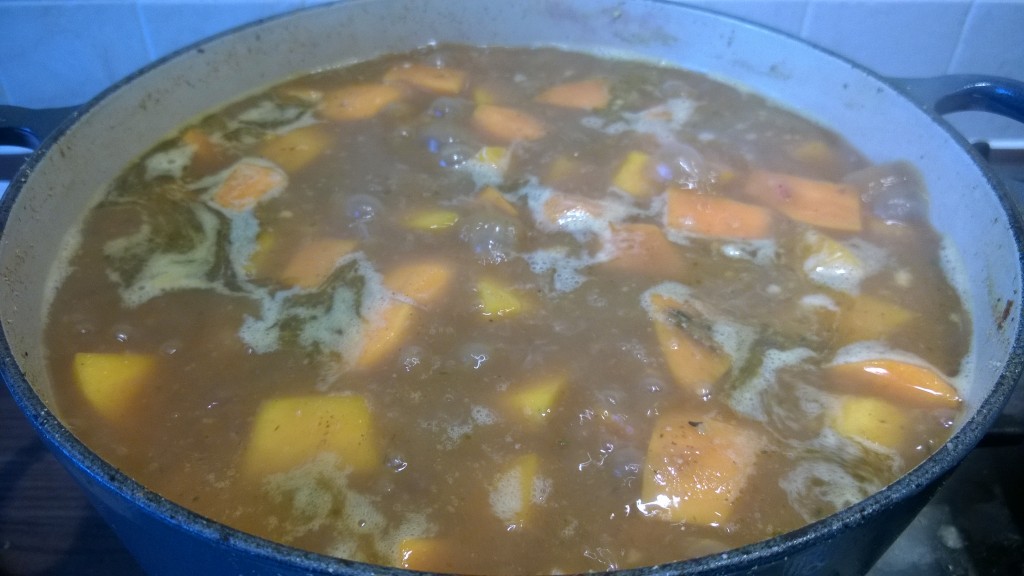 Bring to the boil and simmer until the vegetables are soft.
Blend to the desired texture (I use a hand blender in the pan because I either use a big Le Crueset pan or our saucepans which are hard anodised – I wouldn't recommend doing this if your pans are non-stick, you could pour into a food processor instead).
Stir in the cream and serve.
Easy Peasy and so yummy – is delicious with some crusty bread.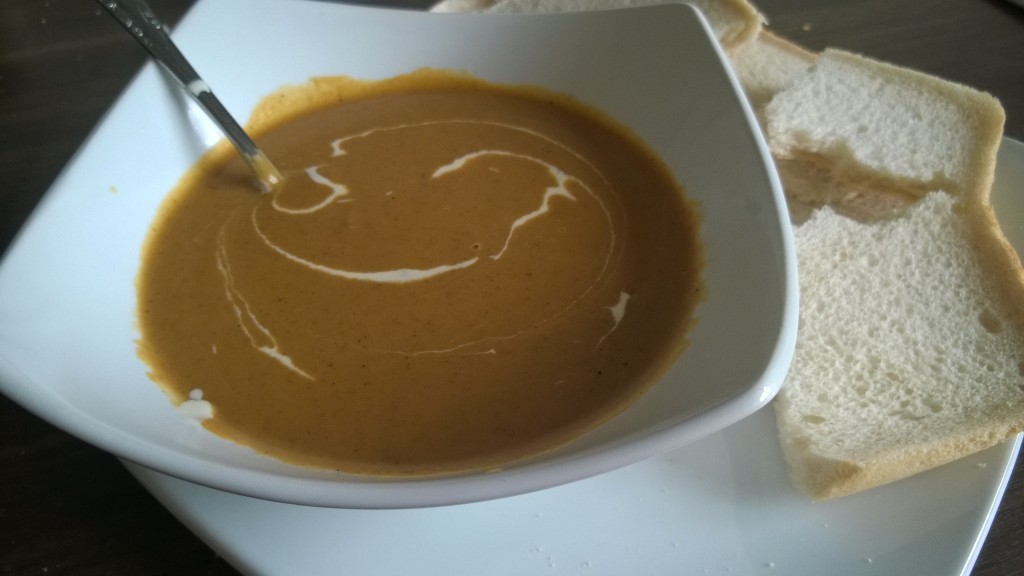 Enjoy!