This is one of our favourite family meals, as it is delicious and so simple. It started at life as one of Annabel Karmel's recipes (as regular readers will know, I love her) which we have adapted to make enough for the whole family, and we use Turkey whereas she uses chicken in her version. It's great to get a bit of hidden veggie goodness into picky eaters too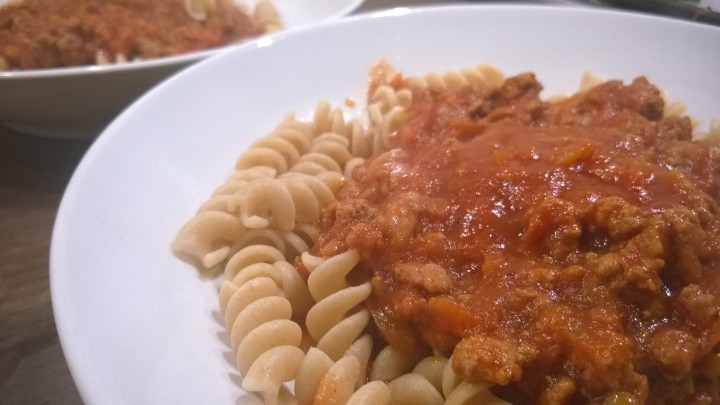 Ingredients
1 tbsp Olive Oil
1 Onion, peeled and finely chopped
2 Carrots, peeled and grated
1 large Garlic Clove, peeled and crushed
500g Turkey Mince (we use thigh mince)
1/2 tsp dried thyme
600ml Passata (sieved tomatoes)
300ml Pure Apple Juice
2 tbsp Tomato Puree
Lots of Worcester Sauce (I think about 3 tbsps but I don't really measure it!)
1 tbsp Italian mixed herbs
2 tsps sugar
To Serve
Pasta. We use wholewheat as it goes nicely but normal pasta is lovely too. We tend to use weight watchers portion sizes so have about 50g of dried pasta per person, it's not a lot though so make as much as you would normally use for your family. There is plenty of mince in the recipe, we tend to get 4 adult portions plus two kiddy portions from the bolognese, and they're quite generous.
Method
1 – Heat the oil in a fairly large saucepan and gently fry the onion and carrot over a low-medium heat, stirring often, for 3 minutes or until soft.
2 – Add the garlic and fry for another 30 seconds
3 – Add the turkey and fry, stirring frequently until cooked.
4 – Add the thyme, passata and apple juice, bring to the boil.
5 – Stir in the tomato puree, worcestershire sauce, sugar and italian mixed herbs.
6. Bring to the boil, reduce slightly but then leave to boil and reduce for 15 minutes (stirring occasionally).
7. Meanwhile cook the pasta according to packet instructions.
8. Taste test the sauce, adding more worcestershire sauce if needed.
Serve/ You can either mix the sauce and pasta together, or serve separate, whatever your preference.
Including the prep time I find it takes 40-45 mins to make but a big chunk of that time is just on the hob.
So simple and tasty, and being Turkey it is a really healthy, low calorie meal too, packed full of flavour. Why not give it a go?