I have a new love. My new raincoat from Trespass, the Stormcloud Women's waterproof jacket. It surprises me as I honestly never thought I would find a raincoat that I like as much as this one.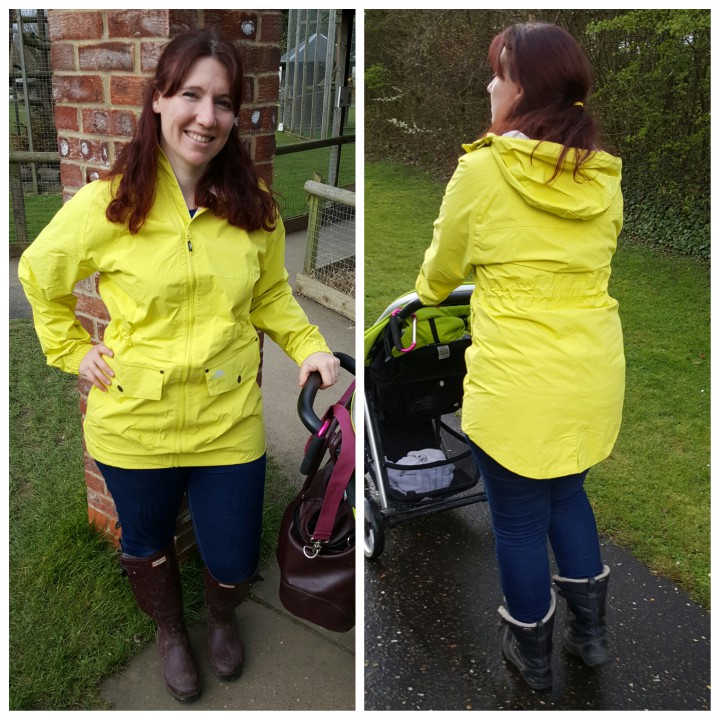 I am pear-shaped, meaning my bottom and thighs are approximately 2 sizes larger than my top half. My top half is currently a 12, but my lower half is a size 16. This makes buying any item of clothing for my whole body incredibly difficult. With coats, it means that in order for the bottom to fit, the top section is usually incredibly baggy and unflattering. My previous rain coat I have had for around 10 years and it has been around the world with me, but it is so unflattering and makes me look huge. I have wanted a new raincoat for ages but honestly didn't know where to start or whether to bother as any I've tried have been the same.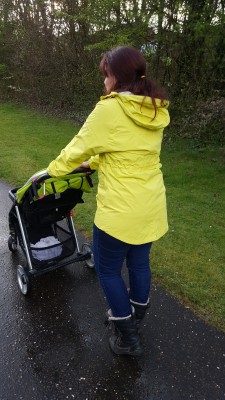 I am so glad that Trespass got in touch and invited me to look at their ladies waterproof range as I was so impressed. There were a couple I was tempted by but the shape of the Stormcloud jacket looked to be exactly what I was after. Long enough to keep me nice and dry, but still flattering. I have still had to order a large size for it to fit around my bottom, but the difference is that this coat gives me some shape. It has pull-cords at the waist which I can adjust to fit me and it means that for once I have a raincoat that doesn't look like I am wearing a tent!It also has what I am calling a ducks tail. A little extra length at the back which I think is very flattering but also useful for sitting on soggy park benches with the kids. I always hate my legs as I feel they are huge but actually think the curved tail to this coat is so flattering that I think it even makes my legs look ok!
The other reason I am surprised how much I love this coat because of the colour. I have never bought a yellow coat before and not sure I would have been brave enough too. But the shape of this coat is what attracted me to it, so after some encouragement from hubs (who loves yellow) I decide to be brave and go for it. It is so bright and colourful and I have been complimented on the colour so many times already. I do feel it draws people's attention (which isn't always ideal for an introvert like me) but so far only in a nice way. It makes such a change from a black or blue coat and brightens up the most miserable of days. I had already bought LM a lovely yellow raincoat and it is sweet to be matching!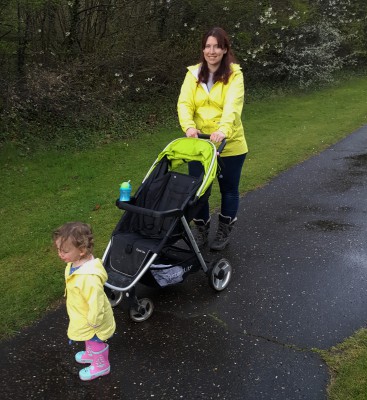 Features wise it has everything you could want of a rain coat. It is quite thin but that is what I wanted for the spring/summer. I have a winter coat but at this time of year it is too hot so this is perfect as it keeps me dry and helps keep out any cool breezes without making me feel too hot. The hood is perfect, not too big or too small as some can be. It also has an attachment at the back to tie it and make it smaller if need be. I have quite a big head and a lot of hair so for me it is perfect as it is but I do think that could be handy.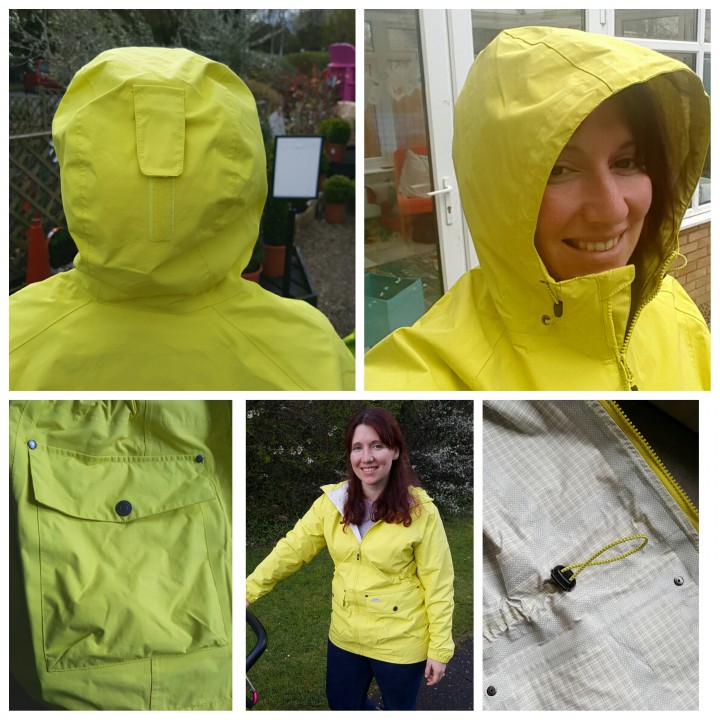 The pockets are huge which is brilliant. I always wind up carrying so much stuff around with me, tissues, half eaten chewy bars, mittens, house keys, my phone and I can even fit one of LM's drinks bottles which is very handy as we do sometimes go for a stroll without the big buggy and means I don't have to take a bag. The material of the coat has a lovely texture and isn't overly plasticky or shiny as some waterproof material can be. Monkey gave it a big seal of approval when he needed a piggy back at the end of a long walk, shouting in my ear "Your coat isn't slippy! I'm not slipping! Yes! You did it Mummy! Your new coat is lovely and not slippy!" haha definitely the most important feature in his mind.
My one criticism of the coat is the sizing. I have had to buy an XL. I am not at my slimmest at the moment but my lower half is a size 16. Is that really Extra Large? I know labels on clothes don't really matter and it's how it fits that matters but if the sizes are as simple as 8 (extra small) 10 (small) 12 (medium) 14 (large) 16 (extra large) can we not just use the numbers rather than labelling the sizes as large or small? Doesn't do much for the self-image and what if you are larger than a 16? That is the only criticism I can make though and is probably as much a criticism of the entire clothing industry as this particular coat and hardly a reason not to buy it.
So there we have it, my new lovely coat from Trespass, I honestly love it and would recommend it to anyone… In fact I think my best friend is going to get one as she is so impressed too.
I received this coat from Trespass for the purpose of the review however all thoughts, words and images are my own.