Before having children I don't think you can ever quite comprehend just how much you will love them, or how much you will worry about them! My boy. He's such a lovely boy, he's so kind and caring. He's like a sponge and is learning so much at school, his reading, writing and maths are brilliant for his age. He is so good so much of the time and I know we are very lucky with him.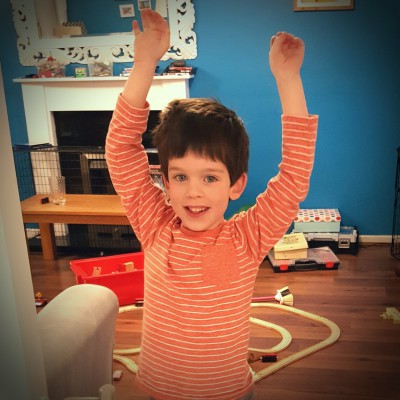 He has his moments of course, he doesn't always want to eat his dinner, but we can usually get him to eat these days thankfully. There's the usual stuff, arguments about getting in the bath, about getting out of the bath, going to the toilet before we go out, etc.
They don't worry me… But other things do. I know we are so so lucky with his behaviour and he's lovely… But he can be hard work in other ways. I sometimes describe him as being very linear, which isn't really fair as he is empathic and thoughtful and I don't believe he is on an autism or aspergers spectrum (any more than we all are I suppose). But he has his ways for things. He's grown out of a lot of it but one example is his swimming and getting water in his face.
Learning to swim is hugely important in my mind, and hubs.' because of that we took Monkey to swimming lessons fairly young, and carried on with them for a long time, even though it was actually a bit of a nightmare. He screamed the whole session and clung to his daddy. Hubs started to dread Saturday mornings because of the misery it caused both of them.
I've written lots about our swimming journey since then and he is much better than he was. As long as the water is warm he isn't too bad, and by taking things slowly with him we have got to a point where he will swim now with armbands on. I am proud of what we have achieved with him.. But then I see other kids his age or younger who are swimming without any floats or swimming aids, and I know all kids do thing at their own pace, but that doesn't stop me worrying. Are we ever going to be able to get him confident enough to swim unaided, let alone underwater? Is he going to be behind the other kids at school when they start swimming in a couple of years? Are we failing him by not paying for 1 on 1 swimming lessons? Would he drown if he fell in the water? (not sure when that would happen but I can't help but imagine the worst case scenario.)
It doesn't help that he is such a tall boy for his age (at 4 he's wearing age 7 clothes) . I see people looking at him with his armbands on and I try not to worry about the judgement of others, but it does affect me and I want to justify it, to justify him.
It's not just his swimming that worries me of course but lots of little things. He can be very clingy, he likes to stay firmly in his comfort zone and doesn't like trying new things at all. We try to encourage him as much as possible and get there with small things these days like trying new foods (a huge step if you knew what a fussy eater he was) but with other things he is too stubborn for us to win round. I know that all of this is probably just who he is, and I feel guilty for trying to change him, and I wouldn't want to push him to do something he really doesn't want to do. But what if we push him to do something he turns out to love? What if we don't and he never finds it?
I guess it's the eternal parenting question… Am I doing the right things for my child? Am I being a good parent? The answer is that I still have no idea what I am doing most of the time.
So, I worry. Then I convince myself that he is fine and I'm being daft and he will do things in his own time. Then something else pops up, or someone asks if Monkey does any clubs outside of school and I remember the dance class fiasco. Where he was fine when he was dancing with one of us, but when he had to move up to the next stage and go on his own, and he spent the entire 30 mins crying, every week and the teachers basically ignored him the whole time. Then I worry what he will be like at a different group and if I am a worse parent if I let him not do these things or if I make him go to things.
I'm sorry to anyone still reading, I know this post isn't really anything more than a jumble of thoughts. I don't have much of a point, other than that I have no idea what is for the best. This boy of mine is not a straightforward easy to please child, and I'm sure that is a good thing. His stubbornness and intelligence will probably stand him in good stead for the future. But his unwillingness to try something new, and the way he gives up on things so quickly without really trying, won't, so, I worry. About his entire life, even though he's only 4. Am I the only daft parent who over thinks and over worries about their children?
Answers on a postcard, please, (or, you know, in the comments below) they are very welcome!