When the time came to start to wean monkey on to solids I have to say I had no clue where to start. I felt pressure that I should make all of his purees so they are all fresh and full of goodness, but really didn't have the first idea how to puree anything, or at least how to cook things until they were ready to puree, steam? Boil? Bake? There are of course many wonderful jars and pots and pouches out there but as a stay at home mummy I felt that I should be able to prepare most of his food myself. So after a bit of online research I bought a book by Annabel Karmel. Her book had lots of good reviews and seemed like a good place to start.
I'm not going to write a detailed review of her book as there any many available online far more eloquent than I would be, but suffice to say this book has been my bible for the past few months. I skimmed some of it, and followed other parts to the letter. Great as a starting off point for how to make apple puree and others and her recipes really are amazing. We are yet to find one of her recipes that monkey doesn't like and of course I haven't made all of them but we have a made a lot of them now and each one seems better than the last. Monkey now seems in a phase where he hates to be spoon fed and only wants to eat finger food, and although they are a little fiddly, Annabel's mini meatballs are delicious and the rice balls so easy to make.
I have of course used jars, pots and pouches too, mainly to give monkey plenty of variety without spending my life in the kitchen, and there's only so much space in our freezer! There is no denying that they are also really handy, especially when we go out somewhere , but it's been nice to know that I have made some of his food, and honestly we love some of the recipes that much that we have adapted them in to adult meals for hubby and I so that sometimes we can all eat the same food together, which is nice.
Our favourite recipe of all time though is for her oaty cookies. They are so good we have even adapted them to an adult version, and everybody who has tried them just absolutely loves them! They are very quick and easy to make, although as with anything baking related with me, it hasn't always been plain sailing. There have been a few dodgy batches along the way, some where we have cooked them for a couple of minutes too long, or one where I forgot about 3 of the ingredients! They still tasted pretty nice each time though so I don't think you can go too far wrong with them.
Here is the recipe, almost to the letter of Annabel Karmel's, although we have adapted things ever so slightly 🙂
75g flour (the recipe is for wholemeal flour, but we have used plain flour too and they are delicious both ways)
55g rolled oats
¼ teaspoon of bicarbonate soda
85g of unsalted butter (soft)
75g caster sugar
1 tbsp maple syrup (15ml)
1 tsp vanilla extract (5ml)
55g chopped dried apricots
Some chopped white chocolate (optional)
Preheat oven to 180C if conventional, (160C for fan oven)
All ingredients (except chocolate) into food processor and whizz until well mixed into a dough – all apricot bits should be tiny and the mix is the same consistency throughout, we've found that it should almost be shiny for the perfect cookies.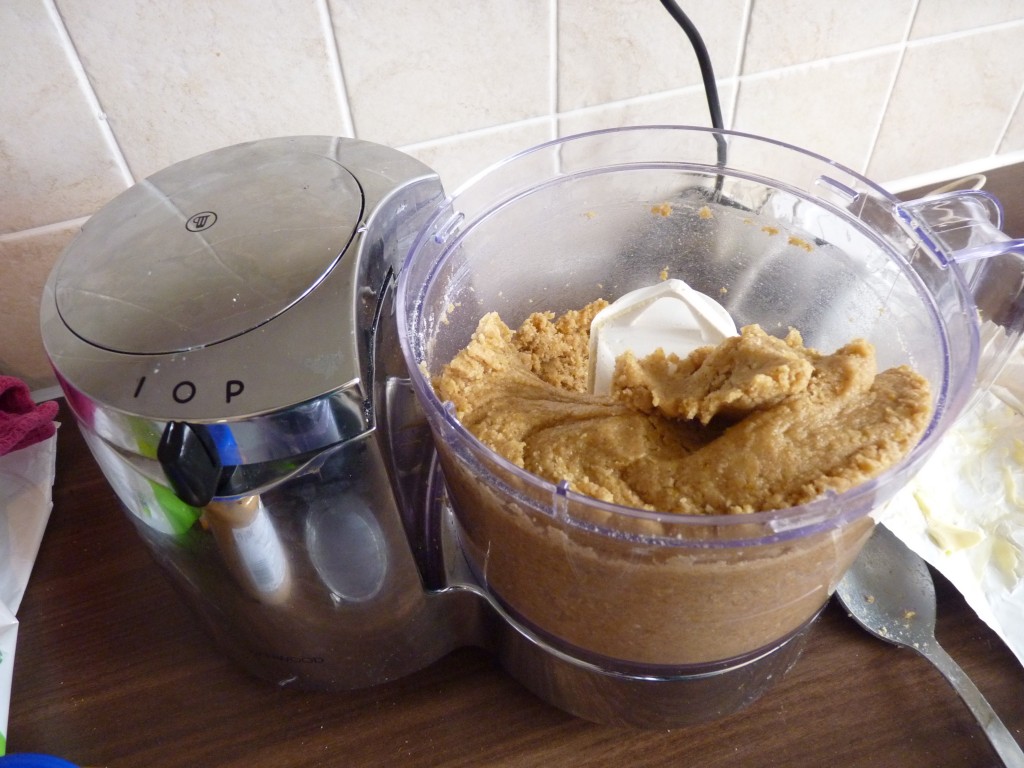 When making them for monkey I just leave them as they are but if you want to make them for grown ups or older kids with chocolate, now is the time to finely chop some chocolate (we like white chocolate) and stir it in.
Line baking trays with greaseproof paper (use little bit of marge on underside to stick it down if necessary)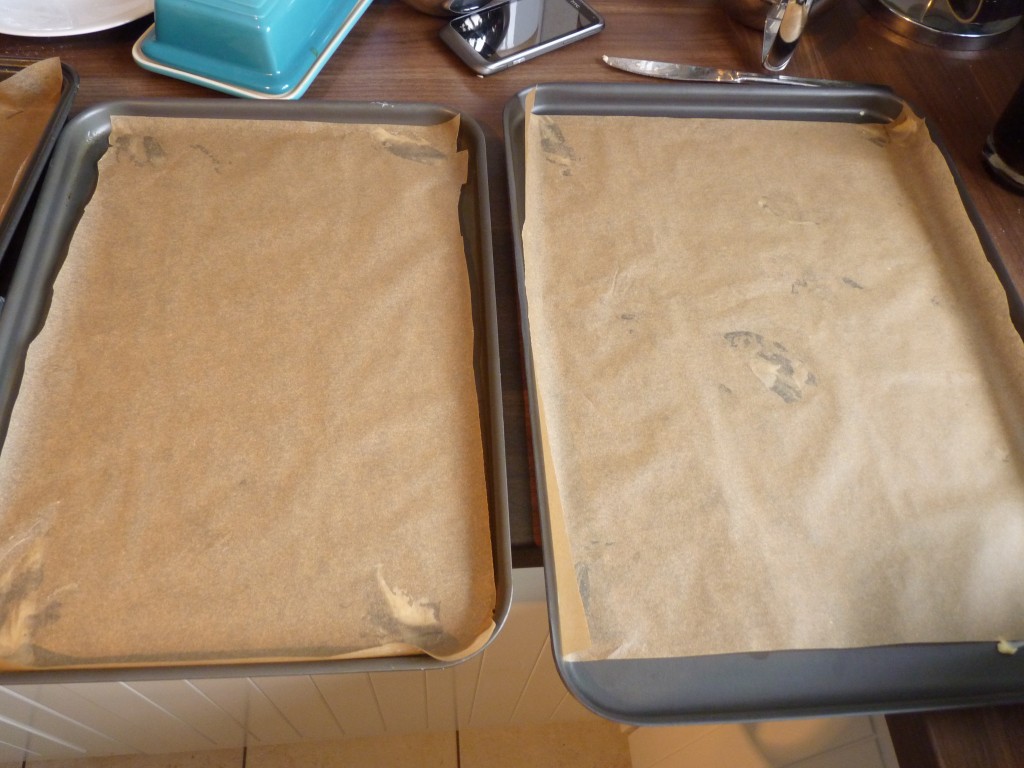 For baby sized cookies we roll them into teaspoon sized balls, and for adult sized cookies, roughly tablespoon sized balls. Place on the baking trays – they will spread quite a bit so space them out on the baking tray. With adult ones you can see we use two big trays to make about 12/13 cookies.
For baby sized biscuits, cook for about 9-10 mins, or for bigger cookies, cook for 12 mins until starting to turn golden at the edges. They can overcook very quickly, and they will still be tasty but less squidgy in the middle.
Leave to cool on the baking tray for a few mins then transfer onto a wire cooling rack.
Store in an airtight container.
We often make a double batch with about 16 baby biscuits for Monkey and 12 adult sized cookies. The apricots went in the food processor as a mistake the first time we made them, and though you can't really tell that they are there, the cookies were so good that we haven't dared make them without them in. "If it ain't broke, don't fix it" as they say!
Happy baking!