I think Thank you cards are so important, especially when kids are little. Friends and relatives can be so generous with their gifts but very often don't really get to see how much the little ones enjoy them. So a few little words to express how much they like the toy or present are often gratefully received.  Obviously Monkey can't yet write the words, or even tell me what he would say as a thank you, but by making the cards together I hope we can build a good habit together of thanking people for their kindness and generosity.
Monkey's crafting abilities are still quite limited though. We have made some lovely birthday cards using his finger paints, but I honestly think I have done that one to death now! We have tried glueing and sticking things but the glue gets everywhere and honestly, I find it all a bit stressful!
So I tried to think of something really easy that Monkey would enjoy, that would look nice but not be too difficult (or stressful!). I decided on some self adhesive foam shapes. I found some lovely star ones and also bought some stick on 'thank you's' to add to the cards.
Monkey very much enjoyed sticking the stars and shapes onto the cards – though the words were a little fiddly so I ended up doing those for him. Some even got an extra touch with some lovely scribbles on 🙂
We had to do it over a few different sessions as there was quite a few cards to be made but overall I think they have turned out to be quite sweet! Each one is unique and down to Monkey's creativity, so I hope that family and friends will like them when they get them 🙂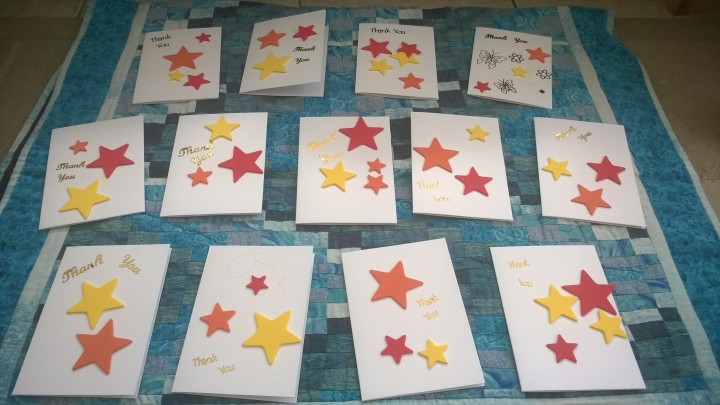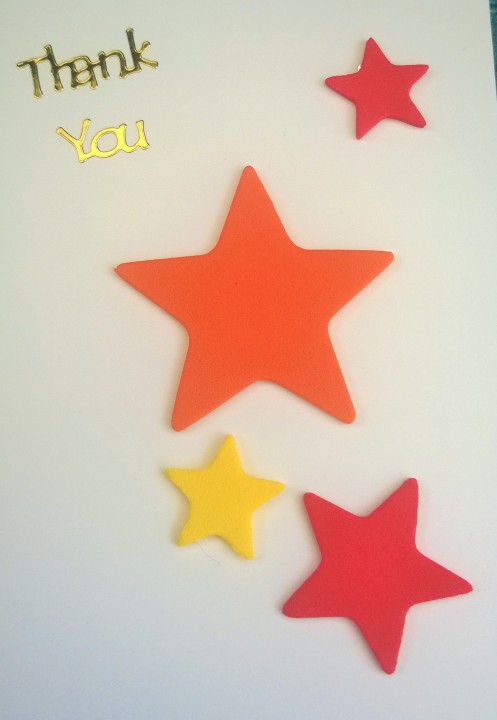 Now I need to make the time to actually write them 😉 xx