So your kids have asked you to make a Paw Patrol Lookout cake, or you have decided to try it yourself and that has led you here. Fear not I have been there and basically failed first, so you can learn from my mistakes as I share my wisdom and experience about how not to make a Paw Patrol Lookout cake.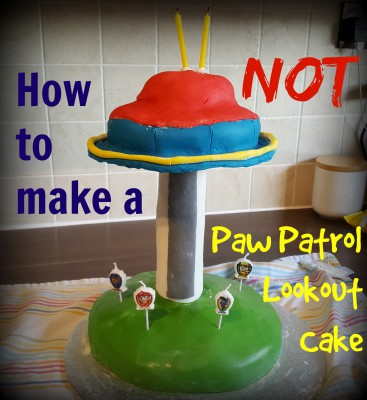 My first piece of advice. Just don't do it. Don't even attempt it. No matter how much your kids beg, whine, plead, cry etc. Just say no.
If you fail at this and the little blighters wear you down to the point where you acquiesce then read on and heed my advice.
1. Do some research online, and DON'T scoff at the wisdom of others or their attempts and think you know more than them. They have been through more than you know. Unless you are a professional cake maker, in which case you probably do know more than eejits like me online who have have no clue what we are doing and don't really need to read on.
2. Don't choose the sponge of your cake based on your preference. Base it on the structural integrity of the sponge. Something firm and close textured like a madeira may work but don't quote me on that.
3. Don't try and make the tower out of sponge. Even with dowels to support it. Some suggest using rice crispies and marshmallows, or use a plumbing pipe or something covered in icing instead. Trust me on this.
4. If you ignore point 3, don't say I didn't warn you.
5. Also, if you do ignore part 3, don't just put the wider top cake on top of the tower… It will fall apart and slide down the tower of cake.
6. Following this, don't try and put a cake board on top of the towels which are already struggling to hold the cake tower up.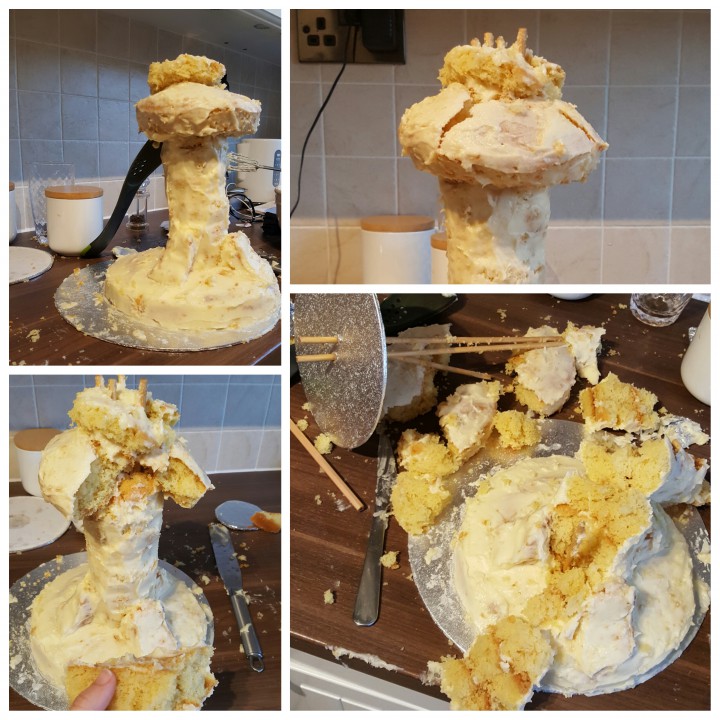 7. Don't ask for your partner's help then get mad at him for trying to 'take over' it may lead to an argument of epic proportions.
8. When it all falls apart don't throw cake all across the kitchen. You are the one who will have to clean it up and you may need some of it when you have calmed down enough to have a second attempt.
9. Don't expect sympathy from friends and relatives when it all goes wrong. They knew you were bonkers for trying in the first place.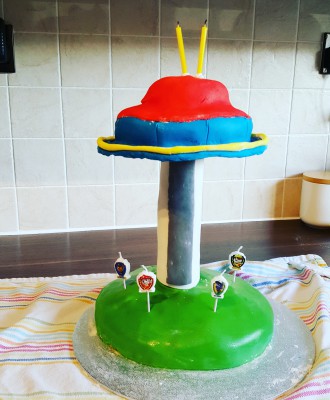 10. Don't be too proud to admit defeat and try something different or even to buy a replacement cake.
To be honest my first piece of advice still stands, save your sanity and don't even try to make this cake. We did manage to get something vaguely resembling the lookout in cake form but it was very much a plan B scenario.
If you really want to know how we did it I will tell you though I can't stress all of the above enough. The base is a simple sponge and the tower itself is a cardboard tube wrapped in fondant icing. We wrapped the tube in icing before putting it in the cake and let the icing firm up overnight.
The top part is 2 different sized cakes on a cake board which we made 3 holes in for the wooden dowels, which keep the cakes on top in place and then go down into the cardboard tube and into the base cake for some added stability.
The top cake is then iced along with the board it is sat on, to hide it. We actually had the top cake resting on a vase to decorate it so it didn't put too much pressure on the actual cake.
You could do more embellishments than we did but I wasted time by making almost all of the above mistakes (I didn't actually throw the cake around the kitchen though it was tempting) and had lost the will to do any more than the basics.
We assembled the cake pretty last minute and it survived the walk into the living room… Just.
I managed to blow out the candles as the cake toppled towards me so at least I didn't set myself on fire haha.
I'm not sure this will go down as one of my most successful bakes, do you? Have you ever had any similarly epic fails?