I can't quite believe it but then again I can. Our gorgeous girl really isn't a baby anymore. She's a 2 year old bundle of lovely mischievousness.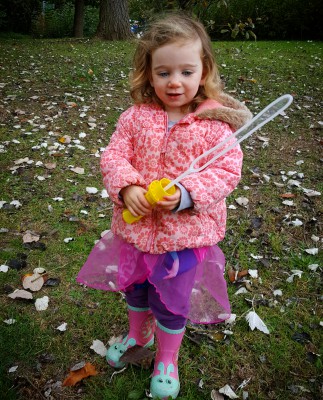 She's growing up so much all the time and really is a proper little girl now. She knows her own mind and boy does she like to make her feelings known. She has far more tantrums than her brother ever did at this age and whereas with him it was primarily food or tiredness related, with her it is more often stubbornness related or wanting something she can't have. I have to admit I reached a point recently where I'd had enough as it felt like she was becoming a little tyrant ruling the house. So we've had to crack down on discipline a bit. Nothing serious but saying no more often (rather than just acquiescing for an easy life) and generally just treating her in a more age appropriate way. As she's our youngest it's easy to baby her and spoil her a bit but that's really not something we want to do. Not when it comes to behaviour and getting her own way anyway!
Other than being a demanding toddler she is such a lovely girl. She loves cuddles and is so caring. I was starting stroking her back the other day then when I stopped she took my hand and put it back in her back. See I told you she was demanding haha but it was lovely. She loves to sit together too and will often pat the space on the sofa next to her saying "chair" more and more insistently until I sit with her. And who I am to refuse a sit down and a snuggle with my girl?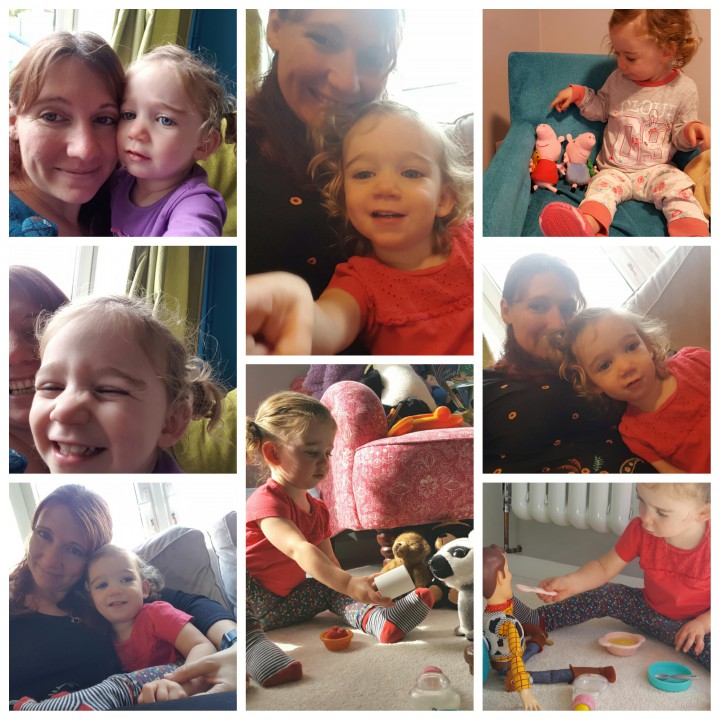 She loves getting out and about though thankfully seems to be growing out of banging the door down in her pj's at about 7am. She's always ready to go for the school run at 8.30 mind you! Thankfully though she's also different from her brother at this age in that she is quite happy to stay in the buggy. She can be quite lazy and just doesn't want to walk, whereas monkey almost always did. Sometimes it bugs me (when I want to tire her out for a nap) but on the school run it is handy that she is content to stay put without screaming or climbing out.
One difference I am less happy about (I don't mean this to be a constant comparison but it is tricky) is that she is already dropping naps! Monkey slept for 3 hrs a day until he was well past 3yrs old. LM only ever naps for an hour and a half at the most and at the moment this only happens every few days :(. I'm so not ready to say goodbye to naps yet but I know I just need to get my head round the fact that they aren't going to happen every day anymore. It makes some things handier as I don't have to worry about fitting around naps, but I will really miss those quiet afternoons, especially as Monkey is now at school!
Anyway, back to my little lady. Her fine motor skills are amazing, she's getting really good at building with duplo and even her brother's lego. So much so that he wanted to get her her own lego for her birthday haha bless him. She's brilliant at laying out the brio train track and also loves jigsaws now and is doing so well with them too. She's doing great with colour sorting (especially pinks hehe) and I'm also amazed by how well she does with the shape sorter at granny's house. She is brilliant at turning it round to find the right hole for each shape and putting them in.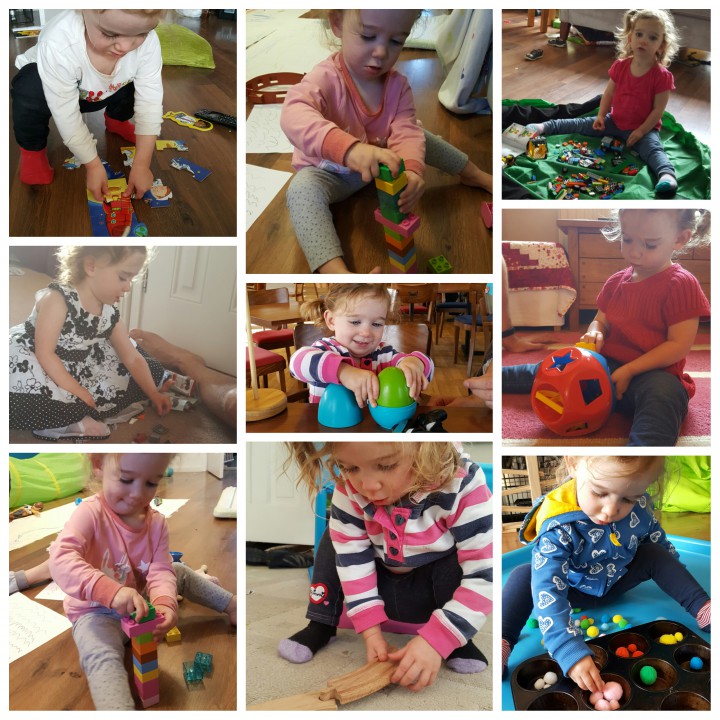 Her favourite toys by far are people. Be it dolls, happyland, playmobil, lego, sylvanian families or even her brother's action man doll she absolutely loves playing with people. Feeding them, undressing then, putting them to bed, walking them up stairs and sending them down slides. She adores them and I adore watching her play with them as she has such a sweet little imagination. She loves animals too and makes great noises for pigs, cows, horses, elephants, lions and ducks which I adore hearing. Her speech is coming on leaps and bounds now too and you can read more about that and see a clip of her chatting on this post.
Her gross motor skills are coming along too. She loves running about everywhere and has such a sweet bouncy/stompy run. She especially loves running down hills, and well who can blame her!
We do a gymnastics session once a week and she loves walking on the beam and along benches. She likes leaping from the top of the horse into my arms though actually it is more of a fall than a leap. Though I'm sure she has jumped before, ages ago, she definitely doesn't have the knack at the moment. She sort of gallops around the trampoline rather than jumps bless her but her brother couldn't jump at this age either so I have no doubt she'll get there. She loves climbing and is utterly fearless at times. We've been swimming a bit more recently and she absolutely adores it, again in complete contrast to her brother at this age she's also really good. She's doing really well kicking her legs floating in her arm bands, she is great at blowing bubbles and likes going under water. She's just great and it is lovely to see her enjoying it so much.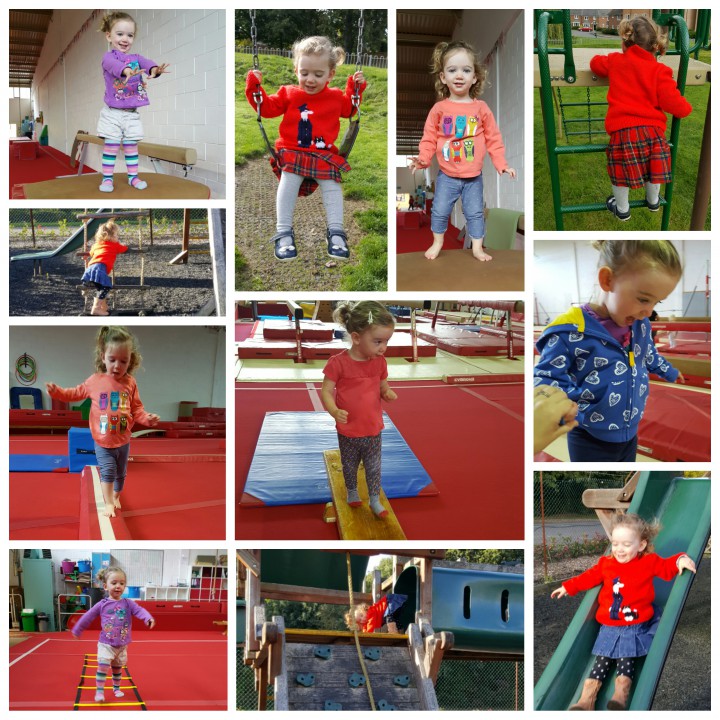 Honestly I could go on forever but I won't. She's such a little person now and is so lovely. The looks she gives us sometimes just melt our hearts. Playing hide and seek is possibly her favourite thing and she also adores watching paw patrol. Which is why I am about to attempt a paw patrol cake for her birthday… Wish me luck!