The monkey has had a cold this week, poor thing, so it hasn't been the easiest of weeks, with coughing waking him up and throwing routines all out and making him veeery cranky at times. He's also been going through what seems to be a separation anxiety issue or something, whatever the reason he is hugely clingy at the moment and wants mummy all of the time. Of course happy to give out extra cuddles as he is poorly etc. but well sometimes I feel that there is only so much I can give and I can't cuddle him alllllll of the time. Poor daddy too as sometimes he only wants mummy. So anyway my resolve has definitely been tested about my decision not to return to work but I have to remind myself that this is just one week and we all feel a bit rubbish and cuddly when we're poorly.
One morning was particularly trying with lots of tears (from both of us lol) but thankfully my lovely in-laws came to the rescue! We are very fortunate to be very close, both emotionally and geographically with both sides of the family. Hubby's parents being particularly close, only a few minutes' walk away. Monkey and I visit them about once a week on average and this week our visit happened to fall on the worst day of the week! Hooray! Monkey loves going there to play with Granny & Granddad, and I love going there so I can have a few minutes rest – and to catch up with them of course hehe.
Now my mother-in law, (I will refer to her as Granny as it sounds much nicer) is very lovely and very clever and has knitted monkey lots and lots of jumpers, cardis , blankets and socks. As mentioned in the intro I can't knit – in fact I have no clue so I am always hugely impressed by how speedily she is able to create something really lovely! A few days ago Granny introduced me to the lovely blog of Attic 24, (it was Granny who suggested I think about doing one of my own!) where I was blown away by the lovely bright colours of the crochet. Until this point I had never considered trying out crochet myself but Granny offered to show me a bit the next time I was round.
So it was that on this particularly tricky morning, whilst monkey played happily with Granddad, that Granny showed me how to do a treble stitch of crochet!  She had started off with some lovely colourful rows, using a pattern she found on Attic 24, and I then took over – making LOTS of mistakes along the way! Luckily it seems very easy to undo and redo where you have made such a mistake.
Here is a piccy when I came home, She did all of the top rows and then the start of the first yellow rows. Mine is obviously much less neat than hers!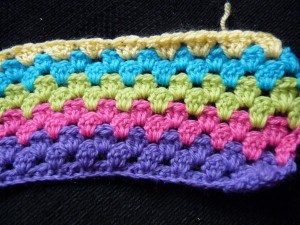 Few more piccys of my progress
Now although the day with monkey did improve, the evening wasn't particularly fun and I decided to sit and crochet to try and calm my mind and at this point I finished the second row of yellow – hooray – I think I am hooked! (Pardon the pun!)   Unfortunately I messed up the end of the row but didn't realise this until the next day – booo so I have had to make a slightly unorthodox way of fixing it (I had to tie on a bit more wool –sssh!)
I fluffed my way through this mistake and then had no idea how to start the next colour row so I resorted to the handy helper that is Google and came across a number of fab blogs from crocheters (Is that the right word? Somebody please correct me!) including Bunny Mummy. Bunny Mummy had a very handy tutorial – which is actually about making Granny squares (which I really want to do next by the way) but was enough for me to fluff my way through starting another row – so here we have it, another purple row has begun, yay!
I am very inconsistent with it I know, some look quite taught, while others are loose – I couldn't even tell you how I do it different – in fact if anything I seem to be worse at it the more I try and concentrate.  Anywho practice makes perfect as they say so I will keep going with it!
NB Monkey is doing much better now thankfully, still very sniffly but at least he's sleeping more and so is much less cranky!