Something really interesting happened lately that has prompted quite a bit of discussion in our house. I was tagged by a lovely friend of mine on the following meme, which made me chuckle.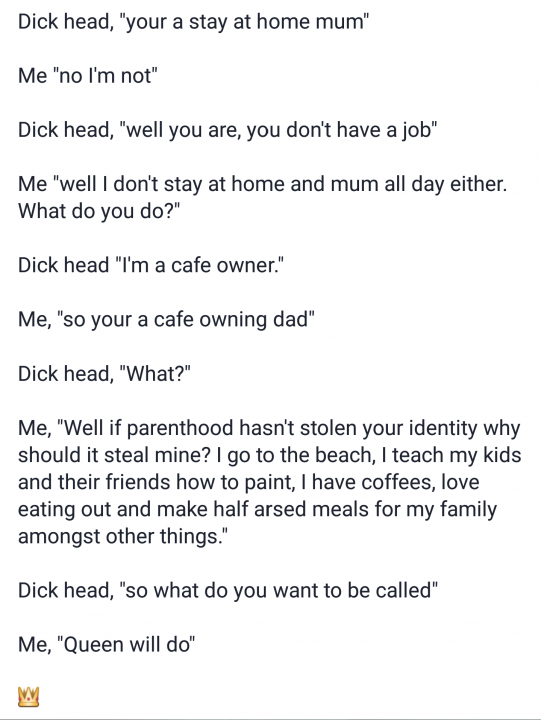 Not everyone saw the funny side though and the following conversation took place on my Facebook.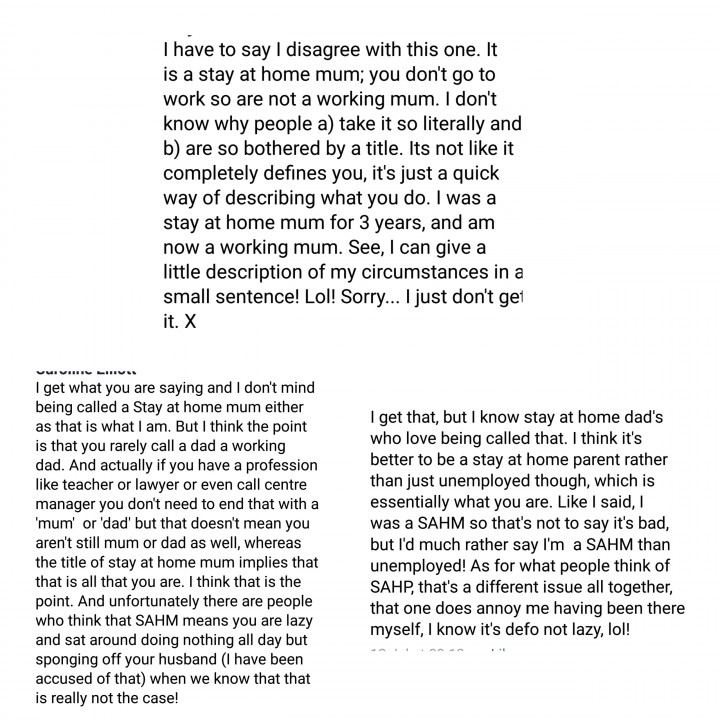 Now I'm not saying either of us is right or wrong and I'm certainly not criticising her for holding her opinion. But it did stay with me a bit and on a recent evening chat with hubs and a good friend I brought it up as part of a discussion about labels.
The trouble with the label of SAHM, or SAHD is that it implies that you stay at home all day, which let's face it isn't an accurate description, as just because we don't work elsewhere doesn't mean we stay at home all day. It brings with it connotations of laziness and an implication that we don't do anything which is obviously not the case. As the lady above rightly says though, an alternative would be to be called unemployed, which doesn't have the best connotations either.
So what would be a better label for a SAHM? My friend suggested full time mum, but then by comparison that suggests that working mums aren't full time mums when of course they are. Going out to work doesn't make you any less of a mum.
The conversation continued on and to the distinction of why there is even a label of working mum? You rarely call someone a working dad. A SAHD yes but there's not label for working dad. My hubs is a dad but he is also a technical director.
The thing is though why do any of these labels matter? Why are we so defined by what we "do?" Generally when you meet someone new it is very common to ask or be asked "What do you do?" but why? Why is it so important to know what someone does so early on in forming an opinion of them. Your job may be a huge part of your character but it also may not. Your job doesn't necessarily definitely e who you are. It certainly isn't all that you are.
I've always hated being asked what I do, at all parts of my life, when I was a TV producer, when I was an estate agent, when I was a manager in a call centre for a concierge service for high net worth clients and now as a SAHM. Because whatever your answer may be you can see a judgement being made about you. About your wealth and status and honestly I really hate all that rubbish. None of it really matters, in my opinion, and they don't equal who you are as a person.
I am a SAHM, yes, but that is not all that I am, which I guess is the point of the meme that started this off. I'm also a reader, a novice runner, a wannabe photographer, a lover of rock music. I've travelled the world, done a sky dive and a bungy jump and been white water rafting a few times. I have a degree in TV production and have been to Glastonbury 3 times. I love being with my family and right now raising my children is what is important to me and we are fortunate that we are in a position where I am able to do so. But being a SAHM right now shouldn't have to define all that I am.
In the same way, my husband is a Technical Director. But that's not all that he is. He is a loving daddy, who is hugely interested in politics and loves whisky. He loves to learn and likes science and experimenting. He is currently learning which red wines he prefers. He is also incredibly lucky to love his job and the business he helped to build, but he also hates when people ask what he does as they form an opinion based on what they think his job is.
This doesn't just for for the labels for what you do work wise though, it's all labels really. They pigeonhole us. Gay, straight, black, white, the label may describe a part of us but not all that we are. There is nothing wrong with embracing a label and being proud of it but I do wish it didn't have to define us.
What do you think? Is is just a label and not something to be worried about, or does the label hold power?