At 22 weeks pregnant we are now well in to the second trimester, and making the most of the extra energy to get ourselves organised for when baby comes. When I get massively pregnant, and then when baby comes, it is not going to be so easy to get the bigger jobs done so we really want to do as much as we can now. I am joining in with the lovely Claire over at Clarina's Contemplations linky #GetGoodSummer, where you set 5 goals to achieve over the next 10 weeks. You can read more about my goals here.
We are 1 week in and I think we are doing pretty well so far! Goal 1 – Get the Baby Room cleared out, is almost ticked off. Thanks to a really good sort out and declutter, and huge thanks to my little bro who helped hubby carry the big old furniture out of there and into the garage, we have gone from this: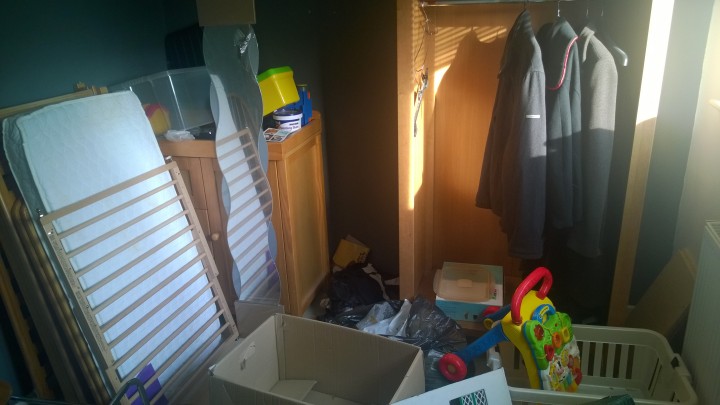 to this: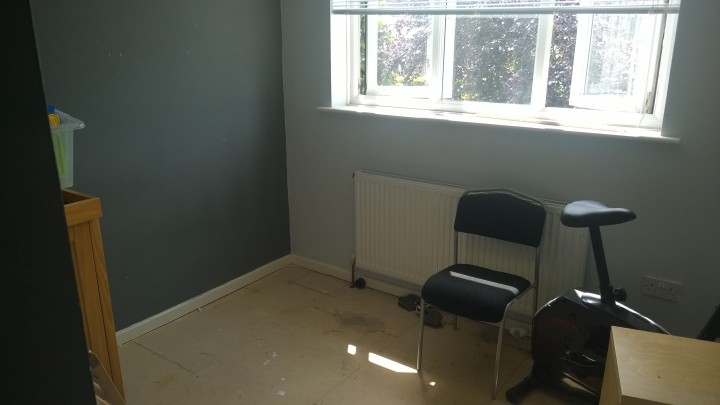 There is still a few things that we need to throw/find homes for and then the only things in there will be Monkey's baby furniture, which will become new baby's furniture :). We are also selling our old (but in great condition) bedroom furniture on ebay, if you fancy a looky :).
Goal 2 is all about decorating the baby room and I have called the plasterer who has done work for us in the past to come and give us a quote for the ceiling, and that needs to be sorted before we do anything else in there really.
Goal 3, my flat lease – haven't touched this one yet!
Goal 4 is all about seeing friends and family and we have made quite a few plans for this now and next weekend we headed to south London where we are visiting my Aunt for the weekend, but also dropping in to see some very good friends and meet their new baby girl on the way. I am really looking forward to that!!
But really, Goal 5 is where it has been at this week. Getting Organised! I know it was a bit of a vague goal, and almost a bit of a cheat, but I am happy to say we have made some fab progress here, with the kitchen cupboard reorganise being the biggy. I'm afraid I didn't get too many before pics, but if I say these two were actually the tidiest of our kitchen cupboards you may get an idea of how hodge podge things had become!
So we have had a bit of a clear out, and thrown anything out of date away. I even through away some noodles that went out of date in 2010 – we moved here in 2012, why the heck did they ever come with us?? Bonkers! Anyway throwing things away cleared a lot of space, but also just reorganising helped. We know that when baby comes there will be other paraphernalia that will need to be housed in the kitchen cupboards so need to make sure there is space for the microwave steriliser, bottles, pump, weaning pots etc etc. So here are some after shots of our cupboards!
We also have an area behind our kitchen door which used to be the old hot air vent heating system and is now a sort of open cupboard with a tumble dryer in and shelves above/ It has also been a complete tip of a dumping ground! Really gutted I didn't get a before shot of this, but it was high on my list of areas to organise because I wanted this are to be a new home for bags.
We previously had a combination of bags (plastic bags, sturdy shopping bags etc.) in one of the top sections of our kitchen cupboards. We love our Ikea cupboards because they go right to ceiling level – BUT at 5'7″ I haven't a hope in hell's chance of reaching the top shelf without climbing up our step-stool – so not a great place to put things you want to reach in a hurry (like when you are rushing out of the door). The result is that area was a tip too and really irritating so I wanted to find a new home for bags.
Another area of the house I really wanted to organise is the conservatory. The conservatory is where we do messy play, crafting, play-doh etc. as we can shut the doors and not let any of that stuff invade the house. But it is quite often a tip and there is bits of play-doh, googly eyes, pipe cleaners, paper, stickers, etc littered all over the place. I have tried to keep it organised but we just had an old Ikea set of drawers and a couple of baskets in there, and things just got dumped in there and it was such mess. We needed a better solution.
After driving round lots of the local shops on Saturday and finding nothing that solved ANY of these organisation problems we decided a trip to Ikea was in order, and with the next few weekends being booked up, it was Sunday, or not for another Month. When I get an idea into my head I like to act on it immediately so off we went. Our nearest Ikea is Milton Keynes at about an hour away  (or 45 mins on a good day) so first thing Sunday, we were Ikea bound.
I love Ikea, it is just so useful and I regularly moan there isn't one near us, though it is probably a good thing for our bank account as we would probably go a lot! We had a lovely time and Monkey very much enjoyed running around the showroom, climbing in cupboards (?)
Testing out rocking chairs  
And he found a new bunny friend who he is completely devoted too! Love how they get attached to things so suddenly sometimes. At £3 though we didn't feel it was worth saying no. All in all it was a very successful trip and we bought some things to help us get organised, yay!! 🙂
This is the area behind the kitchen door now, with a new plastic bag holder (£1.50 – bargain!) and a material storage box that is perfect for keeping the big sturdy shopping bags in nice and neatly!
And, possibly my favourite thing is the new storage in the conservatory. With tubs in of various sizes all of our crafty, messy play bits now have a proper home and are all neat and tidy! I am sure each drawer will soon get untidy again but at least everything has a home, which was at least half of our problem in the past!
I am pretty pleased with how we are getting on so far! Are you joining in #GetGoodSummer? How are your goals going so far?