I am a bit late in writing this monthly update for our gorgeous girl as she was 13 mths over a week ago! She is growing up so fast and though she is full on I really love this age. Watching her learn and seeing her really develop into a person with her own personality is just wonderful.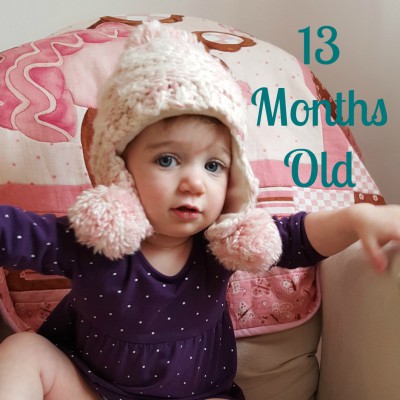 And our Little Miss's personality can be defined in one word – cheeky! She loves to laugh and is such a cheeky and inquisitive little thing. She adores running and being chased, laughing her little head off. Great fun unless you are in a shopping centre with her brother causing havoc in one direction and her running off in another – aaargh! She also adores playing peepo with her brother, often hiding behind the sofa so he can find her while she chuckles away merrily to herself. In fact she is turning into such a chuckler and it is amazing to hear her laughter fill the house.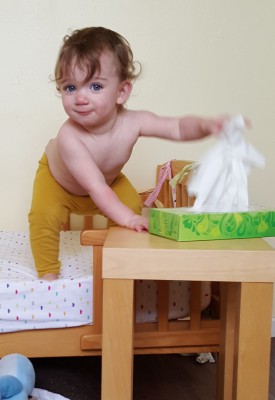 She is so inquisitive too, far more than her brother ever was and she gets into everything in a way he just never bothered with. With Monkey you would tell him know and he would listen. With her she gives you this cheeky look and sometimes even shakes her head, then does it again! Minx! She is terrible for taking Monkey's things and yes you may say she is a baby and she doesn't know, but oh, she knows. She gets his Doggy Bear (his special comforter) and she is so proud that she waves it around for me to see… and will even go and wave it in his face before running away giggling. Cheeky Minx, seriously!
She stands on things and is obsessed with touching radiators which she knows she is not allowed to do. She is seriously quick off the mark and if one of the door gates hasn't shut properly then she is off – making a dash to get up the stairs, or into the kitchen to climb the stepstool and see what she can find, or in the hopes of playing in the sink. So I have to be seriously vigilant to keep her safe. She hates being shut out of anywhere I am, standing and rattling the bars and screaming her head off so I often relent and have to do jobs with her accompanying me. Standing washing up with her at the sink with me, or trying to get washing in/out of the washing machine with her 'help.'
She absolutely adores her brother too and he is guaranteed to make her happy (other than when he snatches his toys back from her, or takes hers!!) and she absolutely loves havng bath time with him, splashing away to their hearts content and absolutely drenching the bathroom!! I absolutely adore seeing their relationship grow and hearing them laugh together and enjoy each other's company. It's just magical as I am sure you can imagine.
She is learning all of the time, getting really good at using the stacking rings and has even done some drawing on little magnadoodles which I was impressed with. She is obsessed with posting things and putting lids on and off of things – obviously leading to immense frustrations for her at times – and boy do we have the start of tantrums! She can be such a little diva at times and even Monkey is repeating what we say by calling her a drama queen. He also has the way we shout no to her down too… sigh mini parent, he is good at alerting me to some of her cheekiness though! Anyway, she also is starting to love her dolly and buggy which is just adorable. She gets really frustrated by the buggies though and by not being able to put baby's hat back on after she has taken it off.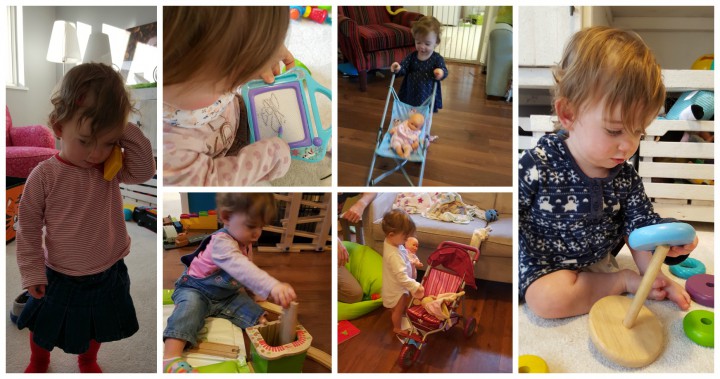 She is fascinated/obsessed by clothes, shoes and accessories, we have taken to calling her diddle diddle dumpling sometimes as she will often present us with a shoe and insist we put it on – then walks around with one shoe on for ages! She often wants her hat and coat on too… and any other random item of clothing she lays her hands on. She likes to use some of the bigger stacking rings as bangles too, little cutie 🙂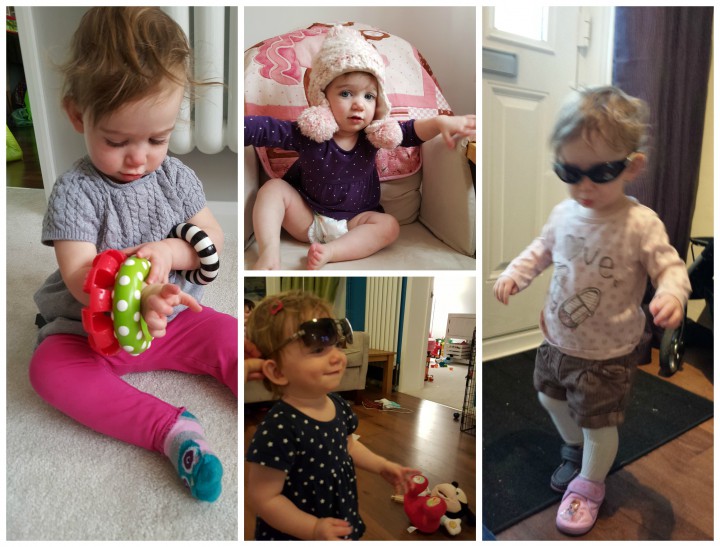 Her communication is coming on leaps and bounds too, partly with the tantrums and moaning – as she is very loud, but also with little hints at language, and lots of pointing and shaking her head. She is getting very fussy  particular about certain things and is getting very good at letting us know what she wants. Bedtime stories makes me laugh as if she is not interested in the book I have chosen she will shake her head and point at one she would like. Usually the same ones – "Where's Spot," "That's not my snowman/dinosaur" or "Baby's Day." She adores books actually and often brings them to us to read her.
In addition to pointing and shaking her head she has the start of a few words too – "tickle tickle" being my favourite, along with "uh oh" and there are lots of ohs and ooohs with varying volumes and tones depending how excited she is by something haha. For example whe we came across the shoe aisle in H&M this morning "oooooh! Ooh ooh ooh!" haha which descended into screams as I dragged her away.
She also is saying something resembling "there you go" when she gives you something, which is seriously adorable. It is not that defind, more of a "daredudo" but still so so cute and lovely to see her start to share already.
She is such a snuggly little lady, far more so than her brother ever was at this age, especially with me. She loves to ie with her head in my lap for a good snuggle or sometimes just snuggle herself up on the sofa or in the beanbag. Monkey has gotten a lot more snuggly as he has gotten older so we do now have some lovely times all snuggled up together!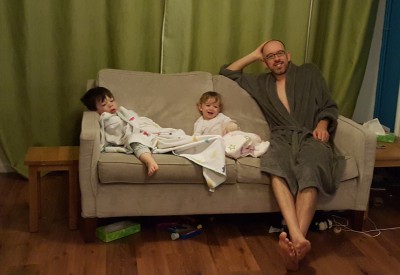 So on the whole, she is just a whole bundle of cheeky adorableness. Yes it can be challenging at times but I want to bottle her up at this age as she melts my heart every day she really does. I love this age, so much fun 🙂
My word of the week is cheeky.