Monkey, like most toddlers I imagine, seems to have boundless energy. He is always haring about the place so we try to get out of the house as much as we can. Last year we started our "operation garden renovation" to turn our mess of a garden into somewhere he could play without us having to go anywhere. This was aimed at being ready for playing outside while I was pregnant, and it was amazing. It is still amazing now, as when LM sleeps upstairs, Monkey and I can get outside and burn off steam – even in the middle of winter!
We don't very often get snow where we are but we have been enjoying running around on frosty mornings. He loves legging it round the garden, pushing his buggy around, and of course Mummy has to run too.
And we finally got our first smattering of snow last week, which Monkey was HUGELY excited about! We thought this may be the extent of what we would get this year so we were out there making the most of it.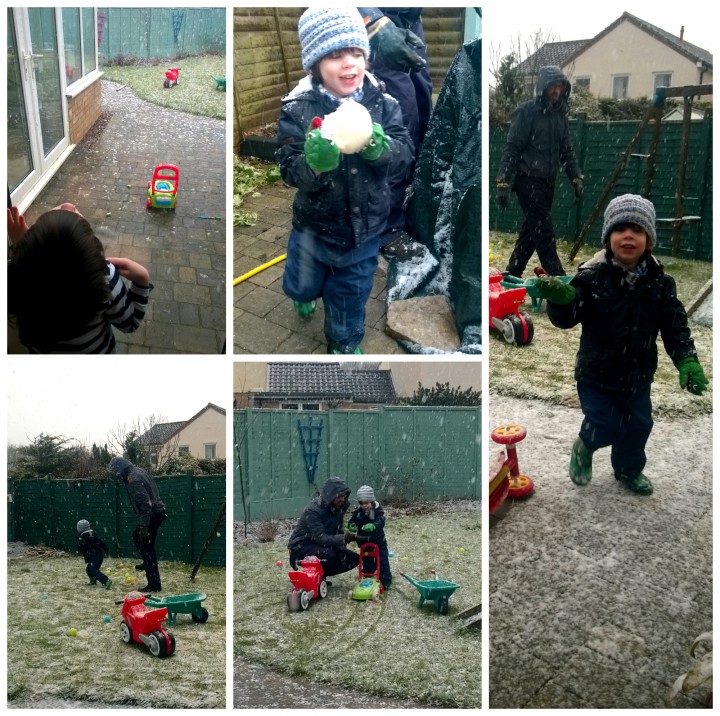 Then, much to our surprise, a few days later we got a proper covering! So Monkey and I went out while LM was asleep and had some more fun. I have to admit, I love snow. I am a big kid and love building snowmen and snow just makes everything so pretty and white (until it turns into slush anyway, yuk!) and I was determined to build a snowman. I tried to get Monkey involved but he was too busy stomping around making footprints and was more keen on knocking over my snowman mid-build. "Twease, twease, knock it down, twease" um no.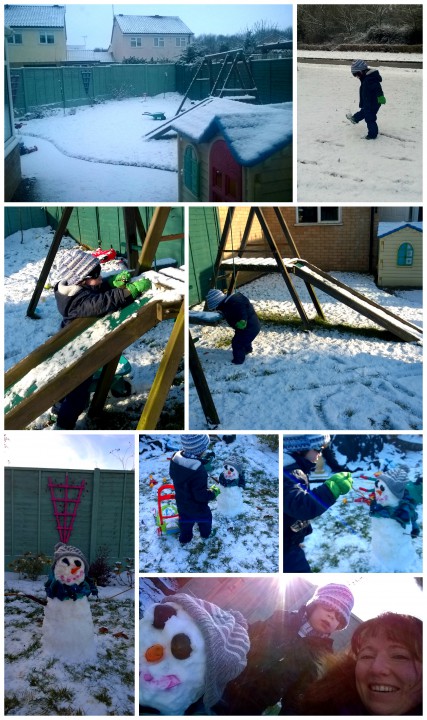 I managed to fend him off and here is the finished result, thankfully he loved it when it was finished and even gave him (apparently it is a Daddy snowman :)) cuddles!
We love playing outside, even in the winter, do you?