March already? Blimey, this year is flying and the kids are growing up faster by the minute. I try and write down some of the gems my kiddies come out with but don't always manage, and sometimes forget to write a blog post about them, still, here are some that I remember since the last time I wrote a post about them!
Monkey Says (at 4yrs 10 mths)
"When I was a little boy" funny how old and wise a 4 year old can make themselves sound isn't it?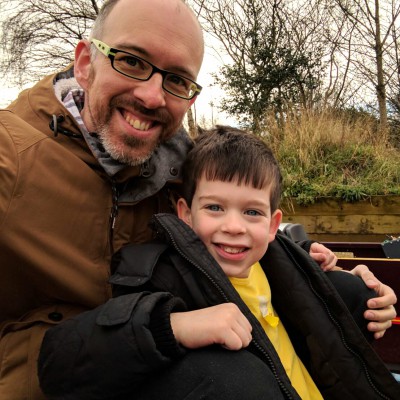 "On the 7th Sunday" Everything with monkey is on the something'th day. "Can we see granny on the 3rd tuesday?" The dates are completely random but I have to admit I like this random thing of his because he never remembers what he has asked for on which day (I mean, seriously, who could?) which means we can say yes to things we don't want to do or can't do, and get away with not doing them :):) haha bad mummy?
Looking in the mirror after a hair wash "hmm stylish"
A transformers programme "I think this is a bit too interesting for me.."
Larking about in the bath "I almost did a hula hoop!"
On finding one of my very long hairs somewhere and holding it up to his head "This is my hair, see, it fits" (errr no darling, your hair isn't red and is about a 5th of the length haha)
"I was just imagining if, like in the book, we had flaps that you open and see inside our bodies."
"Look at your bottom, it's so big!" Um, yeah, thanks darling!
On learning about doctors at school " They have a Mermometer and a Steposcope"
"Rain goes into the ground then through pipes back into clouds" loving his rationalisation of the water cycle!
"When is my birthday?" it's the 21st. "We call that 21." Yes but it's the 21st day of the month.  "naooo its the 20 last day hahahaha"
I found out this week that one of the girls in his class has told her mum that she wants to marry Monkey. I asked him if he liked her and he said, so so sweetly "I would like to marry her." My heart melted!!!
My heart also melted when on evening he got out of bed and came downstairs (not my favourite thing for him to do) to tell us "I know how to click my fingers!" he was so proud of himself and it was just adorable. Love our boy!
Little Miss says (at 2 yrs 4 mths)
Little Miss's speech progression is still pretty slow. She is coming along even if not as quick as I would like. I don't think she can say quite as much as Monkey did at this age (and we were worried about his lack of speech at the time) but it's hard to tell. Because it is progressing, even if not as quickly as I would like, I refuse to worry about it!
Some of the things she is saying at the moment:
"Urbit (frog, as in ribbit I think)"
"Wuh, two, wuh, two, wuh, two, teh!" love this imitation of counting. She can say all the numbers from one to ten now when she sees the numbers and it is seriously adorable so I have tried to video it loads of times but she never plays ball haha, minx!
Her numbers sound a bit like "wuh, two, tree, or, yigh, see, seyeah, aigh, nigh, teh"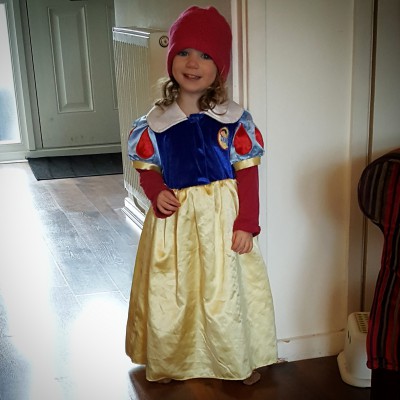 She was very cute the other day when she came in and I was watching the new Cinderella. It was right at the bit where she is given her pretty blue dress and LM was awestruck "oh, wow, a Dreh!" (dress) She then insisted on finding a dress and it had to be one that reached the floor, and she spent ages pegging it around the house giggling that she couldn't see her feet!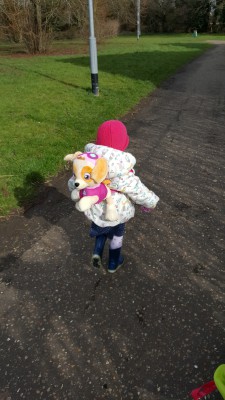 Her current favourite TV programme is Dora the Explorer "Doo" and I don't mind too much as she really interacts with it and is often shouting "uh" (up) "dow" (down) or "how" meaning any building amongst other things. It may also be the reason she keeps saying "Pah Bah" (backpack)  and wants to wear her backpack when we go out! We also had a recent obsession with both kids loving some winnie the pooh films, "bear" is what LM called Winnie the pooh himself but her favourite of the films was the heffalump movie, as indicated by her shouting "Ooh" over and over till we put it on. I think it was her impression of an elephant, as she still calls most animals by their sound rather than their names!
One of her funniest habits at the moment is involving food. She makes an "ng" sound to mean she wants food (meant to be an mm sound maybe though we don't actually know for sure!) and she likes to tell us all to eat. If any of us pause for a second we get "mama/dada/cugger, ng!" while she points from us to our plate. I think this may be as a result of always hearing us nagging her brother to eat, as he can be so slow haha. The funniest though is when she decides she's hungry. She will lead me by the hand to the kitchen, where she sas "mama, in nair (in there), ng, ng." She will then close the gate to the kitchen and stand there while I make lunch/dinner. If I dare to step out of the kitchen or any reason before it is ready so screams and go made shouting "ng ng, in nair in nair" over and over until I go back in. Seriously she has become a 50s husband – basically shouting get back in the kitchen and make me some food! Funny girl!
"Tigh t go" or "T go" are her very cute ways of saying she wants to leave, like right now, and she says "go war" for go for a walk and "oh dare" when she sees something over there.
One of her favourite games involves us pretending to be asleep (I really love this game) "go beh" and then waking up when she shouts "Tigh to geh uh, tigh t geh uh!" and repeating endlessly :).
There are still lots of things that she says that only I really understand "too way" means too windy for example and there is yet more that I don't even understand, bless her, but she really is getting there now! Slowly but surely!