With all the Christmassy business I missed a 2 month update about our gorgeous girl, but she is changing so much all of the time that I didn't want to wait until she is 3 months before doing another update, so here she is at 10 weeks!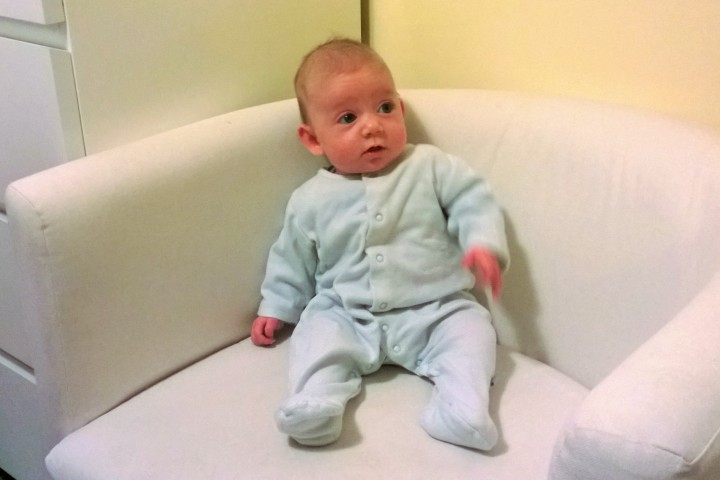 Feeding
We are now exclusively bottle feeding, using a lactose free formula. Its been a big change and it took me a while to come to terms with stopping breastfeeding so early but it has been the right decision for all of us. I will go into that more in another post. She is doing really well though, her colic is almost completely gone now and the Gaviscon is still managing the reflux. Feeds themselves are so much calmer now than they were and she is having lovely bonding time during daddy feeds too.
The combination of LF formula and Gaviscon did seem to make her poos quite solid so she has some sugar water a couple of times of day at the moment to keep her moving, and it has really really helped. We're hoping we can move on to normal formula at some point when she grows out of the temporary lactose intolerance, and that should make things even easier :).
Sleeping
Sleep has been one of LM's biggest problems, or rather one of our biggest problems. She sleeps so well when she is on one of us, but not at all well lying down. It's not exactly unusual but it is exhausting. Our Beco Gemini carrier has been a godsend but neither hubs or I have the strongest backs so after a while it starts to really hurt, and having a baby attached to you is just really draining. Yes you have your hands free but you have a baby attached to you so you are still limited in your movements. She is a light sleeper too so noise affects her a lot and so a white noise machine is almost constantly on to help her stay asleep. Sounds like a right rigmarole and it is. We are working on ways to change this and I will write more about that in another post.
We have now moved her from her Moses basket at night into her cot in her bedroom, mainly because we realised that she was bashing her arms on the sides and waking herself up! It was hard at first and she seems so tiny in her cot.. But actually it is nice having our room back again and had to happen one day.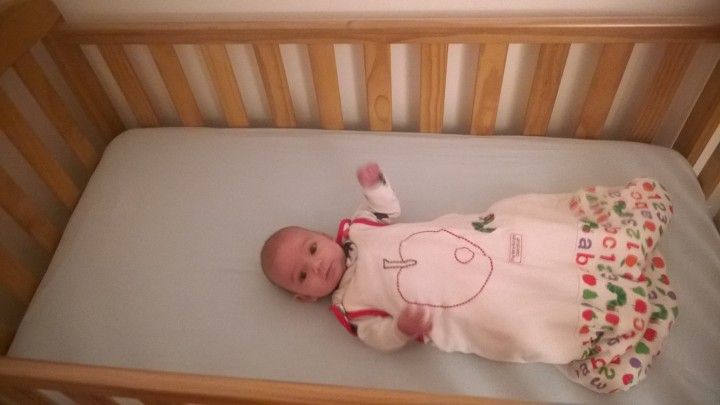 We now have a little bedtime routine in place which includes a lovely warm bath which she loves, it such such a happy time as she loves kicking her legs around in the warm water.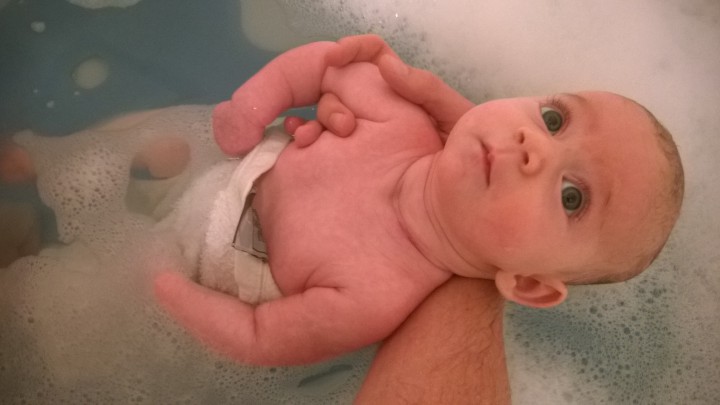 Development
LM is now spending more time awake and happy now which is lovely. The screaming isn't quite so endless and we have some lovely calm awake time. This was really nice at Christmas as she got to have some cuddles with family and give them some smiles. She even met her Great Grandpa for the first time just before Christmas. She isn't the smiliest of babies but hopefully this will change and when we do see a smile it lights up our day!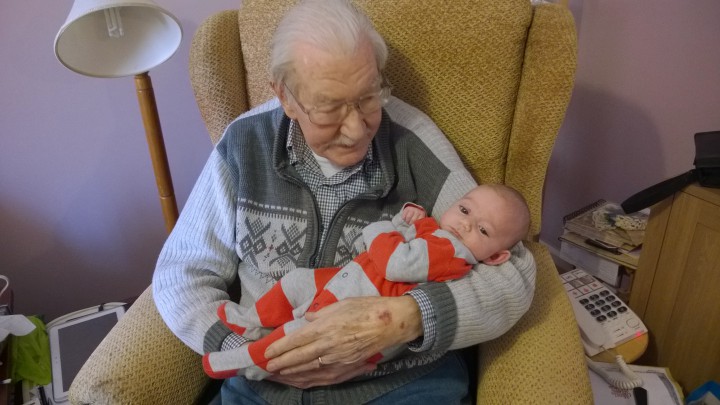 She loves sitting up. When I have her resting on my knees, if I give her my fingers to hold and straighten her arms gently, she will pull forward and try to sit up, which is so cute! She has always had quite a strong neck and her control is definitely getting better which is lovely!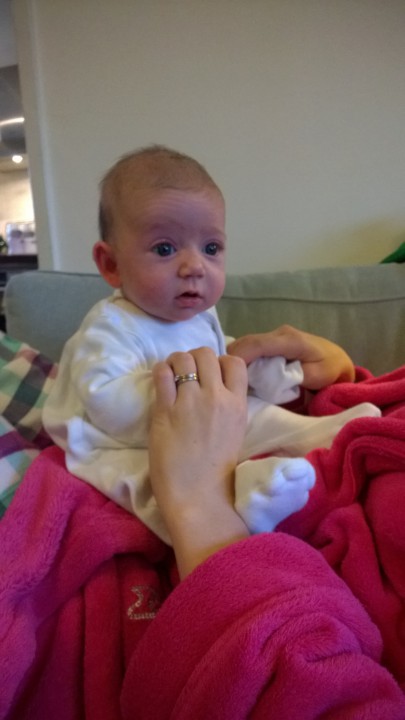 Because of the reflux and lack of happy time she doesn't get much tummy time but we are trying to give her a bit more time on her tummy so she can get those muscles built up ready for rolling 🙂
Appearance
She looks so much more solid now and has lost the really frail newborn look. Though it is amusing as everyone keeps telling us how tiny she is when she looks so much bigger to us now! She now weighs 10lb 13 and has dropped down a little on the centile lines, she was on the 50th though now is a little below, but she was poorly for a few days and lost her appetite so hopefully she is putting weight back on now. By this age Monkey had shot up to the 98th centile! She is still in 0-3mth clothes though it wont be long before she needs some bigger ones as she is quite long.
She did lose quite a lot of hair, and is still losing some, though it is also growing back. She has never had the really baldy look Monkey had when he was tiny, but she does have a bit of a friar tuck ring around the back of her head which we will need to trim at some point to even her up. I just love her little fuzzy head though where the new hair is growing in :). She has such gorgeous big eyes, long eyelashes and of course I am biased but I think she has such a pretty face!