Another month has gone by, it is amazing how quick they are flying, and how big LM is getting now! She is so lively and inquisitive and though still hard work at times, we are getting to the fun stage of playing and her being able to entertain herself a little, even briefly! I'm obviously biased but she is just gorgeous too 🙂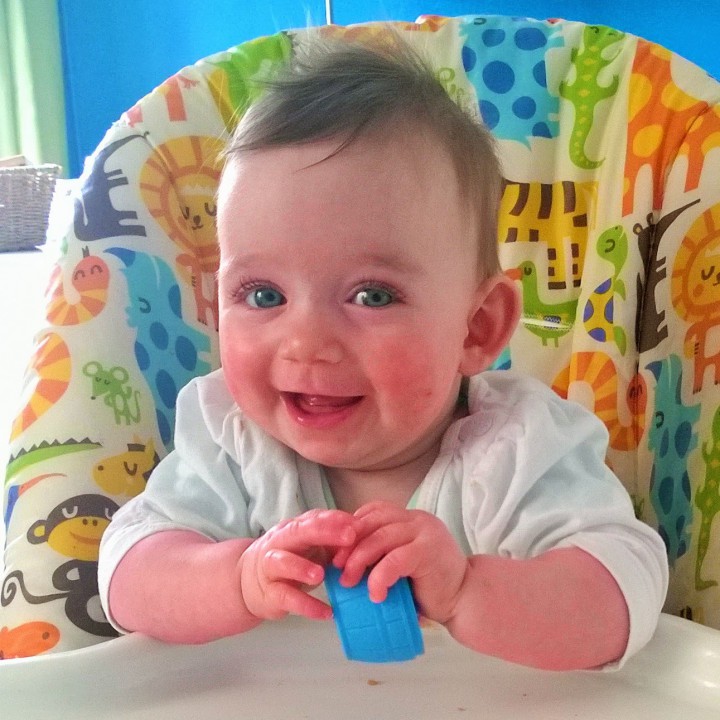 The biggest development this month has to be that she is now sitting and is much more stable. She still topples occasionally (as she did a couple of days ago, boinking her head on the floor, making me feel like a terrible mummy) but for the most part we surround her with cushions to help her and then she can sit happily for ages. It makes her feel much less like a tiny 'baby' it really does.
She is so fascinated by the world around her and while most things still end up in her mouth, she will sit and inspect things too. Anything within reach, even a pack of baby wipes, is intriguing to her! She was sat in the conservatory the other day and she was absolutely mesmerised by the trees outside, and when we got caught in the rain on a playgroup run she was absolutely fascinated by the water droplets on the rain cover on the buggy.
The less positive big change this month is the return of her reflux which regular readers will know has been causing me some problems. The gaviscon we had left over from the last time helped the reflux but made her horribly constipated, poor thing, but the Dr really didn't want to try anything else. Giving us the 'they're not constipated unless they haven't pooed for 3 days' line and telling us to give her plenty of fluids. A bit of pushy parent persuasion later and she finally agreed to trying ranitidine (she insisted that the side effects are the same but I thought it was surely worth a try). And whaddaya know, no reflux and no constipation (touch wood)!
So we shall see what happens with that. We are moving forward with her weaning and doing a combined purée and baby-led approach. I know many BL weaners will argue that it isn't babyled if you are doing it this way, but as with anything I think different things work for different babies and parents and this seems to work for us. She is hungry so often needs some purée in her tummy so she doesn't get frustrated but then loves picking up the finger food and figuring out how to eat it, and she is so good at chewing already too.
She still adores her brother and beams as soon as she sees him. He makes her laugh much more than we do and he doesn't even have to try!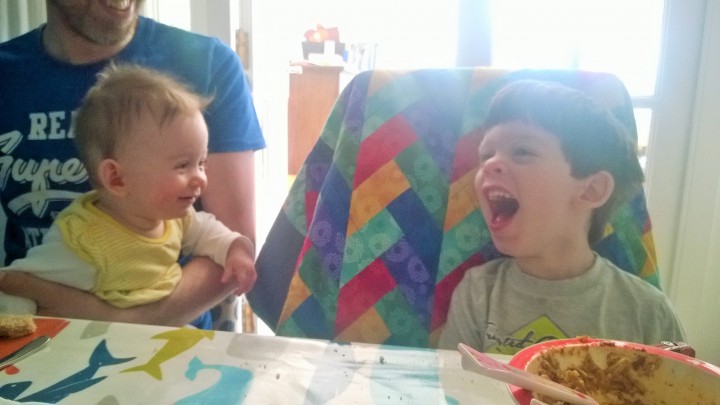 She loves being in her walker, scooting about the house, following her big brother and just having a bit of freedom to move I think. Plus I'm convinced that it is helping her tummy s she has even pooed in her nappy a few times now, which is very unusual for us (yes, odd I know, she prefers to do it with her nappy off!).
She's awake for longer and longer periods now and I am hoping she will settle into a two nap routine with the way things are going at the moment… but it is too soon to tell and she has a bit of a cold at the mo which is affecting her sleep too.. so we shall see I think! Fingers crossed though as that would be amazing!
A few other random bits, her second tooth is well on the way now, she hates having her feet touch grass (and lifts her legs if you try and put her feet down which I think is really amusing), and I swear she is the loudest baby on the planet when she starts chatting away or moaning. Honestly, she likes to make herself heard! I carry her around on my hip a lot and sounds weird but I almost forget she is there if I am talking to someone else, so she has learnt to make her presence felt by joining in with the conversation!
I think that is about everything I cna think of.. I havent had her weighed yet this month, I was going to go on Thurs but Monkey was so so poorly it wasn't an option!