With the recent arrival of our newest family member, Little Miss, there have been some big changes in Monkey's world. He is now a big brother!

We have been trying to prepare him for the moment over the past few months as carefully as we could. We didn't want to over do it or worry him (he had some anxious days earlier in the pregnancy) but we wanted to prepare him. We used some story books (review to follow soon) and just tried to make sure he was aware of what would happen. He knew (though who knows how much he understood) that there was a baby in Mummy's tummy. He was involved a bit in the decorating of the nursery and we told him that it was going to be baby's room.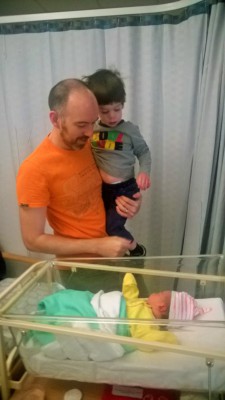 We told him that when baby was going to come that Mummy would be in hospital for a few days and that he would have fun with his grandparents. Unfortunately with my waters breaking in the middle of the night this happened a little sooner than we would have liked and we didn't get to say goodbye to him that morning. He coped really well though and had a lovely day with his Nanny, who kindly popped a few photos on facebook throughout the day to show me how much fun he was having.
He came to the hospital that night to see Mummy and we told him that baby would be born the next day. We had hoped that he would be able to come into hospital on the day she was born but with the C-Section happening so late and with me not being moved to a ward until 2am, that wasn't going to happen. He had a lovely day with his Granny, Granddad and Uncle Simon that day but got a little upset that night, I think because he hadn't seen Mummy or Daddy for the entire day.
As Little Miss and I were doing well I told hubby to stay home with Monkey for a while the next morning to give him some attention, and then to bring him in for a visit and to meet his baby sister. When it was time to go Daddy said to him "let's go and see Mummy" and Monkey said "and baby?" which was good.
Monkey was very excited to see Mummy and we had bought a present for him from the baby, a really cool till, which he loved. As for Little Miss, he did pretty well with her. He wasn't hugely enthusiastic but he did give her a lovely gentle stroke and we felt that was a lovely first step. When it was time for Monkey to go and spend the day with Nanny he said "take baby home?" which we were thrilled with.
We've now been home for a few days and he is doing really well. There have been difficulties. He wants Daddy to carry him a lot, whereas he didn't before, and he has played up a bit quite a few times. But, he is a 2 1/2 year old so I think that is to be expected and on the whole he really is doing so well.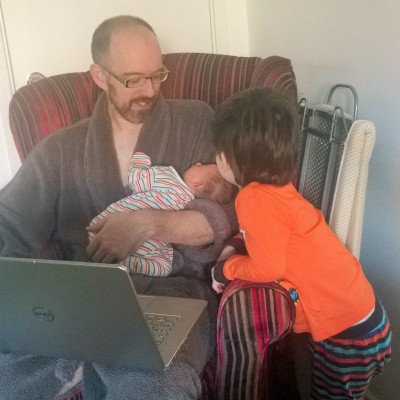 He thinks Little Miss sounds like a cat sometimes (which she does to be fair) and thinks it's very funny when she gets the hiccups. He things "baby eating milk" is fascinating bless him though he still doesn't like it very much when she cries. We have been dead impressed that he hasn't been disturbed by her in the night yet, as she can be loud during night time nappy changes!
Overall we are just so proud with how he is adapting to life with baby around. Of course it is still early days so I know there will be challenges ahead, but…. so far so good!! 🙂