I have seen the Siblings linky for a while and looked forward to being able to join in. It seems like a lovely way to chart the relationships (and ups and downs) between siblings.
I am a little late to the party (and nearly didn't join in this month at all) as I didn't really have any new photos of Monkey and Little Miss together since coming home from hospital. He basically stays well away from her a lot of the time!

But over the last few days there has been a slight switch. On a walk to Daddy's office he wanted to push her in the buggy (she was not happy about the outing at all).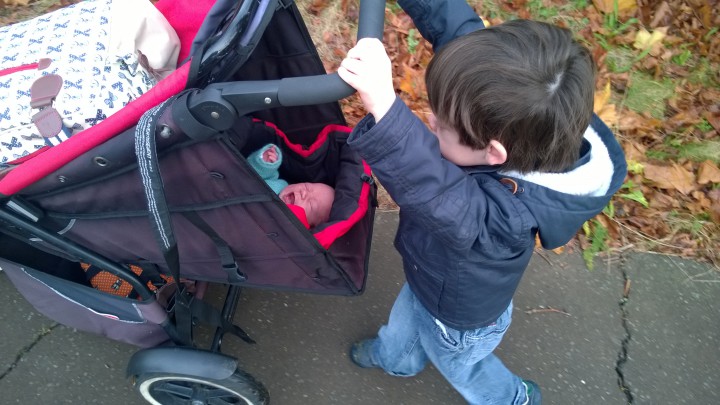 Then yesterday, she was asleep in the basket while Monkey and I were having a sing and dance to a music dvd. She woke up, and instead of ignoring her he came over to see her and started telling me how cute she is! He's picked this up from Daddy as he has been talking to Monkey about how cute she is, but the fact he is repeating it and even just taking an interest in her is lovely though.
He even offered her his cheesy cracker after this, so he must be warming to her 🙂