Saturday was one of those days where things just didn't quite work out the way we wanted them to. Lots happened but also lots of things went wrong. We had an early morning scooter session then Monkey and Daddy went for a walk to splash in puddles, only to discover that one of Monkey's wellies had a hole in – cue one soggy foot and unhappy Monkey! Then I went off for a hair cut and Daddy and Monkey went to their swimming class. I haven't really blogged about it before but Daddy and Monkey have been going to swimming lessons… and they haven't been going that well.
Monkey is apparently very upset for most of the class and though he always says he has enjoyed it when he comes home, the look on Daddy's face and Monkey's red and puffy eyes tell a different story. After an 8 week term of unhappy Saturdays (Daddy finds it very tiring and frustrating and is in a pretty miserable mood for the rest of the day) we have decided not to carry on the lessons for now. Hubby wants to try and take Monkey swimming just the two of them with less structure, and then try the classes again maybe next year.
We want Monkey to enjoy swimming but with the baby due to arrive in a couple of weeks we figure taking one less stressful experience out of the equation is the best thing for now. We have found time and again that Monkey will take to things in his own time, and pressure doesn't help him. So time to take a step back and revisit swimming lessons another time.
Anyway, after lunch, to try and get Daddy out of his funk, we popped into town to look at getting him some new glasses. It was sadly a catalogue of minor errors, including somehow not putting enough money in the parking meter, Monkey falling over and banging his head, and after spending ages trying to keep an eye on a 2 year old while Daddy tried on various glasses, eventually choosing a pair and going through the fitting process….. only to be told they don't fit on his head because of the position of his ears(????). It was a very frustrating visit and we came away empty handed!.
One positive to come out of that trip to town was that there was a fairground ride not too far from the opticians that Monkey was fascinated by. To keep him entertained while Daddy was going through the fitting process Monkey and I went out to have a watch. He has never been on one of these before and normally anything like this that moves really freaks him out. He expressed an interest in going on though so I decided to brave it.
I somehow squeezed my 38wks pregnant lump into a train on the ride and sat Monkey on my lap. Long story short, he absolutely loved it!! He was dinging the bell all the way round and absolutely loved it. The photos aren't exactly amazing as they are just selfies on my phone but I think they capture the moment pretty well 🙂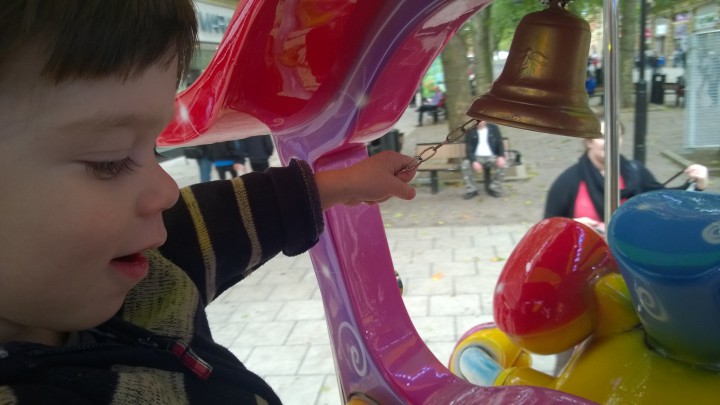 Then it was home for Monkey's naptime and to cheer Daddy up (who's mood had understandably not improved) it was time for some naughty food and a daft action film. Thanfully this worked and he cheered up so I had 2 much happier boys for the rest of the afternoon! Phew!