My word of the week this week is fortunate. Now for most of the week I actually would not have chosen this word as it has been a bit of a week, but bear with me!
Friday Hubs came down with a flu type bug. It started as a cough and got worse, bringing a nasty fever with it. By Saturday he was extremely poorly, spending a lot of time in bed with a fever and he was a bit delirious. He was a bit of a zombie so he was in bed while I looked after the kiddies.
This will sound selfish but this was rubbish for me, as I rely on his help at the weekends to actually get the house in some semblance of tidiness and stay a bit sane. Worst of all that it was this particular Saturday though as I was due to visit one of my best friends in London for her birthday and I had been looking forward to it for such a long time and it was now in jeopardy. With my pregnancy being a bit rough last year I cancelled plans a few times to go and visit and this was the time that I should have no reason to cancel. Until all of a sudden I did. A really poorly husband. I spent a lot of the day really very unhappy as I felt like an awful person for even considering leaving, or wanting to leave, but I did want to. So so badly. It was a bit of a vicious cycle.
Thankfully hubs' fever broke in the afternoon and along with reinforcements in the form of his parents he felt able to take care of the kiddies. So it was a very late call but I made it to London and had a really lovely chilled evening with the girls and restored my sanity a little.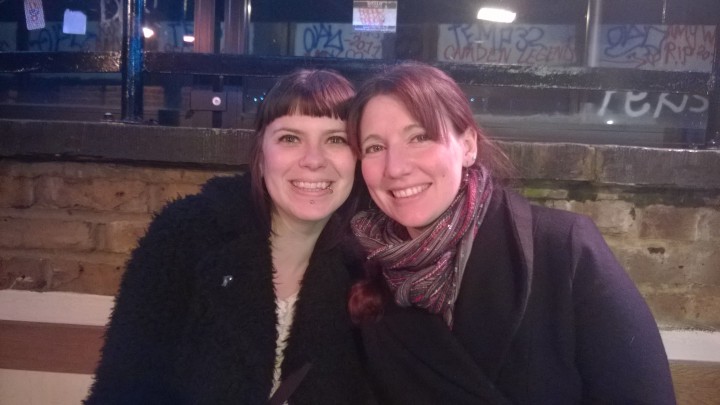 I got home at around 1am to find hubs awake and that Monkey was now not well either. He had had a little cough too but had otherwise been fine in himself all day. The trouble with coughs is always the night time isn't it? They interrupt his sleep and he gets himself so worked up that he ends up being sick and I hate it. So he was up a couple of times and hubs and I were both on edge all night that the coughing would wake him. LM then woke up at 530am. Hubs got up to feed her and 10 mins later Monkey woke up crying so that was the start of our Sunday.
Sunday wasn't terrible but it was very chilled and entirely focussed on Monkey and keeping him happy. He was the poorliest he has been in a long time and spent a lot of the day asleep actually and hubs and I tried to chill out as he was still poorly too and I was knackered after the trip to London and lack of sleep.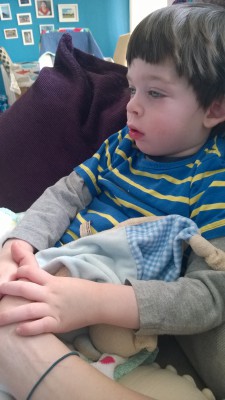 Monday Monkey rallied and seemed so much better so he went to Rhyme Time with Nanny & Pops as usual and Playgroup in the afternoon. He was fine until early evening when he suddenly dipped and Monday night was awful again with coughing and getting himself worked up and being a little sick. Tuesday he was not himself and we tried to chill out – though he doesn't like relaxing our boy and wants to be on the go. His eyes were drooped and he couldn't stop yawning but no "I ok, I not tired" hmm really.
We watched Winnie the Pooh and managed to get a healthy lunch in him then he went for a rest. LM meanwhile was refusing to sleep for no more than 30 mins at a time for goodness knows what reason. With both of them finally asleep I sat down for 5 mins and then Monkey's coughing started, and continued. He got upset so I went up and he vomited all over me, himself, his bed, cuddly toys, floor, well everywhere. I tried desperately to keep him calm so that he didn't wake LM and got him in clean clothes, downstairs and calm in front of the TV while I got myself changed and did the clean up operation upstairs and got the first load of washing ready to go on when LM woke up. I am not joking I washed my hands 4 times and they still smelt of vomit. I was so not happy.
Then LM woke up, less than half an hour after being put down and I was hugely hugely miserable. Luckily hubs was able to come home a bit early that day and help as Monkey was miserable too (understandably bless him) and I was failing to see the sunny side of life after a good few nights of only a few hours kip.
That night, when we had got the kids down and we were listening to Monkey coughing and wondering what the night would hold, I described the situation as being Hell. Then I checked myself.
I looked at hubs and said you know in comparison to cancer or war. What was I talking about? Yes it was a crappy few days, but hell? I mean come on.
Tuesday night was possibly the worst as he was sick a few times but we did manage to keep him a bit calmer with some singing. LM had a feed before midnight and then was up again at 530am. I was still not hugely happy but Monkey was off to Nanny's for the day and I was determined to get some jobs done and stop wallowing. All week I had been feeling tired, miserable and at mercy of the situation. Feeling really hard done by when the reality is that we are so lucky really.
We have two gorgeous kiddies and Monkey really is very rarely poorly and is such a good boy. He tries so hard even when he is tired and poorly to put a brave face on. I went in to see him when he woke up this morning and when I asked how he was he said "I fine, thank you" I mean what a cutie.
We have a beautiful home. You know when you can't see the wood for the trees? Well sometimes I feel like I can't see the house for the mess. A huge thank you to the lovely comments about our home on the post "So, Daddy" as when I look at those photos (aside from Monkey & Daddy sharing a lovely moment) I see the horrible stained tablecloth, the manky changing station off in the corner with bottles of hand sanitiser and piles of nappy bags. The toys and detritus strewn across the table. But what other people saw was the lovely things we have, the dresser, the chairs, and it made me look again and remember how much I love our home.
I have a lovely hubby. Of course he drives me potty sometimes but I am sure I do the same to him, I do think having children can be tough on even the strongest relationships sometimes. But you know what, even though he was poorly, he still wanted me to go to London on Saturday. He totally appreciates how hard I try all week to manage the house and kids and he knew how much getting a little break meant to me.
We have wonderful supportive families who are close by and who love to help. We don't ever want to be a burden on them but know that when we need them that they will be there.
I have some wonderful friends who understand when I back out on them or delay seeing them that it's not because I am lazy or I don't care. They know I would be there if I could and that family has to come first. But they also support me and encourage me to make sure I take some time for myself too.
I said to hubs the other day "This too shall pass" and yeah life is hard at the moment with a 4 mth old and a very poorly toddler and hubs…. but nothing lasts forever and hard days make way for easier ones. We are so so lucky and there are many who are not as fortunate as we are and it is worth remembering that. I think " this too shall pass" should be our mantra as it is far too easy to get bogged down in negatives and forget how lucky we are.
Blogging has taken a bit of a back seat this week as there has been more than enough other stuff going on, so I apologise for the lack of blogging, sharing, commenting, and replying to comments. My word for this week is fortunate. How has your week been?