We have had lots of warm weather lately and it has been really lovely to get outdoors and have some fun in the sun. Monkey, and I'm sure most kids, just love being outdoors, running around, exploring and doing all sorts. The great thing is that there are so many ways for them to play outside without having to spend any money.
This is just a few of the things we have been up to outdoors while the sun has been shining!
Playing in his new playhouse! A good old second hand purchase from ebay, and a slightly early birthday present for Monkey which he loves!! Lots of peepo and playing house. Hours of fun in there at the moment, and a nice shade spot if the sun gets too hot 🙂
Playing in sand and water next door with his friend
Popping out for an ice cream on his trike! As Monkey would say, Um Yum!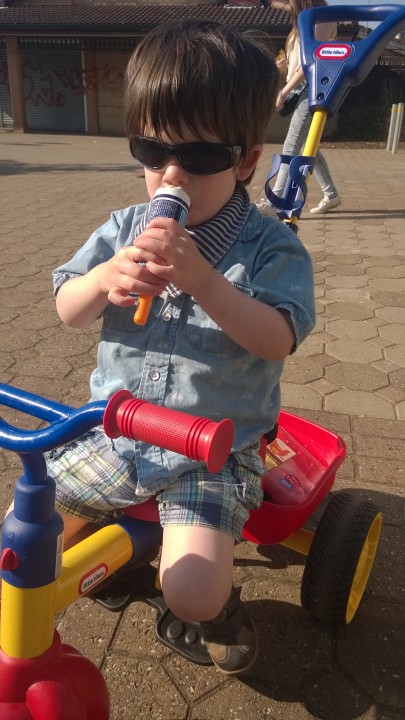 Playing in our newly renovated back garden – having fun in the sand pit
And, slightly random, but after giving the buggy a good scrub I left a sponge out there and now Monkey lives giving the floor a clean, hehe 🙂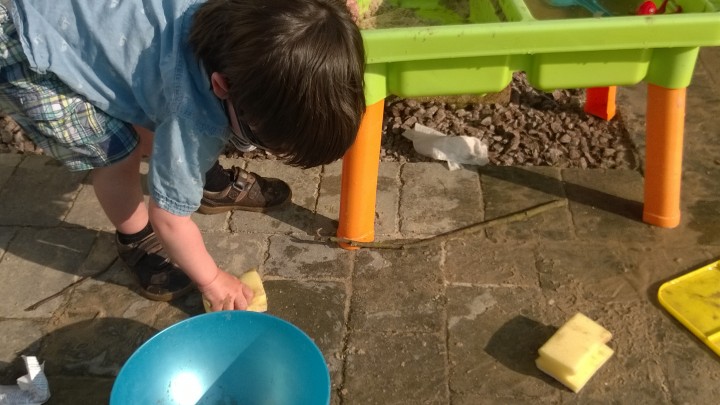 We also got the paddling pool out at the weekend, and I think the water may have been a teeny bit cold for him as it was a bit of a trauma at times, but he did have fun in there too! (Though I think Daddy got more wet than Monkey did!!)
There's also just been some general running about with a ball now that we are actually allowed to go on the new grass!
And of course, some fun picnics and playtime at the park!