The word that best sums up this week is
I think this word is perfect for this week as there is more than one meaning.
Starting with the positives, I have been trying out new things this week, starting with my website redesign and then my new linky the Creative Challenge which went live on Wednesday (and is still open if anyone has been creative this week and fancies joining in?)
Monkey has also been trying more with his speech, yep at 21 months we have no words, I know it's within the normal range but I really want him to talk. And he's getting closer, I really believe it. I say something and sometimes he tries to say it back. Onion = Oeeeaaa, Garlic = Garya, Zip =Zzzzz. Just a few examples and I know he's not there yet, but he is trying, which means the world to me.
On to the not so positive side…
I've also been trying to find the perfect recipe to make creme egg brownies. This has been a very trying experience as I keep failing! Seriously, how hard can it be? First off I tried to wing it, big mistake, you can read more about that here if you like. The next time though, I followed a recipe and if anything, they turned out worse and we actually threw most of them away!
Not only did they look appalling but they didn't taste good either, really greasy, there was just way too much butter in them. Such a  waste of good chocolate, butter, sugar etc.  The worst of it was that I attempted to bake these as a way of cheering me and Monkey up on a very trying day where we were both grumpy. Eating all the chocolate and butter and sugar definitely cheered him up, but it certainly did not improve my mood that day!!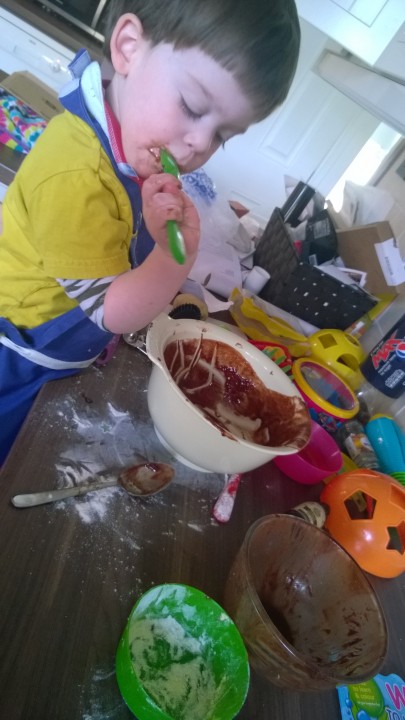 It's my own fault as I wanted to be clever and have mini creme eggs that were within the brownie mixture, rather than full size creme eggs that are kind of sat on top of the brownie. I don't like to be beaten though so I will be trying again soon. Hopefully I will get it right one day!!
Another trying experience this week was our attempt to cut Monkey's hair. This is not a fun experience, in fact it is downright stressful. He hates it and cries and squirms and shakes his head about so it's basically impossible for it to end up looking ok. I know we could take him to the hairdressers, but honestly if we can't get him to sit still long enough (even with the help of daddy, his fave tv shows, scrummy treats to eat) how the heck would we do it at the hairdressers?
Anyway, this is as good as we could get it.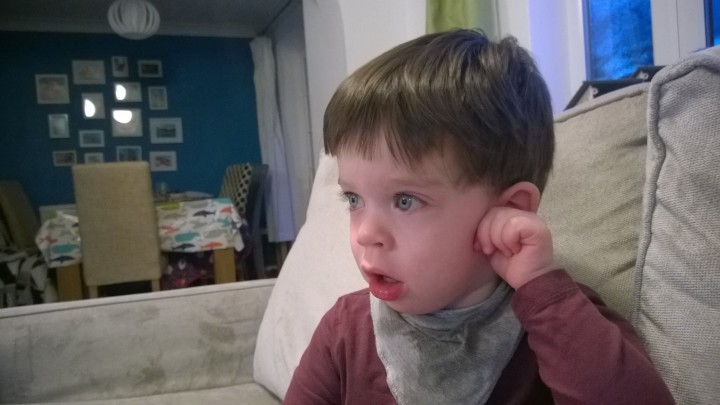 It looks ridiculous! And I managed to scrape the side of his face with the scissors 🙁 scare me so much!
So yes this week has been partly about trying new things, but it has also been very trying!
What word sums up your week?