It was Daddy's birthday last week and for a while I had it in my head that it would be nice for Monkey to make him a special picture that he can take into his office. Monkey loves painting and there are lots of pictures around but I wanted to make one a bit special for his Daddy.
Then I saw a post from Iona at Redpeffer who used masking tape to make a masterpiece with paint, and an idea was struck.
I bought some masking tape and then set about taping a message onto a piece of paper with the idea that I could remove the tape after Monkey had had his fun with the paint. ( We tried something similar with wax crayons and watercolour paints a while back which wasn't particularly successful!)
Can you see what it says yet? 😉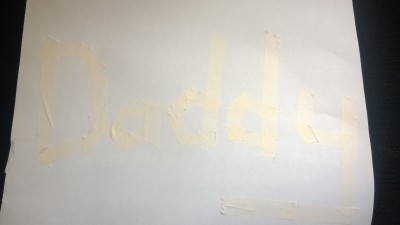 Then the day before Hub's birthday I let Monkey loose with some paints, which he loves to do!
After the painting fun and before it got too dry I then set about peeling off the tape. I think I had left the tape on the paper for a bit too long ( acouple of days before we got round to painting :/) as it did peel the top layer of the paper off with it, but, overall it was pretty successful.
Monkey loved doing it and Daddy was really pleased with it and that is what counts 🙂