So far we have pruned, chopped, broken, burned and disposed of almost everything in the garden. After last weekend we had a pile of rubbish and broken slabs that wouldn't fit into the skip, so we agreed we would need another. Another skip wasn't the only thing we knew we would need though, oh no. We also hired some big machines to help us with the final clearance stage of Operation Garden Renovation!
A Stump Grinder, for all the tree stumps left from the huge conifers we had to tear down, and a Cultivator to churn up all of the soil and hopefully bring up any plant roots and Ivy! Hubby was pretty excited about the arrival of the awesome machines, boys and their toys!!
The stump grinder looked pretty terrifying to me though and very dangerous. with lovely warnings on the back about how bad the fumes are we decided I very much had to keep Monkey indoors while they were using it. Thankfully we got yet more help from our brothers, as it really was a two man job to use it.
As they got into the swing of things they made great progress with the stumps across the two days. This was also sadly the weekend we had the nighttime A&E trip with Monkey so on Sunday after very little sleep hubby was so very tired, but they weren't cheap to hire and we knew we had to make the most of having the equipment. So he plowed on through bless him and did an amazing job, even though he was knackered.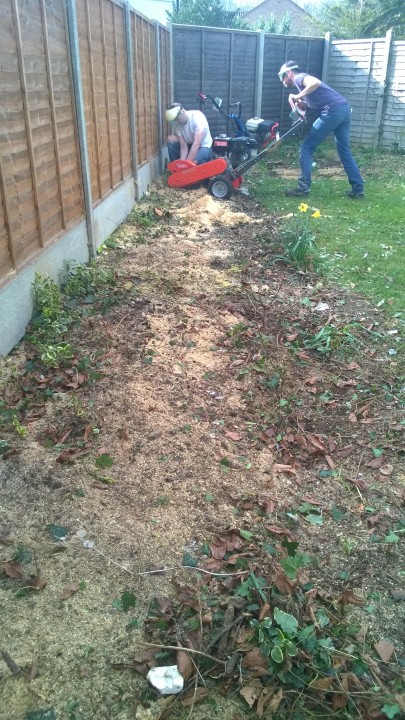 After all the stumps had been chewed to a pulp and were a good few inches below ground level, it was time to get the cultivator out to chew up the garden. Thankfully this was now a much easier job as there was not much in the way – other than a single solitary daffodil, that we couldn't quite bring ourselves to destroy!!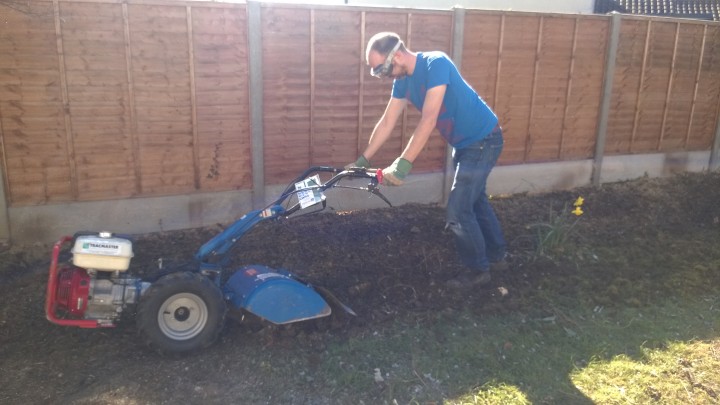 Although Monkey didn't have quite the same reservations!
So there we have it, our garden is finally cleared and is now a big pile of mud :). There is a few bits of shrubbery still there but the guy who will be doing the hard work of giving us a nice looking garden again will have to prepare the ground anyway so I am sure he can manage those.
It has been a VERY hard 5 weeks of renovation and clearance and we couldn't have done it without the help of our families, but we have saved ourselves a good few thousand pounds worth of labour by doing it this way. Even so the garden is still going to cost more than we want it to really but nowhere near as costly as it could have been.
The next garden renovation post should hopefully show the garden taking shape at last! It may not be for a few weeks though so stay tuned!
How does your garden grow?