I haven't blogged about anything crochet related for a while now. Mainly because I have been working on a big-ish project, a lovely rainbow cushion! I got the pattern from my mother-in-law ages ago but it took me a while to get round to it, as I was busy with my Granny Square Blanket and then I did some cute Christmas Crochet Creatures. Come January though it was time to get cracking.
Rather than buy the colours listed in the patterns I decided to use up what wool I could from my bag as I have lots of part used balls leftover. I am a bit OCD about colours and like them to be in spectrum order – I don't know why particularly but we have some colourful mugs and they HAVE to be on the mug rack in spectrum order. Weird I know!
So these are the colours I got cracking with.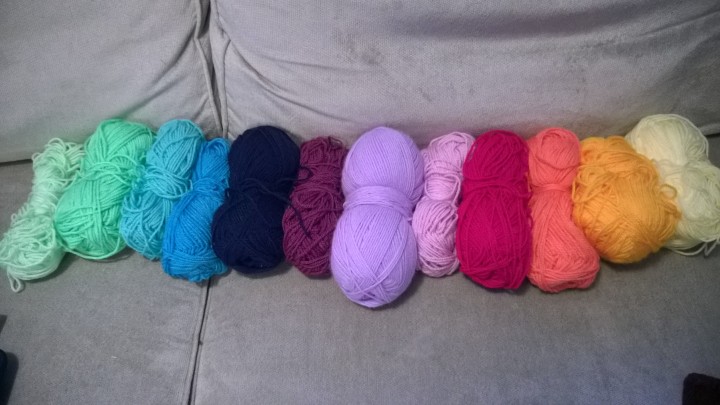 It started off well enough as it was quite small, I made a big mistake somewhere on the first side of the cushion but thought I had rectified it enough (turns out I hadn't but i will come back to that later!). In the pattern the reverse of the cushion doesn't have frilly edges like the front, but hubby and I had a chat and decided we'd quite like the cushion to be the same on both sides.
As I mentioned, it starts off quite easily but as it gets bigger, and the rounds get longer, it starts to take a lot longer to finish a row, and, well get s a bit repetitive and dull. I have now well and truly decided that I am better off with smaller projects. I just don't have the patience to work on big things. Much as i love the way they look, I get so bored and then can't be bothered to crochet in the evenings and it takes months for me to finish it as a result. It's a hobby I have really been enjoying but I really don't enjoy the big projects quite as much. Which is a shame, as I think the blankets and cushions look so lovely when they are finished.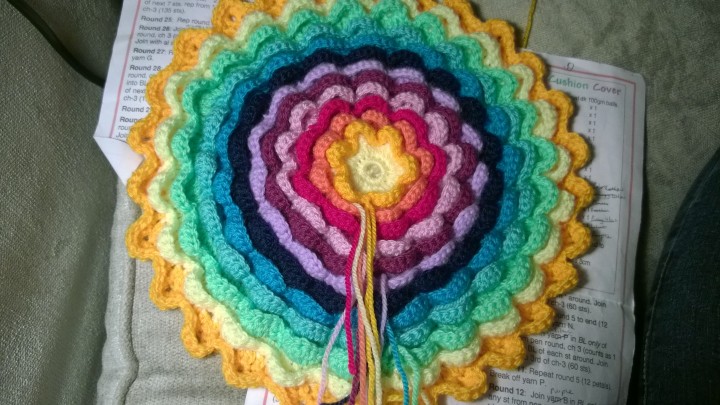 Anyway, it has taken me a while but I got to a point where both sides of the cushion were progressing nicely… then I compared them and realised that the side which I made a mistake on earlier was actually quite a bit smaller than the second side. boooo. It's not the end of the world, it's only about a round smaller, but that was a little demoralising and led to the cushion being put to one side again for a couple of weeks…. honestly I can be such an ostrich, I totally bury my head in the sand and ignore problems sometimes! Which isn't the best idea!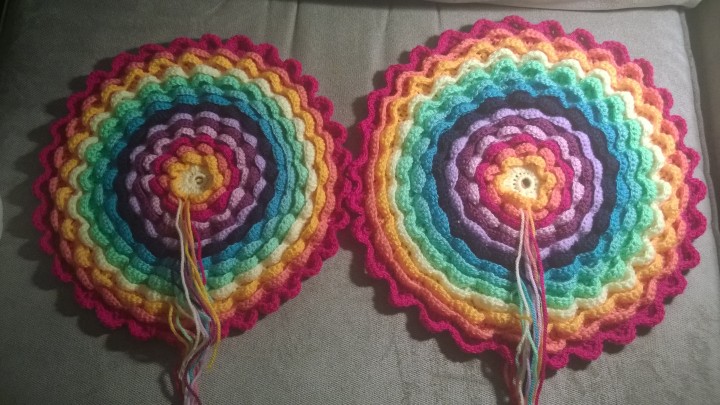 I eventually picked it up again, determined to actually get it finished and knew I just needed an extra row of trebles on the smaller side. I would have dine it in the same dark purple as the final rows… except for the fact that I ran out, I literally only just had enough to actually complete the final row of frills as it was (And that was doing a stitch less in some of the petals on that row) oops! So I had to use lilac for the joining row.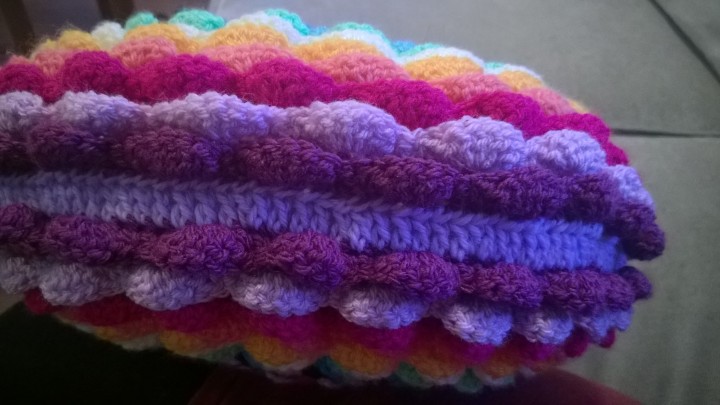 But you know what, I am proud that I have finally finished it and it doesn't look toooo bad!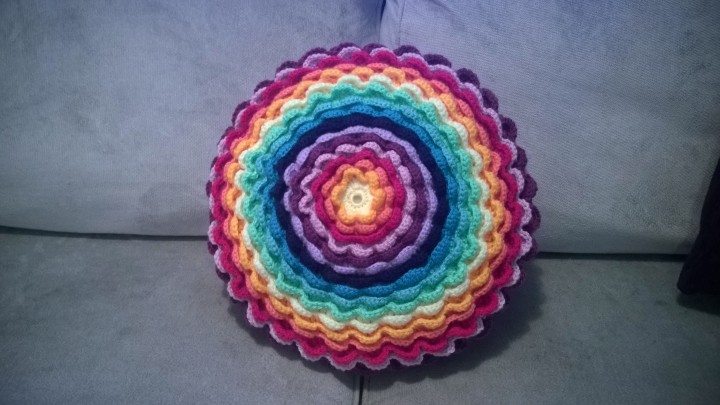 So that's my creative challenge for this week (which has taken me months!) what's yours?