February was a bit of a month. It was very busy for all of us and sadly, full of germs too! Illness aside there was lots going on including the big build up to the wedding of one of my best friends on the 28th. As a result it has felt very hectic and hubs and I have been a bit shattered and run down as a result. The day after the wedding, the 1st March, the sun was shining and we decided to get our lives in order a bit.
We do love our lists so we sat and worked out what jobs we wanted achieve this spring, and also what nice days out we hoped to have. Monkey loves lists too so of course he helped :). This was also when we decided to take control of LM's routine so our day very much revolved around that.
In one of her awake times we decided to get out of the house and enjoy the sunshine. With all the poorliness lately we have spent a lot of time indoors and we just wanted to get out and get some fresh air. We are very lucky that we are walking distance to a steam engine railway line, so after checking the timetable we popped LM in the carrier and wandered off there to see a train. We hope to take Monkey on a train ride at some point, but after his fears of seeing the trains at the National Railway Museum, we thought it would be a good idea to get him used to the scale and noise of the train first!
Although it was lovely and sunny it was really windy, which Monkey wasn't at all keen on and there was a real chill in the air waiting on the station to see the train so he and Daddy had a lovely snuggle.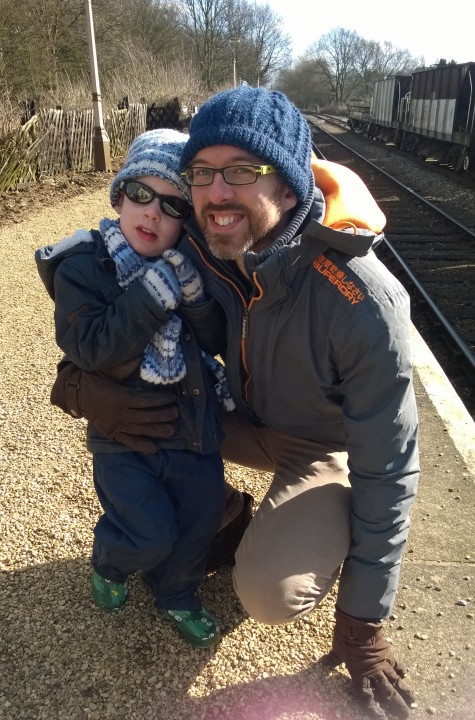 Soon enough the train arrived and Monkey was so excited to wave to the train and all of the people on board. He cracked me up when the train was leaving by shouting "Follow that train!" over and over again! Bless him I had to explain that it was a little too fast for us to catch!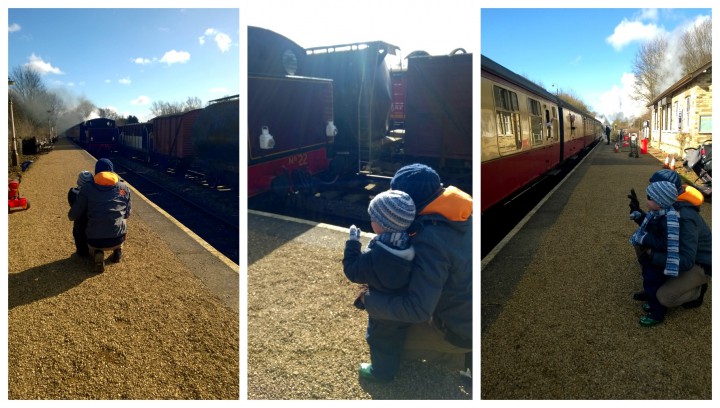 It was then time to head home and have some lovely lunch. Just a short outing, and hubs was shattered from pushing Monkey on his trike (it is so heavy and unwieldy but with Monkey just getting over being ill we didn't want to push him too hard or make him walk – good job as little did we know he was actually coming down with Chicken Pox too!) and I was shattered as it is probably the longest I have had LM in the carrier for some time and she is getting heavy!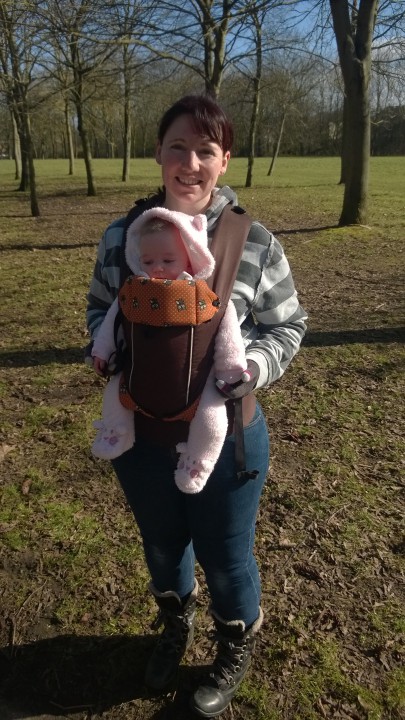 Hubs and I had soup for lunch but Monkey wanted bread and cheese. As we sat down to eat he exclaimed "This cheese is significant!" lol not sure what that meant, he has obviously heard the word and decided to try it out! As toddlers do! He did the same later, sometimes hubs and I call the kids darling, often when they are being grumpy. After lunch when I was changing LM's nappy, Monkey came over and said to me "Darling… what you doing?" hehe hearing "darling" come out of his little mouth was so cute. He then wandered off saying darling to himself over and over. So adorable, he has called both hubs and I babe before too as we occasionally say that to each other. Thankfully Mummy & Daddy always return to favour though.
After lunch Monkey helped Daddy sweep out the car port (one of the jobs on our list) then both kids had lovely long naps in the afternoon which meant hubs and I got to have a bit of a rest as we were shattered. It wasn't a massively exciting day or anything to write home about but just one of those lovely, ordinary days having fun with a toddler (and a baby of course) and sorting a few jobs out. After a busy month with a mix of socialising and illness it was lovely to just have one of these ordinary days, and I hope we get to have a few more of them this Spring.