My word of the week this week is "cooking" as I seem to have spent a lot of time cooking and baking lately! Mainly food for LM as we continue her weaning journey and I am looking for easy freezable finger foods I can take out and about with us or just have readily availble at home so there is not a huge amount of prep at every mealtime.
So, in the last week or so I have tried the following new recipes: salmon croquettes, cheesy flapjacks, carrot muffins (which I made correctly this time after forgetting to add the butter the first time, d'oh!), meatloaf, and an apple oat cake plus the usual things for us to eat like a big batch of carrot and honey soup, sausage carbonara, sweetcorn fritters etc etc. (I have intended to share these recipes on here for some time but never get round to writing the posts!)
Most of the new recipes have come from the baby-led weaning cookbook and I am afraid to say that so far I have not been that impressed with them. The exception to this is the salmon croquettes as even I don't mind those and I am not a big fish fan. The carrot muffins aren't terrible but the cheesy flapjacks are just odd and I'm not that keen on the oat cake either (Icooked it for 15 mins longer than it says but still is soggy in the middle, is it supposed to be like that?). I suppose the meatloaf wasn't terrible either but it wasn't exactly delicious.
Difficult as of course recipes for babies do tend to be a little more bland as they contain much less salt or sugar than we would usually use. Having said that though, the sweetcorn fritters are based on an Annabel Karmel recipe (just with the addition of a few more veggies) and they are lovely, as are many of the other things we have tried from her cookbook so I don't think that recipes suitable for babies necessarily have to be bland.
It's a shame to be spending so much time and effort in the kitchen and being disappointed with the results to be honest! Thankfully because at least 50% of the food I have made this week are tried and trusted recipes, they are lovely but it's a shame none but one (the salmon croquettes) of the new recipes from the weaning book are going to be added to our repertoire I don't think… I'm not even sure how to tweak them to improve them… as I'm not sure they are worth the effort!
Monkey has enjoyed helping me cook and bake though so it is always nice to have him in the kitchen with me helping weigh out and mix ingredients. The low point though was when trying to do some with LM awake and eating/playing in her high chair in the kitchen with us. She wasn't having any of it so I ended up holding her in one arm & balancing her on my hip, while hastily whizzing some fruit, greasing a pan, stirring the mixture (with Monkey's help), filling the pan and putting it in the oven. It is blimmin amazing the things you can accomplish with one hand when you have to, but my goodness it makes it hard work!!
The kids are enjoying the oat cake and it is full of goodness so I may not like it but at least they are!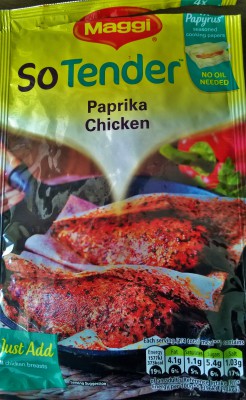 The over-riding success of the week actually comes in the form of not a recipe exactly, but more of a cheat. I love Paprika Chicken at restaurants but we have never been able to recretae it at home, none of the recipes I have tried seem to have the right balance of seasoning. So when I saw some funky new pre-seasoned papers that you wrap the chicken in, I thought they had to be worth a try. And they were great!
This isn't a sponsored post and I didn't get them free to review, but we thought they were lovely, and so so easy.You wrap the chicken in the paper, and fry it in the pan. It's that straightforward. The chicken was juicy and the flavour was yummy. So hooray for a success, I needed one!